---
'Lotto Madness' Returns As Winning Ticket Of $1.35 Billion Mega Million Jackpot Sold In Maine
A rising real wage allows the working class to achieve a higher standard of living. However, many Americans have endured 20 consecutive months of negative real wage growth as the cost of living soars above the income they bring home. Perhaps hopes and dreams of getting rich in these troublesome economic times are being plowed into lottery tickets. 
Two months after a record-breaking $2 billion jackpot, another billion-dollar Mega Million drawing was underway on Friday night. A ticket sold in Maine that matched the winning numbers of 30-43-45-46-61 with a Mega Ball of 14.
Lottery officials estimated the annuitized jackpot could be worth around $1.35 billion, while the potential lump sum cash payout is around $724.6 million. And all of that is before taxes. After federal taxes, the winner could choose between 30 annual payments of $28.4 million or an immediate cash payout of $456.5 million. 
Here's how the math works out: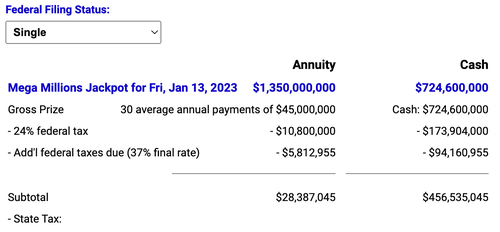 The odds of matching all six balls to win the jackpot are utterly insane, which is 1 in 302,575,350, according to the Multi-State Lottery Association (MUSL) that runs the lottery... You have better odds of being struck by lightning. 
But while inflation rips apart middle-class household finances, hopeful gamblers are plowing money into purchasing lottery tickets with the dream of becoming a billionaire ... well, not quite, as we showed the math above. 
The popularity of lottery tickets is the hottest among "disproportionately male, lower income, less educated and non-White," The Washington Post said, citing studies. 
 "The popularity of lottery tickets among African Americans is particularly notable," WaPo continued. 
Google Trens shows' lotto madness' has swept across this nation since the first billion-dollar jackpot in November. And the latest internet searches have gone absolutely parabolic.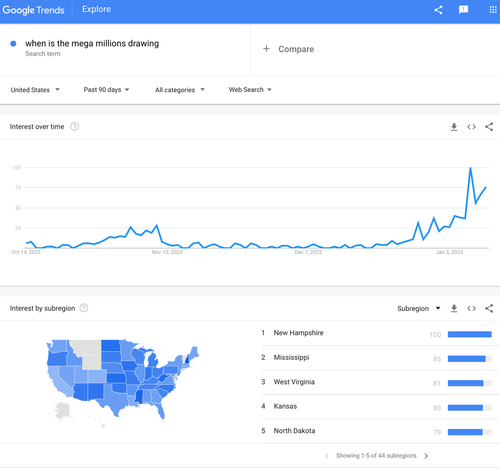 This week's Mega Millions frenzy is a reminder that the MUSL preys on the working poor and conditions them with dreams of a new life if they win the jackpot, though the odds are astronomical, and most everyone will lose. 
Loading...