---
Luxury Group Richemont Plunges On Signs Of Worsening US Slowdown
Luxury group Richemont, the owner of Cartier and Van Cleef & Arpels jewelry, reported a surprise drop in revenue from the Americas in the three months through June. Faltering demand in one of its biggest markets is an ominous sign of a weakening consumer. 
Richemont reported an overall 19% increase in sales. Jewelry revenue rose 24%, coming in line with analyst expectations. Its watchmaker division recorded sales growth of 10% at constant currencies, missing analyst consensus forecasts. Most of the growth came from Asia-Pacific and European markets. However, the slowdown in luxury demand in the US, which saw a 4% decline, overshadowed optimism.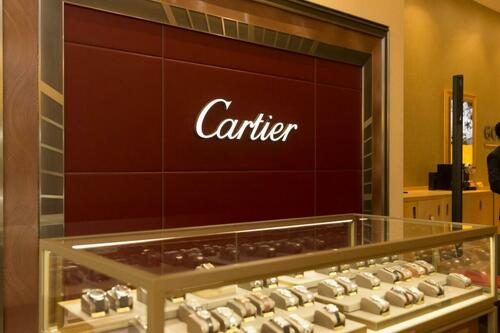 Pessisms about US markets sent shares of Richemont in Europe tumbling as much as 9.5%, the most significant decline in more than a year.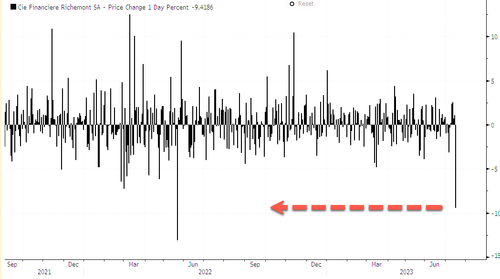 Luxury goods stocks slid on the news, LVMH Moet Hennessy Louis Vuitton SE fell 3%, Hermes dropped 3%, and Kering declined 2.0%. The Stoxx 600 Consumer Products index fell 2.6%. 
In May, Richemont Chairman Johann Rupert warned about an emerging US downturn, forecasting that the world's largest economy would experience a credit contraction.
During that time, we warned about the bust of the luxury bubble in a note titled Did Europe's Luxury Bubble Just Burst? 
Even though Richemont's overall sales were solid, mainly because of Asia and Europe, there were new concerns about a China slowdown following overnight news of weaker-than-expected GDP numbers. 
Here's what Wall Street analysts are saying about the US slowdown (list courtesy of Bloomberg):
Citi (buy, PT CHF180.5) 

A mixed bag of results but full-year consensus for sales and operating profits should remain broadly unchanged
"The miss was entirely due to the US turning negative," analysts Thomas Chauvet and Lorenzo Bracco write
Expect pressure on the share price

Bloomberg Intelligence

"Richemont's slight beat on consensus confirms support from high-margin jewelry, own retail and Asia, where we expect China to have rebounded," wrote Bloomberg analyst Deborah Aitken
"That supports a more muted performance in Americas, where we expect more investment to build up," she adds
The 2% drop in sales in the Americas falls slightly short of consensus, though there was a wide range of estimates due to its 25% fiscal 1Q23 comparable year-ago growth base there. Similarly for Europe, where growth is against a 42% year-ago mark

Vontobel analyst Jean-Philippe Bertschy

"Negative growth in the Americas is likely to temper some of the market expectations." 
This adds to the mounting concerns about a slowdown in the US economy, and it comes during a period where the Biden administration is promoting 'Bidenomics' ahead of the 2024 presidential election cycle. 
Loading...