---
Lyft Tumbles Despite Beating Across The Board On Disappointing Guidance
Update: Not the headline investors who were delighted with Uber's profit upgrade wanted to see:
LYFT PROFIT TARGET REMAINS 4Q 2021
Instead it now appears that Lyft will start actively losing market share to whoever is the latest low-cost entrant:
LYFT TO CUT DISCOUNTS AS % OF REVENUE IN 1Q
And that's why Lyft is sinking after hours.
* * *
After Uber blew out guidance last week when it reported earnings and predicted that it would (somehow) reach profitability one year ahead of schedule, it lifted the bar - so to speak - for its main competitor Lyft too high. So high in fact that even beating expectations across the board, while reporting solid Q1 and full year 2020 revenue guidance was not enough, and investors punished the company by sending it 5% lower after hours after it failed to promise a faster path to profitability.
This is what Lyft reported for its Q4 quarter, in which it beat virtually every estimate:
4Q revenue $1.02 billion, beating estimate $985.8 million
4Q adjusted Ebitda loss $130.7 million, beating estimated loss $163.2 million
4Q adjusted loss $121.4 million, beating estimated loss $161.9 million
4Q active riders 22.9 million, beating estimated 22.8 million
4Q revenue per active rider $44.40, beating estimate $43.16
4Q cash and cash equivalents $358.3 million
Lyft increased its number of active riders 23% to 22.9 million, also beating estimates of 22.8 million, while revenue from each active rider increased 23% to $44.40 during the fourth quarter, again slightly beating analysts' estimate of $43.16.
Quarterly revenue surpassed $1 billion for the first time ever...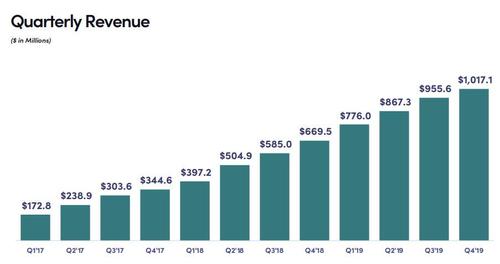 ... while operating leverage also improved: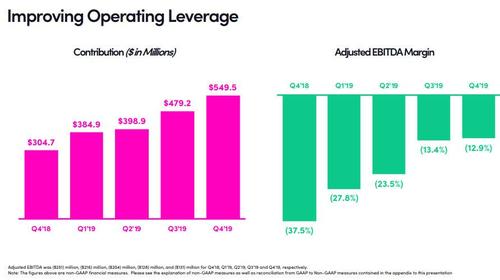 The company's guidance was also solid, and sees the following results:
Sees 1Q revenue $1.055 billion to $1.06 billion, estimate $1.05 billion
Sees 1Q adjusted Ebitda loss $140 million to $145 million, estimate loss $143.1 million
Sees 2020 revenue $4.58 billion to $4.65 billion, estimate $4.60 billion
Sees 2020 adjusted EBITDA loss $450 million to $490 million, estimate loss $489.6 million
Yet despite the strong revenue growth, the company still was unable to post a positive EBITDA print in Q4 or 2019, while the net loss soared to $2.6 billion, largely due to the exercise of share options as part of the IPO.
Worse, the reason why the stock is sliding is that unlike Uber which now expects to turn profitable in 2020, Lyft failed to share the same optimistic guidance, and only expects an EBITDA loss of $490MM this year, without even mentioning the possibility of turning a profit any time soon.
"In 2020 we expect strong top line growth as well as important progress on our path to profitability," Lyft Chief Financial Officer Brian Roberts said in an interview on Tuesday, however Lyft didn't provide updated guidance on turning a profit. Late last year, the company said it would be profitable on an adjusted basis by the fourth quarter of 2021.
Not this time.
As a result, unlike Uber, which soared after earnings last week, Lyft stock price is dropping fast after reporting earnings, and sliding more than 4% in after hours trading.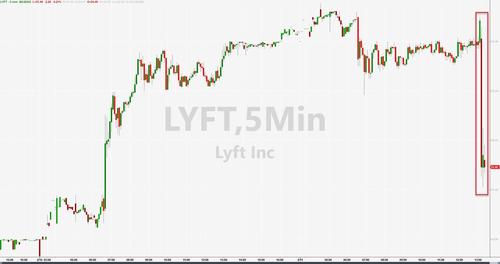 As Bloomberg notes, while Lyft is Uber's chief competitor, the two businesses are different. Lyft doesn't operate outside of North America, and doesn't deliver food or experiment with new ventures like helicopter rides or matching job candidates with short-term work.
Lyft has focused solely on mobility, a category that includes ride-hailing, electric bikes, scooters and integration with public transit. The company's strategy has been to move further into existing markets to capture more active riders and increase how much they spend on Lyft services. In recent months, the company has added public transit options to its app, introduced monthly subscriptions and offered an option to decrease ride costs by scheduling pickup a few blocks away.
Some analysts have flagged a new California law reclassifying many gig economy workers as employees as a risk for Lyft, Uber and others, potentially triggering price hikes estimated to be as high as 30%. Roberts waved off concerns about the law's impact, saying Lyft was "100% focused" on putting an alternative measure on the November ballot and has already helped collect 325,000 of the 500,000 signatures required by May to qualify.