---
Maduro Extracts His Pound Of Fat Leonard Flesh
By Tom Wright, published originally on the Whale Hunting newsletter,
High-level political brokers are looking to trade Leonard Glenn Francis, a.k.a. Fat Leonard, for a notorious figure in U.S. custody...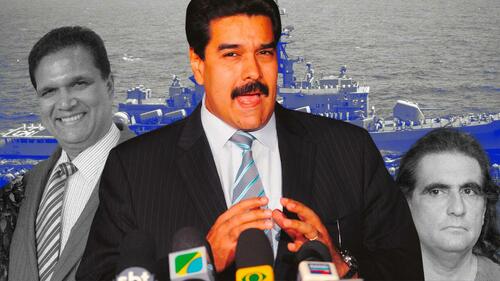 Back in September, Leonard Francis, the corrupt U.S. military contractor known as "Fat Leonard," went on the run from justice. Leonard's escape from home detention in San Diego came only days ahead of his sentencing in a shocking, decades-long Navy scandal involving cash bribes, orgies and top-secret documents.
The whole sordid story, including the under-appreciated national security failure, is told in our new book, "Fat Leonard: The Man Who Corrupted the U.S. Navy," also available as an audiobook and podcast.
Leonard cut off his monitoring bracelet, avoided armed guards on his home, and jumped the border to Mexico. Only 16 days later, he was apprehended in Venezuela while trying to board a flight to Russia.
We reported exclusively in Whale Hunting that Leonard had fled to Venezuela, even before the police arrested him.
Now, Whale Hunting brings you another exclusive. And it explains why, four months after his detention in Venezuela, we've heard nothing about Leonard's extradition to face sentencing in the U.S.
Before it gives up Leonard, the Maduro government wants to extract its pound of flesh from the U.S. It's got a very specific request in mind...and it's going to be controversial.
Enter a connected London-based lobbyist who is working to make it happen.
First, a little background.
Back in October 2021, the Biden administration extradited a Colombian man called Alex Saab from Cape Verde to stand trial in the U.S. for money laundering. Saab is a financial fixer for Venezuelan President Nicolás Maduro and he's in jail in Florida on charges that he helped siphon $350 million from Venezuelan state programs.
Now, Saab sees his chance to get out of jail. He's hired Maryna Pogibko, a lobbyist based in London, to push a potential deal around Washington: If the Biden administration wants Leonard Francis to be sent back from Venezuela, it's going to have to let Alex Saab walk free. To sweeten the deal, he's hoping Venezeula will also throw in some of the American citizens detained in the disastrous 2020 coup attempt.
In recent weeks, Pogibko, a Ukrainian who runs Amadeus Consultancy, has been contacting people in Washington, D.C., with political connections to help broker a deal with U.S. government, our sources say.
Pogibko didn't return a request for comment.
What are the odds on such a deal? A few months ago, perhaps slim.
The U.S. doesn't recognize Maduro's authoritarian regime and it has indicted him, along with other members of his government, on narco-trafficking charges. The imprisonment of Saab in 2021 led to swift retaliation by Venezuela, which re-arrested six oil executives, including five American citizens.
Since then, however, relations have warmed. In October, Venezuela freed the U.S. oil executives, and two other Americans, in exchange for two family members of Maduro who'd been in jail in the U.S. on drug convictions since 2015. The following month, the Biden administration eased oil sanctions on Venezuela.
When Leonard went on the run, he must have carefully chosen Venezuela. With no diplomatic relations, Leonard likely thought the nation was a safe harbor. Now, it's looking increasingly likely Saab will get what he desires.
Maduro doesn't want one of his most important bag men hanging out in a Florida jail, or worse, potentially cooperating with U.S. authorities. A Fat Leonard-for-Saab trade makes a lot of sense.
For the U.S., the trade also is increasingly attractive. The government has already freed convicted Maduro family narco-traffickers because, as oil prices rise, the U.S. needs access to Venezuelan crude. Saab is just an annoying obstacle to better relations.
Whether the Justice Department wants Leonard back to face sentencing, that's another matter. The Navy, for sure, would probably rather Leonard didn't reenter the public glare ever again.
The whole debacle – from Leonard's arrest in 2013; the obvious failure to indict top-ranking admirals; Leonard's decision to give us an interview; to his escape and rearrest in an enemy state – has been so much egg on the face of the DOJ and Navy.
But the U.S. government can't very well do nothing to get back a criminal who spent decades conspiring with corrupt Navy officers.
For 30 years, Leonard was a military contractor serving ships in the Pacific. In 2015, he admitted to stealing $35 million from the U.S. Navy with the connivance of senior officers over a quarter of a century.
The Justice Department indicted over 30 former and current Navy officers, as well as Leonard and his staff in the scheme. But top Navy admirals got only administrative punishments , despite sleeping with prostitutes (arranged by Leonard), enjoying Michelin-starred dinners, and ensuring Leonard won lucrative contracts to supply food, fuel, and security to the Navy in Asia.
Worse, Leonard filmed orgies and got hold of top-secret ballistic missile defense documents, all of which ended up in the hands of China. (When the NCIS finally started investigating Leonard, he moved all his files onto Chinese servers.)
We smuggled a microphone to Leonard in home detention in 2021 and recorded over 25 hours of audio for our Fat Leonard podcast, the first time he'd spoken.
Leonard admitted to me that he inflated bills and paid cash bribes, but he says many in the Navy knew what was going on. The Navy protected its admirals, he claimed.
If he's extradited, Leonard could face many more years in jail. And the Navy will once again have to reckon with the most disturbing corruption scandal in its history.
Loading...