---
Majority Of CEOs Fear Persistent Global Slowdown, Most Since 2009 
PricewaterhouseCoopers' (PWC) Annual Global CEO Survey has revealed that pessimism among more than half of the CEOs surveyed across the world are bearish on the global economy. 
PWC surveyed 1,581 chief executives in 83 territories, found 53% projected a decline in the rate of global economic growth this year. Only 27% of CEOs are "very confident" that 2020 will turn out to be a prosperous year. The number of bearish CEOs is at the highest level since 2009.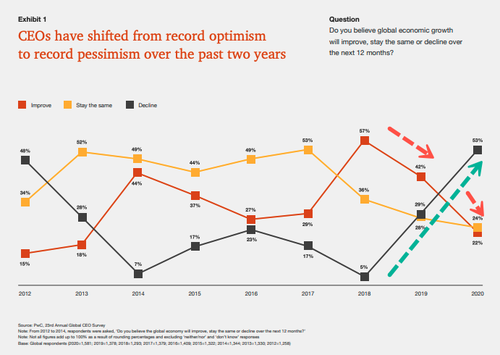 PWC said the findings are "compelling because the change in CEOs' revenue confidence has proven to be a reliable indicator of both the direction and the level of global GDP growth in the year ahead." 
The study was conducted from September to October 2019, published Monday as the World Economic Forum begins in Davos, Switzerland, and the IMF released its report slashing global GDP growth for the 6th consecutive time. 
Pessimism was on a global scale, in every region of the world, including Africa, Asia-Pacific, Central, and Eastern Europe, Latin America, the Middle East, North America, and Western Europe. CEOs were the most bearish in North America, with at least 63% indicating global growth would decline over the next 12 months.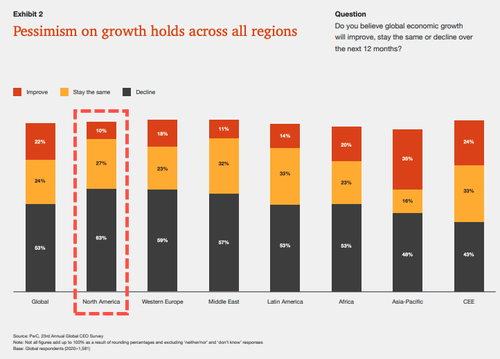 CEO's confidence in internal revenue growth for the next 12 months and three years, along with global GDP growth, has declined over the last two years to levels not seen since after the financial crisis. The subdued outlook suggests that the global economy is stuck in a low-growth period, where investments by executives are being dialed back as macroeconomic headwinds persist.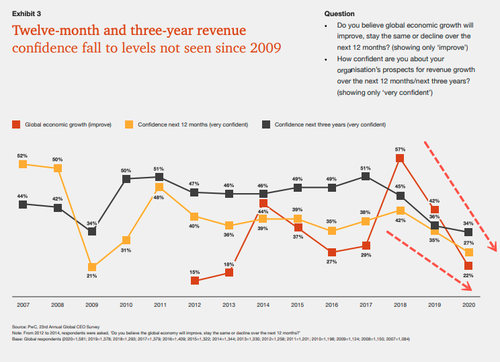 PWC ran a regression analysis on the change in CEO confidence and found that global GDP growth is expected to decline this year. 
In a separate report, WEF President Borge Brende warned the world is "faced with a synchronized slowdown in the global economy. And we're also faced with a situation where the ammunition that we have to fight a potential global recession is more limited."
We noted last week that 97% of US CFOs surveyed by Deloitte believe a recession could arrive by the end of the year. 
The melt-up in stocks is happening at a time when executives are selling shares at the highest degree in nearly two decades – comes at a time when the market's most important pillars of support - buybacks – are declining.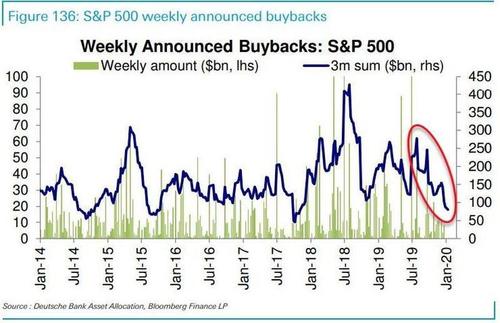 What could go wrong?