---
This Is The Make Or Break Level In Treasury Yields
Yields on 10-year Treasuries climbed to as high as 1.96% on Tuesday, the highest since November 2019. Australia's benchmark yields soared 13 basis points, while the Japan equivalent approached a level that the central bank has indicated it will defend.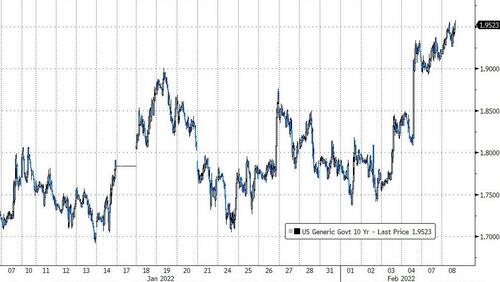 Price action since the start of the year supports a narrative that convexity hedging flows have so far been absent. 
That makes sense, with the surge higher in yields built on a strong macro backdrop and a hawkish central bank pivot.
But, as Bloomberg's Ed Bolingbroke notes, this could be about to change with 10-year yields at 1.95% - a level where mortgage bond funds would be compelled to sell Treasuries to protect their portfolios against the effects of rising yields, according to strategists.
That's according to Citi, who in a closing note Friday flagged that their trading desk saw "no strong fingerprints of convexity-related paying today but they suspect a breach of 1.95% in 10's might spur some."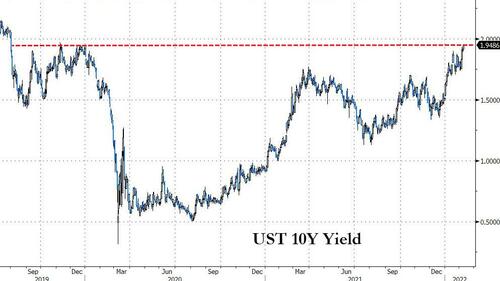 For fingerprints of convexity to emerge keep eyes on dollar swap spreads.
Any widening should Treasury yields continue to march higher would be a good signal of paying flows related to convexity hedging.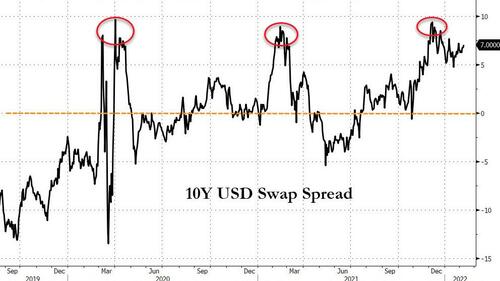 Meanwhile, an increasingly hawkish chorus of central bankers from Europe to New Zealand are heaping selling pressure daily on global bonds.
Swaps traders are pricing around a 30% chance that the Fed will raise interest rates by half a percentage point in March, and more than five quarter-point hikes this year.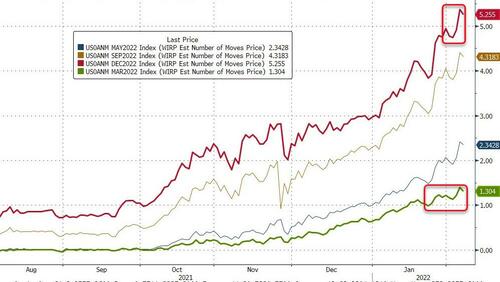 Citigroup expects U.S. yields to soon surpass the closely-watched 2.0% psychological level as the Federal Reserve battles the hottest inflation since the 1980s, with Matthews International Capital Management penciling in a move toward 2.5%.
"It's only a matter of time -- I don't see any favors coming through for Treasuries especially with the synchronized hawkish pivot of central banks such as the ECB joining the chorus of the Fed," said Vishnu Varathan, head of economics and strategy at Mizuho Bank, who sees yields testing 2.5%.
JPMorgan Asset Management is th emost bearish (for now), warning that the global bond benchmark could test as high as 3% this year.
We suspect the terminal rate for this hike cycle will be considerably lower than expected and bears holding their breath for a 3% 10Y exit may be disappointed as the yield curve collapses into inversion and The Fed realizes its forced-error.
Obviously US CPI will "make or break" the Rates trade this week, as it is all "one view" on inflation's implications for Central Bank FCI management - but, as Nomura's Charlie McElligott notes, it is worth noting from earlier this morning, NFIB small business sentiment falls to an 11 month low, as the percentage of businesses who are raising their prices hits the highest level since 1974, while the percentage of small businesses reporting "inflation" as their single-most important problem held at 22%, the highest since 1982.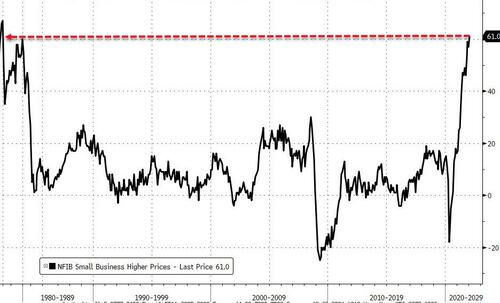 And if CPI prints as large a number that current Street consensus seems to indicate, it likely then takes the March probabilities from this current ~34 / 35bps to something closer to 40bps, at which point the market might-as-well go "digital" and push direct to 50bps implied... which then puts the Fed in the unenviable position of having to explicitly state a "yea or nay" on this market-pricing thereafter, or forever hold their peace.