---
Manhattan Apartment Prices Just Crashed To 10 Year Lows
As comrade Mayor Bill De Blasio does everything he possibly can to drive both businesses (like Goldman Sachs) and individual citizens out of New York City, the effect of his mismanagement and general cluelessness is starting to show up in Manhattan rental prices.
The medial rental price in Manhattan fell an astonishing 22% in November, from the year prior, to $2,743 per month, according to Bloomberg. This marks the lowest media price for rent in the city since October of 2010. 
The crash in prices isn't just a result of Covid-19 driving nervous citizens to the suburbs, but is also a result of an increase in shootings, disorder, closed businesses, barren streets and general lawlessness that Mayor De Blasio - like other liberal politicians across the country - has helped usher in.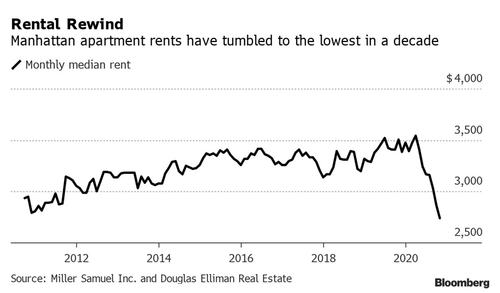 And experts won't know whether or not prices will stabilize until 2021. Jonathan Miller, president of Miller Samuel, said: "It's still going to take a good part of 2021 to see prices stabilize. It's really contingent on how quickly people begin to return to the office."
During November, landlords offered move-in incentives on 57% of new deals and took an average of 5.6% off of rental prices, the report notes. This helped leases rise 30% to 4,015, which marked the largest total in 12 years of record keeping. But even this demand on the bid side wasn't enough to move the ceiling on rental prices.
The number of listings has more than doubled from last year to 15,130 and the vacancy rate remained at a record high of 6.14%, Bloomberg noted.
And much to the joy of Mayor De Blasio, he'll be happy to know that it isn't just Manhattan that's imploding. After all, New York City does have five boroughs. Rents in Brooklyn plunged 8.3% and rents in Long Island City (Queens) plunged 21%.