---
As Manhattan Apartment Rents Dive, Bargain-Hunters Rush To Sign Leases 
As Manhattan apartment inventory swells and rents dive to a decade low, desperate landlords offer tenants perks to draw them in, and apparently, it is working.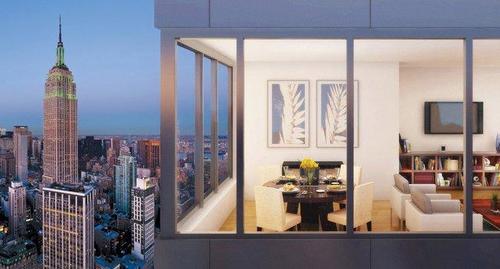 The number of new leases for New York's most expensive borough soared 94% in December from a year earlier to 5,459, the biggest annual increase since April 2011, according to Bloomberg, citing a new report from appraiser Miller Samuel Inc. and brokerage Douglas Elliman Real Estate.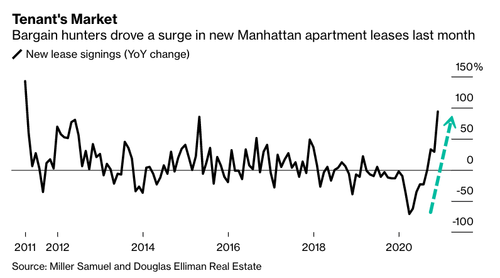 The firms said a little over half (54%) of the leases came with huge incentives such as free months of rent. They said by factoring in the perks for new tenants. The median rent plunged 17% to $2,800.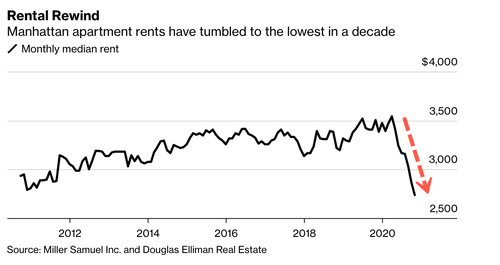 In a previous Douglas Elliman and Miller Samuel report, it was noted that more than 15,000 empty rental apartments were in Manhattan in August as the inventory hit 14-year highs. By October, the inventory was still above 15,000, with a vacancy rate of around 6.14%, a record high. In December, the inventory came down a tad bit to 13,718, but still near record levels, with a vacancy rate of around 5.52%.
A massive overhang of inventory has been painful for landlords and extremely beneficial for bargain hunting millennials attempting to escape their parents' basements. 
In another Douglas Elliman and Miller Samuel report, condo interest in the suburbs erupted this past year as city dwellers had enough with virus pandemic lockdowns, social unrest, and surging violent crime across the metro area. 
In the latest interview, Jonathan Miller, president of Miller Samuel, told Bloomberg that "new leasing has surged because of newfound affordability for renters." 
Miller warned that the latest rebound should not be viewed as an "imminent recovery."