---
Manhattan Apartment Rents Soar To New Highs As Summer Rush Begins
Rents across the country may be finally sliding amid a "crush" of new supply, as reported in March.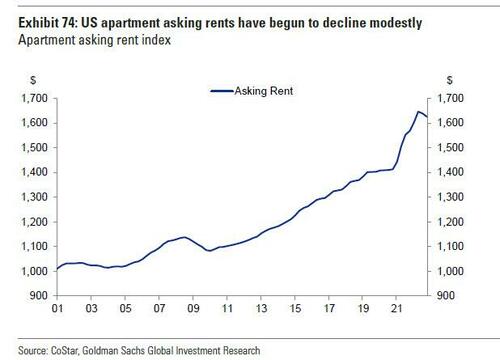 And we also noted. 
But shelter has topped out:
- MoM Shelter rose just 0.66% in March, down from 0.79% in Feb and the lowest since November 22
- MoM Rent rose just 0.45% in March, down from 0.71% in Feb and the low4est since March 22 https://t.co/M7npCURsOw pic.twitter.com/0EcAeLP9kO

— zerohedge (@zerohedge) April 12, 2023
... but heading into the summer season, New York City residents have yet to see any relief from record-high rents. 
According to appraiser Miller Samuel and brokerage Douglas Elliman Real Estate, effective median rents in May rose to a record high in Manhattan as intense demand continued pushing prices higher. This frenzy has been in effect for 18 months and shows no signs of cooling in the summer months. 
Bloomberg reported that the median rent rose 10% year-over-year to $4,395 in April. It was the third consecutive month of records. 
"There's no shock and awe here, it's just a continuation of a trend that we've been seeing for the last 18 months," said Jonathan Miller, president of Miller Samuel
Miller continued, saying, "It's hard to imagine there won't be records for the next several months."
The median rent in Manhattan hit an all time high at $4,360, up 4% from April. @robtfrank joins with more: pic.twitter.com/uHFgWVLwVd

— Squawk Box (@SquawkCNBC) June 8, 2023
Manhattan rents typically soar during summer months. As we noted last August:
As the fall season emerged, we pointed prices "plateaued." 
Data showed homes in May were listed for about 35 days, down from 48 days in April and 52 the same month a year earlier. Demand remains robust and increasing as people still want to live in the crime-ridden city. New leases for the month rebounded to 5,041 in May after an unexpected fall in April. Renters had more inventory to choose from versus the same period last year but were well below a 10-year average for the month as supply remains tight. 
The percentage of Manhattan leases that included landlord concessions slightly decreased from 13% in April to 12%. The average incentive was unchanged at 1.2 months of rent. 
Loading...