---
Manhattan Bargain Hunters Scoop Up Apartments In Discount Frenzy
For the last several months, bargain hunters have been rushing to sign leases in Manhattan as swelling apartment inventory has pressured prices. Landlords are more desperate than ever to attract new tenants, offering record concessions to fill vacant apartments. 
Appraiser Miller Samuel Inc. and brokerage Douglas Elliman Real Estate released a new report Thursday indicating apartment contracts for March soared 89% over the same period last year to 4,986. Record discounts and cheap rents, along with seasonal spring trends, are attracting bargain hunters. The report said last month's leasing total was the largest in a decade since records began. 
The surge in bargain hunters first began in early January. Ever since, new tenants have been swarming the borough, taking advantage of record incentives and heavily discounted rental rates. 
Manhattan apartment hunters received an average of 6.8% off the original list price, the second-highest in markdowns since the pandemic began, the report said,
Jonathan Miller, president of Miller Samuel, said even older listings, ones that have been on the market for an extended time, are starting to gain interest. But with apartment listings spending at least 100 days on average on the market, the longest time since early 2009, oversupplied conditions will continue to exert downward pressure on rent prices.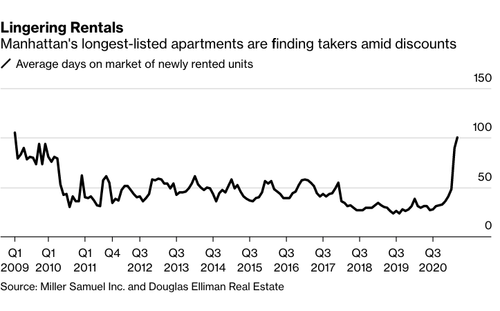 The report said there were 19,633 vacant apartments listed as of March. A month before, there were more than 24,000. The apartment vacancy rate was around 11.25% last month. 
After concessions are factored in, the median rent for Manhattan apartments was $2,975 - up about 4.6% from February, for the most significant month-over-month increase in a year. But since last March, rents are down 14%, 
Miller warned: "With inventory still being so elevated, I don't see rents posting noticeable gains in the near future. There's still too much out there."
In a past report, Miller said the latest rebound should not be viewed as an "imminent recovery."
It remains to be seen if the latest wave of bargain hunters can soak up supply in the borough - if not - then rents will stay cheap - after all, there's been a permanent shift of people from the city to suburbs due to remote working.