---
Manhattan Office Supply Skyrockets To Three Decade High 
Whether "working from home" is a temporary fad or a permanent "new normal" remains to be seen; what becomes more evident is the mounting supply glut of corporate space in Manhattan, according to Bloomberg, citing a new report from real estate firm Savills.
Savills said the amount of office space available in Manhattan is at a three-decade high. The report, released on Thursday, said the availability rate soared to 17.2% in the first quarter. The rise in the rate was primarily due to a massive surge in sublease space, which now stands at 22 million square feet, or 62% higher than 2019 levels. 
"Abundant short- and long-term options are driving price reductions," Savills noted. "Many owners are proposing historically aggressive rates, concessions, and flexibility to secure tenants amid so much competition."
Savills said rents fell for the fifth consecutive quarter to around $76.27 a square foot, down 9% from a year earlier. These cheaper rents are creating a massive opportunity for companies who want to enter the city. 
Desperate landlords were offering generous concessions for long-term leases at newly constructed buildings: "Average tenant improvement allowances jumped 16% and free rent surged 17% to an average of 13.5 months. The tenant-friendly market is expected to last for at least the next 12 to 18 months," Savills said.
The Manhattan office market continues to struggle more than one year after the pandemic hit, which has emptied Manhattan's skyscrapers. And since most employees are still working from home, just around 24.21% of workers in the New York metropolitan area were back at their desks as of this week.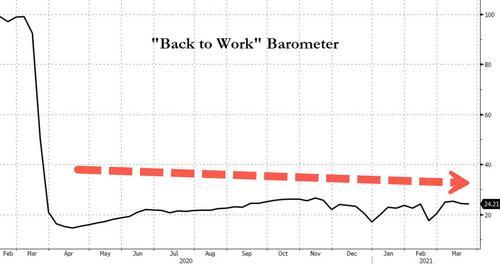 Even with the vaccine rollout now reaching 100 million Americans, companies are still opting for "hybrid" work as remote working dominates.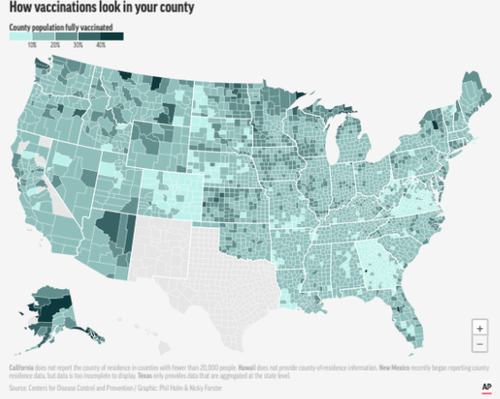 In a past report, Jim Wenk, a vice chairman at Savills North America, said commercial real estate in the borough will have a "very choppy period for the foreseeable future."
A recent survey from the Partnership for New York City found 66% of Manhattan's most prominent employers would allow employees to work under hybrid work arrangements, meaning they would Manhattan's most prominent employers. 
As more proof the work environment is rapidly changing, major magazine publisher Conde Nast (who owns brands such as ARS Technica, GQ, Teen Vogue, The New Yorker, Vanity Fair, Vogue, Wired, among other popular magazines) is a major anchor tenant in the new World Trade Center, recently skipped out on rent as it asked for rent discounts and a reduction in square footage.
Last month, JP Morgan was reportedly looking to sublet hundreds of thousands of square feet at 4 New York Plaza in the financial district and 5 Manhattan West in the Hudson Yards area. 
To make matters worse, Hudson Yards, a massive complex on Manhattan's Far West Side with condos, office space, and retailers built over an enormous railroad yard had investors panic because the company refused to open its books. The combination of work-at-home and folks moving to suburbs has left Hudson Yards and other places across the borough a 'ghost town.' 
This all suggests that the virus pandemic has brought years of technological change to the work model that has possibly made companies more productive and cut costs as employees work from home or adopt a hybrid work model. Without office workers returning to the borough, there can't be a robust recovery in the near term.