---
Manhattan Office Vacancies Hit Record High As Work-At-Home Dominates 
Manhattan's office market is facing its highest availability on record as new rental deals slump and sublease openings jump, according to Bloomberg. 
A new report from commercial real estate firm Savills said Manhattan's office vacancy rate ended 2020 at 15.1%, a record high, up from 11.1% in 2019. 
More than 68 million square feet of office space lay dormant in the borough in the fourth quarter, including 18.6 million square feet of sublease space available for tenants attempting to downsize. 
When it comes to remote work, many corporations have embraced the at-home work environment for their employees to mitigate virus spreading in the office. As a result, companies are shrinking their footprints, which has resulted in the availability rate for Manhattan office space to hit a record high.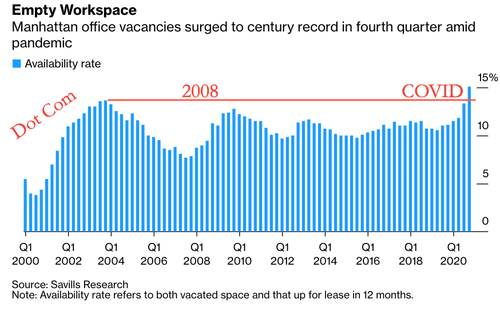 Savills said new leases in the fourth quarter plunged 64% from a year ago to 4.6 million square feet. "Extension agreements and short-term rentals dominated as tenants delayed major decisions while weighing the impact of remote working and pandemic-induced economic uncertainty," Savills said.
Sarah Dreyer, head of Americas research at Savills, said average asking rents for "Grade-A" office space fell 8.6% to 90.42 a square foot. She said the decline doesn't factor in concessions such as free months or tenant-improvement allowances. 
The borough's surging vacancy rate comes as no surprise considering high-frequency data in December showed foot traffic in Manhattan was muted. 
Those hoping for the return of office workers to the financial district have been nothing more than disappointed as foot traffic declines, yet again.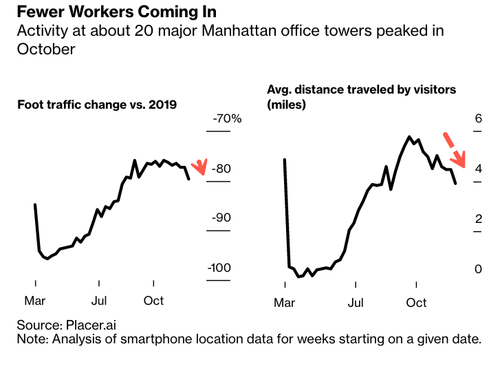 The low rate of office workers returning to Manhattan is a significant disappointment for anyone who remotely thought NYC's economic recovery would resemble a "V" by the fourth quarter. It's likely the city's economy will lag the rest of the country by a couple of years. 
We noted back in October that only 10% of Manhattan office workers were back. 
New York City's structural dependence on property-tax revenue makes it highly vulnerable to fiscal deterioration as work-from-home threatens the commercial real estate industry.