---
Manhattan Retail Rents Continue Slide As Recovery Narrative Falls Apart 
Manhattan's "prime" retail real estate market remained under pressure in the first quarter even as COVID-19 vaccines became widely available and public health restrictions eased. 
According to Bloomberg, citing a report by Cushman & Wakefield, SoHo, a neighborhood in Lower Manhattan known for designer boutiques, fancy chain stores, and high-end art galleries, experienced the worst slump in retail rents in the first quarter, down 20% from a year earlier to $279 a square foot. The latest surge in long-term leases barely put a dent in overhead supply that has been increasing since the beginning of the pandemic. About 30% of SoHo's retail space is dormant and available for rent. 
We noted in a piece titled "Manhattan Retail Rents Plunge In "Prime" Shopping Areas" that retail rents slid in the fourth quarter of last year. 
Besides SoHo, Herald Square and Madison Ave.'s retail rents tumbled 19% over the same quarter last year. Madison Avenue had the most inventory available, with the availability rate at a whopping 40%.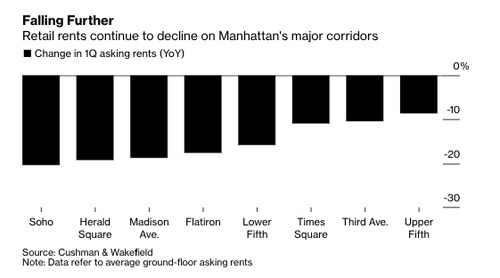 "The bad news is that first quarter of 2021 is showing the true impact of the pandemic on the market," Steven Soutendijk, an executive managing director at Cushman & Wakefield, told Bloomberg. 
Soutendijk continued: "The good news is that landlords are responding and adjusting rents even further downwards to spur leasing."
Mayor DeBlasio's solution to mitigate the virus spread has doomed the city. A speedy economic recovery is now questionable.
Former New York City Mayor Rudy Giuliani recently said DeBlasio has "ruined" the metro area through strict public health orders crushing businesses and liberal policies that have made the area more dangerous. 
"Now he's consistently doing horrible things and destroying my city," Giuliani said. "He's ruining it all, he's doing it in a flash of an eye."
To revive the city, DeBlasio will spend $30 million on a tourism campaign this summer to attract tourists. 
"It's critical that we deliver the message that New York City is open and welcoming visitors once again," Fred Dixon, president and chief executive officer of NYC & Company, the city's official tourism organization, told WSJ. 
Tourism accounts for hundreds of thousands of jobs - for a sustainable recovery, there needs to be an influx of tourists to visit attractions, shop at retail shops, eat at restaurants, and stay in hotels. 
An exodus of office workers, companies, and residents also adds to the city's economic woes. Without the uptick in foot traffic on streets, the city should prepare for a new reality, one where its economic recovery lags the rest of the country.