---
Manheim Used Car Prices Reaccelerate As "Disinflation" Narrative Falters
Inflation may be easing - at least until the next commodity price shock and/or war - but the path to the Federal Reserve's official inflation rate target of 2% - at least until it's unofficially or officially hiked to 3% - won't be smooth. The latest evidence of the faltering "disinflationary" narrative has been the recent reacceleration of wholesale used vehicle prices. 
One month after markets were stumped by a big jump in real-time (not the lagged CPI variant) used car prices, Cox Automotive reported that its Manheim Used Vehicle Value Index which tracks the auction prices of wholesale used cars, increased again, this time by 4.1% from January in the first 15 days of February. According to Cox, "this was the largest February increase since 2009's full-month 4.4% gain. The mid-month Manheim Used Vehicle Value Index rose to 234.0, which was down 7.3% from the full month of February 2022. "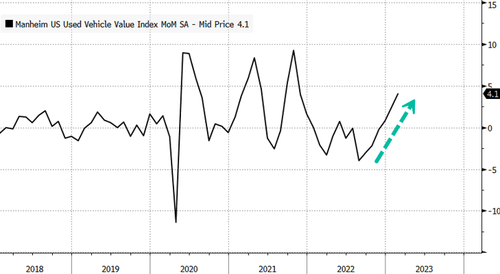 The mid-month MUVVI rose to 234, down 7.3% compared with the full month of February 2022.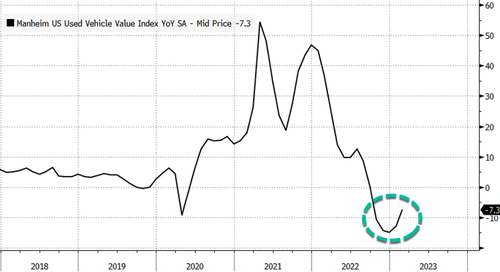 The index declined 15% following a peak in early 2022 at around 257. Since early November, the index has risen 7%.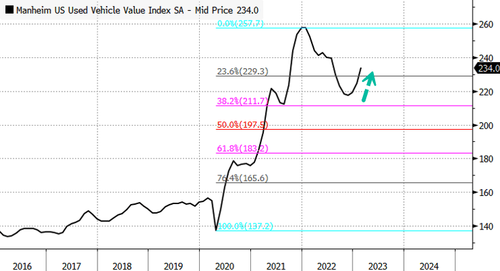 As discussed in the recent CPI preview (and post-mortem), one of the main focuses of market watchers in months ahead will be the prices of used cars. We shared a note from Deutsche Bank earlier this week that outlined Manheim prices have a two-month lead on CPI Used Cars and Trucks index. The latest inflation report showed a slight decline in used vehicles, which means the next 2-3 months will see a sizable bounce in this category due to the lag. Sure enough, as shown below, the high-frequency, real-time Manheim index reveals that future CPI prints for the Used Cars and Trucks component will likely turn higher.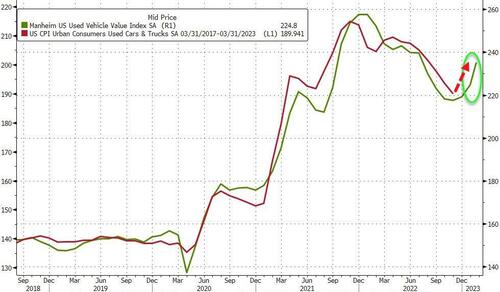 The silver lining: as per Goldman's recent analysis, the new CPI methodology has slightly decreased the weight of used cars. This means that the impact of car prices going forward will be smaller, at the expense of OER/shelter, whose weight was increased, and which will be declining thus offsetting any potential inflationary impulse from autos.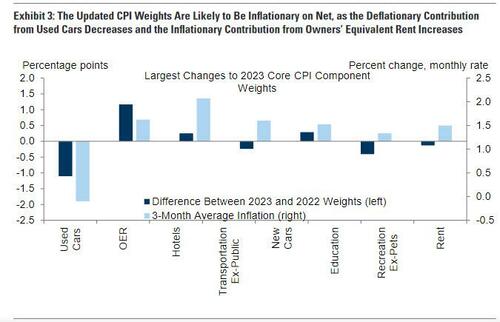 As a reminder, we first spotted the reacceleration of the Manheim index last week in a note titled "Used-Car Prices See Largest Monthly Increase Since Late 2021."
And while it is no surprise that used car prices are increasing as consumer auto loans hit a new record just above $1.4 trillion...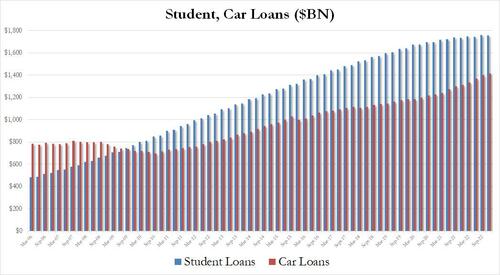 ... what is shocking is the eagerness of consumers to get in auto debt at a time when interest on car loans is one of the highest on record. Which leaves us with a 'perfect storm' as the economy worsens, and so will delinquencies.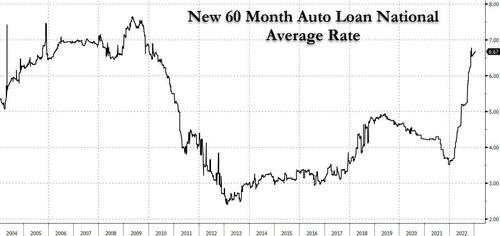 On the other hand, as discussed yesterday, one reason why consumers continue to splurge and confound economists expecting a slowdown in spending, is because they still don't have to make any student loan payments, hence a collapse in student loan delinquencies which naturally opens up space to take out other kinds of loans.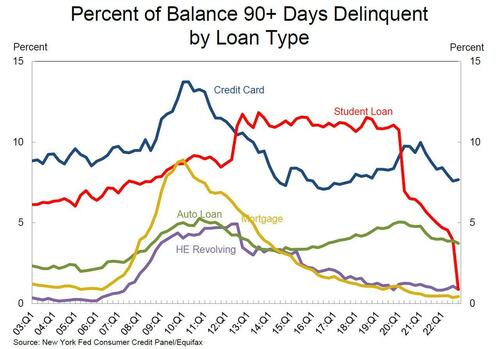 In light of this ongoing backdoor stimmy, it's hardly surprising why both the Fed's Bullard and Mester told reports yesterday that there is a compelling case for a 50bps increase at the next FOMC meeting in two weeks. 
Loading...