---
March Deficit Blowout: US Spends 3.5x More Than It Brings In; YTD Deficit Is Biggest Ever
The covid crisis may be over (with nearly 60% of the population vaccinated, one would certainly hope it's over), but covid crisis spending is here to stay.
At 2pm, the Treasury released its latest Monthly Treasury Statement which showed that in March, the US budget deficit exploded once again, surging to $660BN, up five-fold from a tiny $119BN last March, driven by a 160% increase in government Outlays which soared to $927 billion - the third highest on record - from $355.7BN a year ago, and from $559.2BN in February.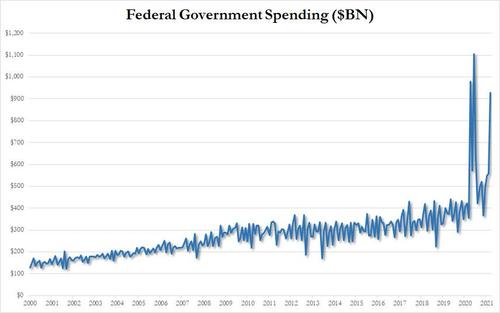 The large spike is primarily due to the stimulus checks released to households after the passage of the American Rescue Plan (ARP) Act which totaled $339bn and included forgiveness of roughly $87bn in Payroll Protection Program (PPP) loans in March. In total, the government spent $453bn on "income security" in March, with social security ($94BN), Commerce and Housing Credit ($81BN), Health ($71BN), National Defense ($70BN) and other spending far in the rearview mirror.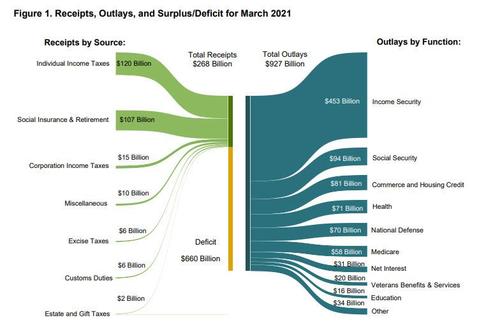 On the other side of the ledger, revenues rose 13% yoy to $268BN, owing to favorable base effects due to the pandemic. Still, as shown in the chart below, the number is woefully inadequate to (ever) catch up with the unprecedented spending, with March spending 3.5x more than receipts.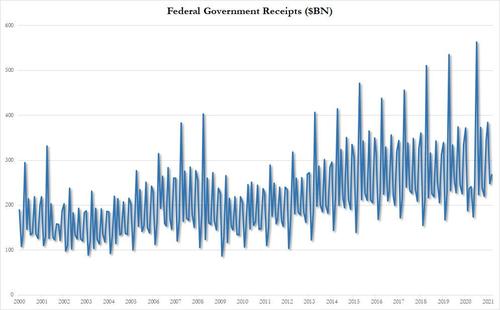 This can be seen on a chart showing YTD spending and outlays, with the government now spending ($3.41TN) precisely 100% more than it brings in ($1.704TN) in the current fiscal year.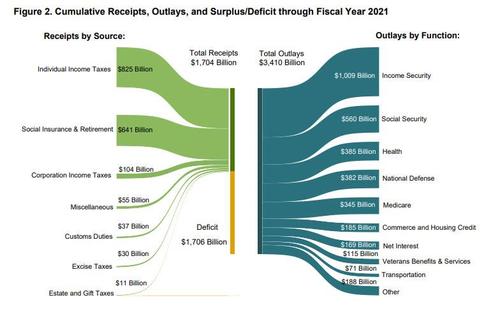 Finally, on a year to date basis, the US deficit is now at $1.706 trillion after six month, compared to $743.453BN last year. While it is likely that government spending will slowdown now that the latest stimulus is in the books, it is just as likely that it will accelerate in the coming months if Biden's various infrastructure plans pass.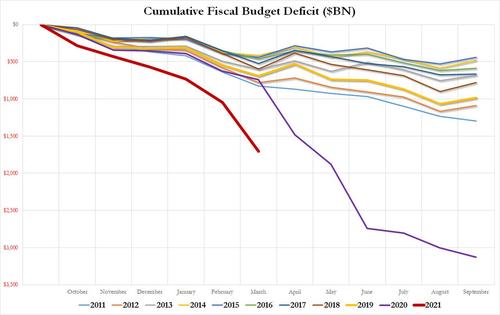 One thing is certain: the US will never again be able to fund itself using taxation alone, which is now to fund just 50% of the total US budget deficit.