---
Margin Call Chaos: Hong Kong Stock Plummets 75% In Minutes 
China First Capital Group, an investment holding company, saw its equity trading on the Hong Kong exchange placed in a trading halt on Wednesday after it crashed 78% in minutes, reported Bloomberg.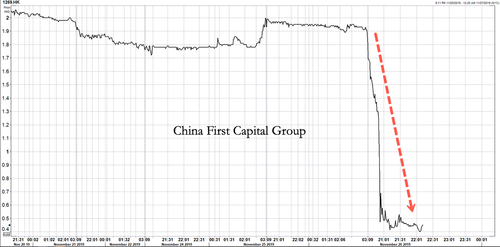 The collapse in equity wasn't just limited to China First Capital. Another company that is partly owned by the investment holding company also saw its shares initially crash by 80% but ended the session down 33%. Both moves wiped out $1.2 billion in shareholder value, underscore how the Hong Kong market is fraught with volatility.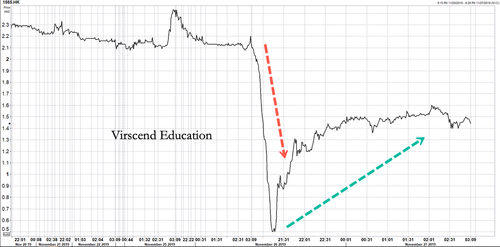 Chen Keyu, Virscend's director of investor relations, told Bloomberg that the sudden crash in Virscend shares could've been due to a margin call by China First Capital.
Bloomberg said the abrupt stock slumps are "once again putting the spotlight on corporate governance at the city's listed companies." 
Adding that "One oft-cited catalyst for the outsized swings is forced selling by major shareholders who have borrowed against their positions. That can lead to a domino effect when companies are connected by investors or business lines, and it's not always clear under Hong Kong's disclosure rules when a stake has been pledged." 
We noted last year some prominent risks facing the Chinese stock market was the threat of margin calls resulting in forced selling of stocks pledged as collateral for loans.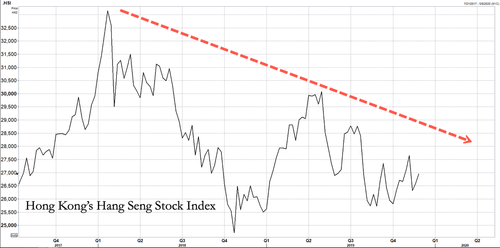 Companies who pledged shares as loan collateral could be one of the reasons behind Wednesday's margin call dump in China First Capital that spread into Virscend. 
There was another panic last week when ArtGo Holdings plunged 98% after MSCI rejected plans to add the stock to its benchmark indexes. Then another stock, a Chinese furniture maker, plummeted 91% after a short-seller questioned the company's accounting practices. 
The next significant risk for investors in Hong Kong and or Chinese stocks are sliding prices because of a decelerating regional economy. As a result, this would lead to additional margin calls and force a vicious circle of panic selling.