---
"The Market Is Crazy" - Despite 'Miraculous' Macro Data, Chinese Stocks Remain "Uninvestable"
Despite what some described as a "miraculousy timed" good economic data last night, the selling in Chinese stocks continues unabated as anxiety over a resurgent COVID, blowback concerns over Russia-ties, domestic regulatory fears, and recently weak credit data all piled up to drag the market to its lowest relative valuation versus the world on record...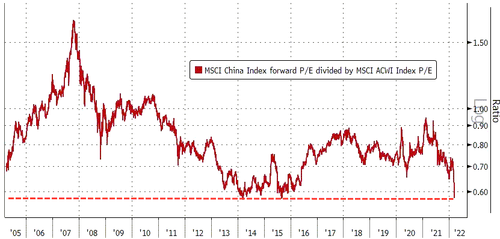 Source: Bloomberg
"When faith is gone, people are ready to see a dark shadow in everything, some are even suspicious of the solid economic figures today," said Yu Yingbo, an investment director at Shenzhen Qianhai United Fortune Fund Management Co Ltd.
"It's just a planned, persistent and synchronized selling."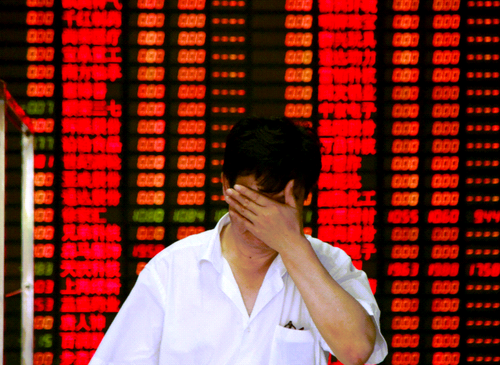 The collapse, as we detailed earlier, has been heavily focused on the tech sector with the Hang Seng Tech Index crashing 8.1% (extending declines from a February 2021 peak to nearly 70%) amid what Bloomberg describes as its greatest intraday swing in history...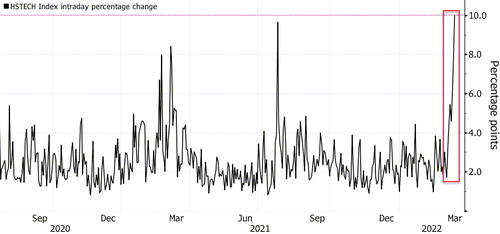 Source: Bloomberg
But what feels capitulative may just be getting going as Jeffrey Halley, senior market analyst at Oanda Asia Pacific, warns "there are plenty of storms blowing through China right now," adding that "fears continue to dog stock markets, that lockdowns could spread, which would severely impact China's growth."
"The selloff is overdone, but so is everything else," said Andy Maynard, head of equities at China Renaissance Securities.

"The market is crazy -- there's no fundamentals anymore. This might be worse than the 2008 financial crisis."
JPMorgan analysts have even labeled some Chinese internet names as "uninvestable".
"We are underweight Chinese equities due to several factors," said Cesar Perez Ruiz, chief investment officer of Pictet Wealth Management, citing the nation's zero-Covid policy that's affecting growth as one of the reasons.

"The tech sector will continue to suffer from regulation challenges plus the risk of U.S. delisting and penalization of growth stocks as rates continue to normalize."
And of course, for the world's investors - now conditioned to expect every dip to be rescued by a Fed Put (and dissonant that The Fed is now selling calls) - hope is rapidly becoming a four-letter word as the market is now anticipating an inflation-fighting Fed will hike 7 times in 2022...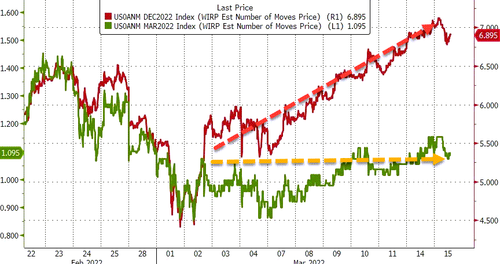 Source: Bloomberg
...and the crushing collapse in credibility of any Fed reversal from its hawkish positioning now would likely (after an initial breathless recovery) lead to far worse outcomes.
And the PBOC's recent actions (holding rates rather than cutting as expected) disappointed a demanding investor base expecting to be bailed out.
Loading...