---
Market Prices In Accelerated Fed Rate-Hike Timing/Trajectory; Specs Dump Bonds, Abandon VIX Shorts
As stocks continue to rise ever higher, riding a carpet of global liquidity, there are signs that tsunami of support is losing its mojo...
Source: Bloomberg
In fact, global central bank balance sheets have flatlined...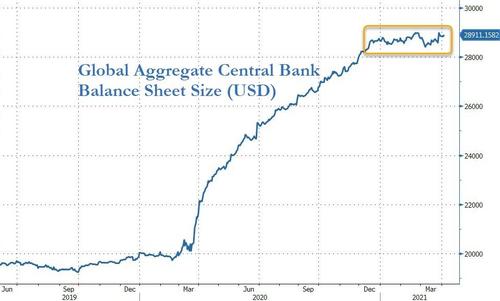 Source: Bloomberg
And as central bank balance sheet expansion slows, the market is rapidly accelerating the timeline for The Fed's first rate-hike (markets now imply more than one rate hike by the end of 2022)...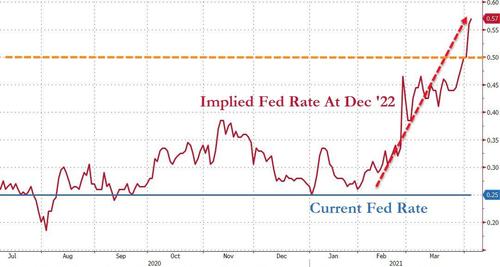 Source: Bloomberg
..and the trajectory of rate-hikes after that is also soaring (almost 140bps of tightening - almost 6 rate hikes - is now priced in from the end of '22 to the end of '24)...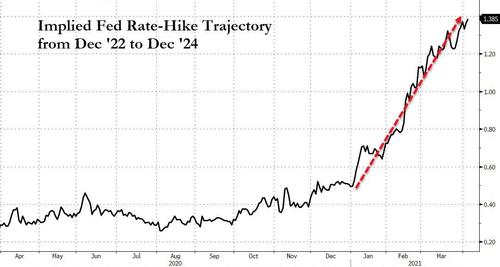 Source: Bloomberg
Perhaps the (net) slowing pace of bond-buying by central banks, combined with the rising rate-hike expectations at the short-end is what has spooked bond traders in the US as Bloomberg reports that after a blowout 2020 for corporate debt, exchange-traded fund investors are quickly souring on those bonds.
The world's largest credit ETF notched its worst month of outflows since it began trading about two decades ago. Traders pulled roughly $3.6 billion from the iShares iBoxx $ Investment Grade Corporate Bond ETF (ticker LQD) in March, according to data compiled by Bloomberg. That exodus came as the $42 billion fund suffered its biggest quarterly rout in 12 years.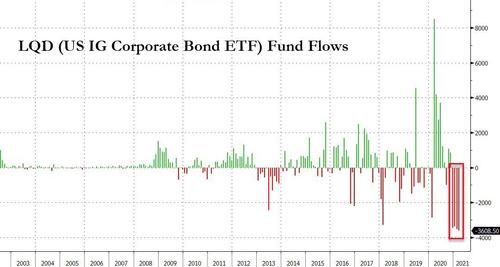 Source: Bloomberg
The outflows are a stark reversal from 2020, when the Federal Reserve's pledge to backstop credit markets at the height of the coronavirus turmoil fueled nearly insatiable demand. LQD, among the ETFs purchased by the Fed, absorbed roughly $14.9 billion worth of inflows last year, only a fraction of which was from the central bank itself.
And as IG outflows exploded (as underlying rates have spiked), HY bond prices (less exposed to underlying rate duration) have notably decoupled from stocks...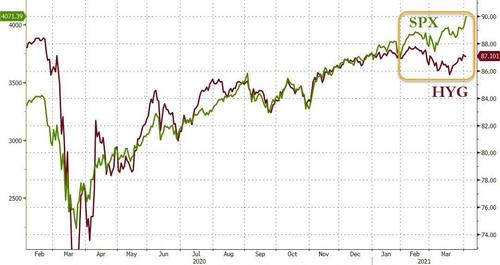 Source: Bloomberg
Furthermore, after Friday's blowout payrolls print, CME open interest data from Friday's shortened holiday session has revealed a mass rush to the exit on bond futures positions. The total amount chopped was equivalent to $10 million in risk per basis point move in cash yield, or around $11 billion in notional of the current cash 10-year note.
However, risk in each futures contract dropped across the curve, a sign that the selloff was sparked by longs closing out rather than new short positions.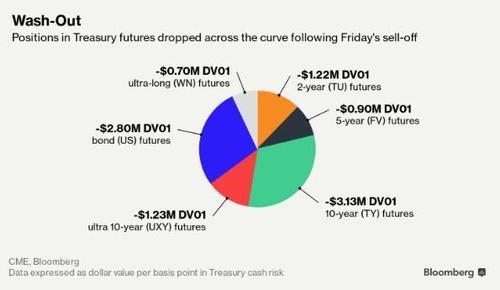 Source: Bloomberg
Additionally, in line with the surges in rate-hike expectations, open interest in eurodollar futures rose following Friday's action.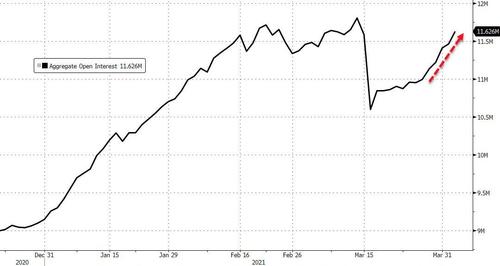 Source: Bloomberg
And while stocks continue to rise (albeit in a rotational manner) day after day, traders are bailing on bets that market calm will continue. As VIX has collapsed from over 30 at the end of February, speculative investors have drastically cut their VIX shorts...
Source: Bloomberg
Will equity risk 'catch up' to rate risk?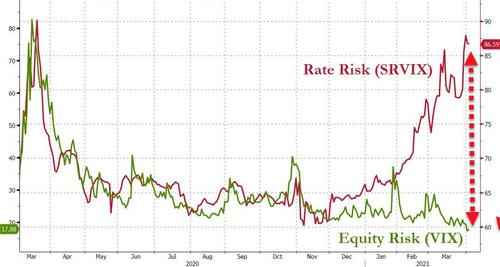 Source: Bloomberg
At what point will equity market investors wake up to the tightening being priced into rate markets? Is the shift in VIX specs 'the tell'?