---
Markets Are Looking Through Higher-Rates Messaging
By Michael Msika, Bloomberg Markets Live reporter and analyst
Investors are shrugging off hawkish messages from last week's central-bank meetings to focus on the narrative of a soft economic landing and resilient earnings as they seek catalysts to push stocks higher.
The Stoxx 600 continued its June ascent, capping its best week since April, even after the Fed and the ECB signaled that more tightening is needed to tame inflation. With stock returns proving surprisingly strong in the first half, heavily outperforming cash, the fear of missing out may drive investors on the sidelines into the asset class following the key rate meetings.
"Hawkish central banks haven't move the needle for the equity market," says Barclays strategists led by Emmanuel Cau. "With the bulk of rates hikes done, earnings is what matters now, and so far so good."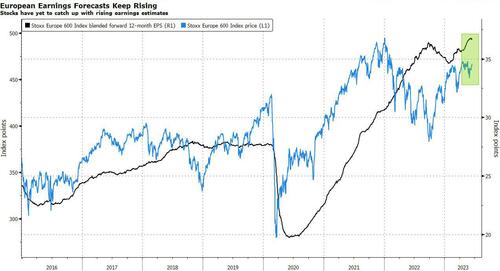 Analysts are raising earnings estimates in Europe and the US on broad optimism that the global economy will avoid a recession. China ramping up stimulus measures have also helped.
"Europe's been the region with the best earnings revisions in the last year," says Goldman Sachs strategist Sharon Bell. "We see several supports for European equities: falling European inflation, a peak in rates, positive real income growth in second half of 2023 and in 2024, and a starting point of weak positioning based on cumulative flows data."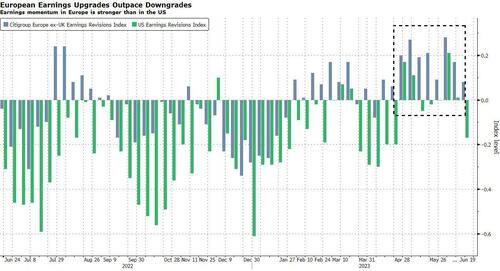 Credit Suisse strategists led by Andrew Garthwaite say equities are well supported in the near term, with positive surprises in hard data and earnings revisions both pointing to further equity upside 80% of the time. Abnormally low speculative positioning and bullish technicals also help they say.
Technicals signal little pressure on European stocks currently. The Stoxx 600 is trading around its 50-day moving average and above its 100- and 200-day metrics. No sector is in overbought territory, and telecoms is the only one oversold.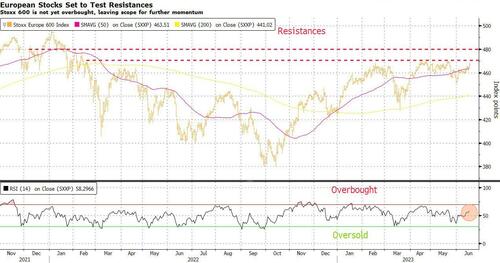 Investors are being "forced to play catch-up as hard landing risks evaporate," says Bank of America strategist Michael Hartnett. BofA's June survey showed global fund managers were still underweight equities, with high allocation to cash.
While sentiment has lifted and general positioning is no longer heavily short, I think people are still set up quite defensively after lots called for a summer sell-off," says Carl Dooley, head of EMEA trading at TD Cowen. "The path from here is less asymmetric now, but we remain of the view the direction is still higher," he adds, citing given heavy European fund outflows this year and supportive technicals.
Looking further out into next year, things may get trickier for stock markets, says Credit Suisse's Garthwaite. Leading indicators still point toward a US recession, while earnings are likely to come under pressure, he adds. His team's EPS forecasts for Europe are 9% below the consensus for 2024.
Loading...