---
"Markets Are Nearing Their Limits": Futures Falls, European Markets Tumble After German GDP Crashes
S&P futures tumbled, European stocks slumped to a three week low, 10Y Treasury yields dropped near all time lows (where the 5Y already was at 0.2374%, the lowest yield on record), and the EUR slid from near a 22-month high after the market reassessed that Powell's message could have been even more dovish, and as German GDP crashed the most on record, alongside a surge in Covid-19 cases. Meanwhile, today's US GDP report is expected to show shortly that the US economy contracted by a record 34.5%. The dollar strengthened against most Group-of-10 peers, with Scandinavian currencies leading losses.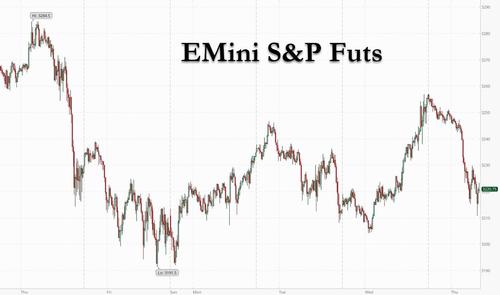 German GDP contracted by 10.1% Q/Q in the second quarter of 2020, the biggest drop on record and worse than the 9% expected drop. The good news: this print is consistent with a relatively fast rebound of both the industrial and services sectors through May and June. That said, the below-consensus performance of Germany points to downside risks to consensus expectations for the Euro area Q2 release published tomorrow. It also means that the narrative of a faster European recovery than the US has just come to a screeching halt.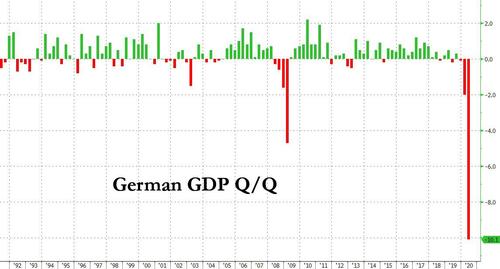 In US pre-market trading, UPS jumped on a surge in delivery demand during the pandemic. Qualcomm jumped 11.5% after forecasting fourth-quarter revenue largely above expectations, powered by sales of its chips used in 5G devices and reaching a settlement with Huawei Technologies Co Ltd. Eastman Kodak extended yesterday's 319% surge from winning a government loan to assist in the production of a coronavirus treatment.
European stocks tumbled as much as 1.7%, dropping to the lowest since July 1, as the prospects for stimulus is weighed against the quickening spread of the coronavirus. Among the biggest decliners, SAP fell 2.6%, HSBC loses 3.4%, Allianz retreats 3.6%. Danone was down 5.6% after sales fell more than expected last quarter, dragged down by its water business. Lloyds Banking Group Plc slumped as much as 9% after profit was wiped out by bad loans charges.  Volkswagen tumbled 5.6% after posting 2Q figures that included what MainFirst called a "clear miss" at the heavy- trucks division and worse-than-expected performance at some car brands.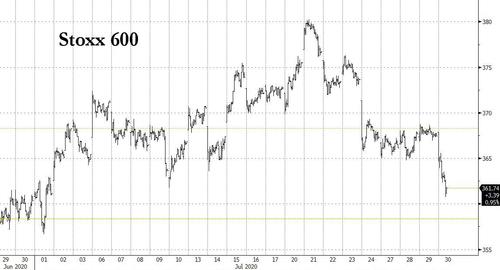 "A vacuum on EU positive news could now be in store as the recovery fund ratification process begins" and European equities start to struggle, Dankse Bank strategists write in a note. Meanwhile, Germany's covid infection rate remains above the threshold of 1.0, and recorded the highest number of new cases in around six weeks.
Asian stocks also fell, wiping out earlier gains, with shares in Japan and China under pressure even as the Kospi stayed modestly firmer following upbeat Samsung outlook. The drop was led by finance and utilities; markets in the region were mixed, with Singapore's Straits Times Index and Thailand's SET falling, and Taiwan's Taiex Index and Jakarta Composite rising. The Topix declined 0.6%, with Gurunavi and Kushikatsu Tanaka falling the most. The Shanghai Composite Index reversed Wednesday's rally and retreated 0.2%, with Hangzhou Electronic Soul Network and Shanghai Material Trading posting the biggest slides.
"Markets are nearing their limits without further stimulus and a much stronger recovery," said Andrew McCaffery, the global CIO of asset management at Fidelity International, citing the failure to get the outbreak under control in some countries. "The third quarter is likely to be much more challenging and markets could see renewed volatility."
While markets are bracing for a slew of earnings from the tech giants, they will also get economic data that's will show the biggest contraction in U.S. GDP on record. Thursday marks the first time the four of the biggest U.S. tech companies — Apple, Amazon.com, Alphabet and Facebook — will post financial results on the same day, with expectations running high as their valuations soared over the past three months. Shares of the companies, which have a combined market value of about $5 trillion, fell between 0.6% and 0.9% premarket. On Wednesday, the CEOs of the four companies took jabs from lawmakers for antitrust issues.
"Tonight could be a pivot for markets with four of the big tech companies reporting earnings," said Berndt Maisch, a senior portfolio manager at Tresides Asset Management. "Their stocks are so super expensive and hence offer very little room for any disappointment. Should they miss the high expectations that could lead to a significant market shake up. We can already see that nervousness within European markets today."
While signs of a pickup in activity have fueled a stellar rally in U.S. stocks, the momentum of economic has slowed recently amid a resurgence in new infections, especially in southern and western U.S. states, leading to a pause in reopening plans. The S&P 500 is about 4% below its Feb. 19 record high after coming within 3% of that level last week. The backward looking GDP print is due at 8:30 a.m. ET when we will also get the Labor Department's latest jobless claims data which is expected to show another ominous an uptick in newly fired workers.
On Wednesday, the Federal Reserve acknowledged the surge in COVID-19 cases is likely stalling economic recovery. The central bank also pledged to support the economy as long as necessary, lifting Wall Street's three main indexes at the end of the session. Also dampening the mood was a deadlock in negotiations in the U.S. Congress over a pandemic relief plan, before a $600-per-week unemployment benefit lapses on Friday.
In FX, the dollar reversed Wednesday's losses and climbed from the lowest since September 2018 as rising coronavirus cases worldwide supported demand for haven assets; the euro retreated against the dollar from the high it touched on Wednesday after news that Germany's economy fell the most since records began in the second quarter.  Investors sought refuge in the greenback after nations from Australia to Vietnam reported a fresh spike in infections and Federal Reserve Chair Jerome Powell warned of the most severe economic downturn "in our lifetime."
Among the G-10, the Norwegian krone saw the biggest losses, making it this year's worst performer; it was followed by the krona and kiwi, which also extended declines versus the Aussie as data showed a further drop in New Zealand's consumer confidence. Sterling snapped a nine-day rally against the dollar, yet outperformed the euro.
The Australian dollar slipped as leveraged funds initiated short positions after Victoria state registered a record number of cases, according to a trader. The yen halted a five-day gain as traders weighed Japan's tally of infections which rose to an all-time high.
"The virus story is shifting away from being just a U.S. story with now many hot spots around the globe," said Rodrigo Catril, a currency strategist at National Australia Bank Ltd. "The dollar's decline is starting to look stretched, particularly if more containment measures are reintroduced in other parts of the world"
In rates, two-year Treasury yields are two basis points away from falling below the record set in May and the 5-year yield fell to a record low 0.2374%. The US Treasury curve bull-flattened, extending a move that followed Wednesday's FOMC meeting and anticipating month-end index-extension flows Friday that may further support long end. U.S yields were lower by 1bp to 3bp across the curve with long-end- led gains flattening 2s10s by ~1bp, 5s30s by ~2bp; 10-year yields around 0.555%, richer by 2bp vs Wednesday's close and within 2bp of its record low close on March 9.  German bonds rallied on demand for the safety of sovereign debt, driving benchmark yields to a two-month low and widening the differential with Italian equivalents.
In commodities, gold fell for the first time in 10 days as the dollar rebounded.
Looking at the day ahead, the focus for data will be the advanced Q2 GDP reading for the US which is expected to show an annualized contraction of -34.5% qoq. Other data includes weekly jobless claims while in Europe we've got preliminary July CPI and Q2 GDP in Germany. As highlighted earlier, expect earnings to be a big focus with Alphabet, Amazon, Facebook and Apple reporting along with Nestle, P&G, Shell, MasterCard, Total, ABInBev and Volkswagen.
Market Snapshot
S&P 500 futures down 0.9% to 3,222.50
STOXX Europe 600 down 0.8% to 364.50
German 10Y yield fell 2.7 bps to -0.525%
Euro down 0.3% to $1.1754
Italian 10Y yield fell 1.6 bps to 0.866%
Spanish 10Y yield fell 1.6 bps to 0.332%
Brent futures down 1.4% to $43.12/bbl
Gold spot down 0.8% to $1,955.55
U.S. Dollar Index up 0.2% to 93.61
MXAP down 0.2% to 166.87
MXAPJ down 0.01% to 553.40
Nikkei down 0.3% to 22,339.23
Topix down 0.6% to 1,539.47
Hang Seng Index down 0.7% to 24,710.59
Shanghai Composite down 0.2% to 3,286.82
Sensex down 0.4% to 37,915.38
Australia S&P/ASX 200 up 0.7% to 6,051.08
Kospi up 0.2% to 2,267.01
Top Overnight News from Bloomberg
Germany's economy plunged into a record slump in the second quarter, when virus restrictions slammed businesses and households across Europe, destroying jobs and prompting an unprecedented policy response
Germany also reported the highest number of new coronavirus cases in about six weeks. In the U.K., almost 10,000 people have been given an experimental Covid-19 vaccine, a key step toward finding a shot that will help control the pandemic
Hong Kong's government barred 12 pro-democracy activists including Joshua Wong from running in September elections
The early signs are that bond investors agree with Federal Reserve Chairman Jerome Powell that the coronavirus still warrants extreme caution from policy makers
Asian equity markets were mostly kept afloat as the region took advantage of the post-FOMC tailwinds from Wall Street and as focus was centred on a deluge of earnings releases. ASX 200 (+0.7%) was led by outperformance in the tech sector and with mining names underpinned by Rio Tinto earnings. Nikkei 225 (-0.2%) also began positively although gains were later reversed amid recent currency strength and after Retail Sales Y/Y topped estimates but remained in contractionary territory. Furthermore, notable movers have been driven by corporate updates with Nomura Holdings the biggest gainer, while Isetan Mitsukoshi, TEPCO and Sumitomo Mitsui Financial Group are at the other side of the spectrum on dismal results. KOSPI (+0.3%) began the session on the front foot to print its best level since October 2018 after encouraging earnings from Samsung Electronics although some of the gains were later pared after shares of the tech and index behemoth stalled around the KRW 60,000 level. Elsewhere, Hang Seng (+1.1%) and Shanghai Comp. (+0.1%) were varied with indecision seen in the mainland following the prior day's outperformance and after the PBoC opted for a neutral position in its latest liquidity operations. Finally, 10yr JGBs were subdued amid the flimsy sentiment in Tokyo and mostly weaker results at the 2yr JGB auction.
Top Asian News
Herd Immunity May Be Developing in Mumbai's Poorest Areas
Thailand Sees 8.5% GDP Contraction as Virus Ravages Economy
Hong Kong's Dollar Peg Is 'Unassailable', StanChart CEO Says
European equities (Eurostoxx 50 -1.7%) trade lower across the board with selling pressure continuing to pick up throughout the session amid a backdrop of light macro newsflow and a particularly busy earnings slate. Despite selling pressure in equity index futures becoming more prominent throughout the session, equity-specific focus has largely been centred around individual pre-market earnings reports from a vast number of large-cap names from across the region. Sector-wise, auto names are a notable laggard amid earnings from Volkswagen (-5.7%) and Renault (-5.7%) with the former reporting a H1 loss of EUR 1.4bln (prev. profit of EUR 9.6bln) and the latter posting a EUR 7.4bln loss; Renault CEO noting that results have acted as a "disturbing wake up call". For the banking sector, Lloyds (-7.4%) trade lower after posting a GBP 602mln loss (prev. profit of GBP 2.9bln), Standard Chartered (-3.6%) and BBVA (-7.9%) are also down on the day post-earnings, whilst some reprieve for the sector has been presented by Credit Suisse (+0.2) after the Co. posted a 24% increase in net income whilst also announcing some structural changes in its operations. Large-cap energy names Shell (-1.7%) and Total (+1.3%) have both come to market with Q2 earnings today in which the former posting a USD 16.8bln writedown on its assets and the latter managing to avoid entering the red after recording a net income figure of USD 126mln during the quarter. Elsewhere, AstraZeneca (+2.8%) are a notable outperformer after reporting an increase in H1 profits and revenues with performance boosted by new medicines with the Co. continuing to focus on developing a vaccine for COVID-19. Swiss heavyweight Nestle (+0.4%) are firmer this morning after H1 organic sales rose 2.8% vs. Exp. 2.3% despite the fallout from the pandemic. Airbus (+3.0%) are another outperformer post-earnings despite posting a H1 loss of EUR 1.9bln with the Co. vowing to stem its sizable cash outflows. AB InBev (+5.4%) sit near the top of the Stoxx 600 after Q2 sales figures exceeded expectations during the pandemic. To the downside, Casino (-15.8%) reside at the bottom of the Stoxx 600 after posting a drop in sales and trading profits
Top European News
Euronext Rejects Shorter Hours After Some Investors Resist
Lazard Banker Among Suspects in German Insider Trading Probe
BBVA's Miss in Mexico Overshadows Quick Return to Profit
Casino Shares Collapse to 24-Year Low as 1H Seen as 'A Disaster'
In FX, the Greenback continues to regroup after a knee-jerk slide in wake of the dovish/downbeat FOMC, as broad risk sentiment sours on heightened 2nd wave COVID-19 prompted by the latest daily updates showing increases in infections and deaths to new record levels in several cases. As such, the Buck has bounced across the board with the DXY pivoting 93.500 within 93.308-685 bounds compared to a low of 93.169 at one stage on Wednesday and now eyeing 2 top-tier US data points for near term direction (weekly initial claims and Q2 GDP) before remaining month end rebalancing kicks in.
AUD/NZD/CAD/NOK - No big surprise that the high beta, cyclical and commodity currencies have been hit hardest by renewed aversion and the mini or partial US Dollar revival, as the Aussie also laments another rise in virus cases in Victoria and retreats further nigh on 0.7200 peaks towards 0.7125, while the Kiwi fails to glean any lasting traction from improvements in ANZ business sentiment or an even bigger rebound in the outlook, with 0.6600 more tangible than 0.6700 that seemed reachable at one stage. Similarly, the Loonie has reversed sharply from multi-week highs around 1.3330 to sub-1.3400 against the backdrop of waning crude prices and the Norwegian Krona is back below 10.7000 vs the Euro even though the latter has unwound gains elsewhere.
EUR/SEK/CHF/JPY/GBP - All backing off amidst the downturn in risk appetite and Greenback recovery, with the single currency testing bids under 1.1750 having rallied just above 1.1800 late yesterday, but not quite far enough to probe the bottom end of a resistance zone stretching from 1.1815 to 1.1851 that includes a key Fib retracement (1.1822). However, the Swedish Crown has slipped through 10.3000 against the Euro in contrast to the Franc that is straddling 1.0750 and only handing back a portion of its gains vs the Buck between 0.9151-21 parameters in keeping with the safe-haven Yen that is holding a tight range either side of 105.00. Last, but not least, the Pound is actually confounding normal conventions, to a degree, and retaining sight of 1.3000, albeit capped ahead of Wednesday's 1.3014 pinnacle and a chart hurdle just a few pips above (1.3018).
EM - General depreciation on overall risk factors, but the Rand also losing ground with GOLD, Rouble alongside Brent, Lira on a lack of Turkish reserves to arrest the slide and Mexican Peso ahead of Q2 GDP that is expected to extend the recessionary run to 5 quarters and by record margins.
In commodities, WTI and Brent are in the red this morning following the general downturn in sentiment this morning which features European & US equity bourses firmly in negative territory on the busiest earnings session of the season for both European & US Co's. For crude explicitly there hasn't been anything fundamentally new for the complex since yesterday's EIAs and as such it is once again tracking sentiment generally. Albeit, we did see updates from Total and Shell this morning who both highlighted strong oil trading results for the quarter which acted to mitigate some of the declines from energy prices. Additionally, on the mid-term supply front Shell CEO Beurden noted that they will only be drilling 22 exploratory wells this year which is some way below the originally guided 77. Moving to metals, spot gold is subdued this morning as the USD continues to grind higher; although, the precious metal is still in proximity to the USD 1950/oz mark a level which it was in proximity to around this time yesterday as well. Separately, for the metal ING believe it surpassing the USD 2000/oz mark is just a matter of time and forecast prices to be at USD 2100/oz by year-end. Elsewhere of note for cobalt and key miners of the metal such as Glencore where Panasonic are to launch cobalt free Tesla batteries in 2-3 years and have reduced the amount of cobalt used to below 5%.
US Event Calendar
8:30am: GDP Annualized QoQ, est. -34.5%, prior -5.0%
Personal Consumption, est. -34.5%, prior -6.8%
Core PCE QoQ, est. -0.9%, prior 1.7%
8:30am: Initial Jobless Claims, est. 1.45m, prior 1.42m; Continuing Claims, est. 16.2m, prior 16.2m
9:45am: Bloomberg Consumer Comfort, prior 44.7
DB's Jim Reid concludes the overnight wrap
As expected yesterday's Fed meeting was fairly light on new information with the baton instead passed to the meeting in September. Indeed the only change to the statement was a reference to include the importance of the evolution of the virus for the economic outlook which was something that was reinforced by Powell during the press conference. Beyond that, Powell highlighted the need for further support, both from fiscal and monetary policy.
Our US economists, in their summary last night (see here), noted that Powell suggested the Committee aims to wrap up the policy review in the "near future" which is consistent with their expectation that the results will be released at the September meeting. The team continues to anticipate that the Fed will adopt an average inflation target when that occurs, and that ultimately they will commit to providing additional accommodation through outcome-based forward guidance and more aggressive balance sheet expansion. However, they also continue to believe that these tools could be insufficient, and that alternative tools, such as frontend yield curve control (YCC) or more active use of credit facilities, could prove necessary.
In terms of markets, the sun had been shining on risk assets going into the meeting and the lack of any new significant information did little to spoil the party with the S&P 500, NASDAQ and DOW eventually closing +1.24%, +1.35% and +0.61% respectively. Meanwhile, 10yr US Treasuries were mostly unchanged with yields dropping just -0.4bps to 0.576%. The USD continued its decline, falling -0.26%, for the 12th losing session of the last 14. Conversely Gold rose for the tenth session in a row, rising +0.63% to $1971/oz.
Away from the Fed the other event of note was the antitrust panel in front of Congress including the CEOs of the biggest tech companies in America. Though the industry leaders were met with varied criticism from both parties yesterday, Republicans took umbrage with Google and Facebook over alleged liberal bias, while the Democrats aimed their critique at the companies' market power. Apple, Amazon, and Google saw questions from both sides over their use of consumer data, and whether they have an unfair advantage due to their place as gatekeepers to operating systems and environments.
Speaking of tech, it's a big day for earnings in the sector with Apple, Amazon, Facebook and Alphabet all set to report today. We'll have to wait until tonight for the numbers however with the releases due after the close, although there's no shortage of other companies reporting which should dictate the direction of travel with 62 S&P 500 companies reporting in all, while this morning in Europe we're expecting numbers from Credit Suisse, Shell, Nestle, Total and Volkswagen amongst others. So expect a busy day of headlines.
In terms of the latest overnight, the Hang Seng (+1.05%), Kospi (+0.31%) and ASX (+0.72%) are all trading up while the Nikkei (-0.05%) and Shanghai Comp (+0.09%) are more or less unchanged. Meanwhile, futures on the S&P 500 are down -0.12% while Gold has retraced -0.33%. In terms of earnings, Samsung reported quarterly net income of KRW 5.5tn, beating estimates of KRW 4.9tn while also providing a cautiously optimistic outlook, predicting that new smartphones and gaming consoles will boost demand for memory chips in the second half of the year. Shares are up slightly on the news. Elsewhere, Qualcomm also gave a strong sales forecast for the current quarter yesterday and announced a new licensing deal with China's Huawei which has seen shares trade up as much as +12% in extended trading.
Back to yesterday, where unlike the US, European equities traded without any clear direction. The Stoxx 600 (-0.06%) ended in the red having passed between gains and losses a total of 15 times during the session with autos and chemicals the worst performing industries. The latter was partly due to BASF, the world's biggest chemical company falling -4.24% after reporting a loss and painting a slightly bleak picture for Q3. Meanwhile, peripheral bonds tightened slightly to bunds with spreads on Italian and Spanish bonds -2.6bps and -1.8bps tighter respectively.
In other news, Sanofi and GlaxoSmithKline penned a deal with the UK for as many as 60 million doses of their coronavirus vaccine, after having already agreed last week to buy 90 million doses of potential vaccines from the partnership of Pfizer and BioNTech. The US and other wealthier nations have taken similar steps in ensuring they are diversified among the top vaccine contenders as they seek to put the pandemic behind them.
On a related note, London Heathrow airport is aiming to have Covid-19 testing for arrivals by September if it can get government approval, with officials pushing that this would allow for more confidence amongst travelers and some respite for the battered airline industries. This comes even as the EU pulled back on plans to reopen the greater region to international travelers, citing the resurgence in global cases. Half a world away, Australia's Queensland state announced they would be closing its borders to all visitors from Sydney from Saturday. Overnight, Australia's Victoria state reported 723 new cases, a daily record, and Vietnam's capital Hanoi further rolled back the reopening by halting public gatherings of more than 30 people. China added a further 105 cases while, India, Japan and Hong Kong also remain on a concerning trajectory. The Nikkei has reported this morning that the Tokyo government will ask restaurants and karaoke establishments to shorten operating hours by closing no later than 10pm JST due to a surge of coronavirus cases adding that the restriction will be in place form August 3 to August 31.
Meanwhile in the US, cases grew by 76,339 in the past 24 hours, higher than the recent observed growth of c. 60,000 per day. Overnight, Texas (418,995) has pipped New York (413,593) to become the third most infectious state in the US in terms of total infections recorded. Further, Texas (280), California (204) and Florida (216) all posted high and in some cases record fatalities in the past 24 hours, even as cases appear to be rolling over in the three most populous US states. Elsewhere in the US, Maryland issued a travel advisory for residents against going to hard hit states in the South, while New Jersey has followed New York City's lead and paused reopening by keeping indoor dining and gyms closed.
Sticking with the US, Congress appears to be further apart than expected on a new round of fiscal stimulus spending. Last night leading Democrats and Republicans met just before the market closed in New York, but White House Chief of Staff Mark Meadows said the sides are nowhere close to a deal and that the extra $600 unemployment benefit is expected to expire. The base case remains that the sides will reach a compromise somewhere between the Senate and House bills, but the timeline is getting pushed further out.
Wrapping up, we did get some positive, albeit largely expected, fiscal news out of Europe. The Spanish government has extended the deadline for corporates to apply for loan guarantee schemes from the end of September to 1 December. Similarly, Austria's government has agreed to extend its furlough program for an additional 6 months in to protect jobs as the economic impact of the virus is still felt in many industries.
Finally, in terms of the day ahead, the focus for data will be the advanced Q2 GDP reading for the US which is expected to show an annualized contraction of -34.5% qoq. Other data includes weekly jobless claims while in Europe we've got preliminary July CPI and Q2 GDP in Germany. As highlighted earlier, expect earnings to be a big focus with Alphabet, Amazon, Facebook and Apple reporting along with Nestle, P&G, Shell, MasterCard, Total, ABInBev and Volkswagen.