---
Markets Are Prepped To Create Their Own Powell Message
Authored by Mark Cudmore via Bloomberg,
Investor positioning and sentiment going into Jackson Hole is far more balanced than many would have you believe.
One conclusion from this is that markets are ready to react cleanly to whatever Jerome Powell says. The history of the past few months, however, would suggest that this market has a particularly refined ability of selective hearing, and may instead run with what it wants to get excited by.
There's been quite a bit of chatter about how traders have positioned so aggressively for a hawkish message this weekend and, therefore, US yields and the dollar are primed to fall afterwards.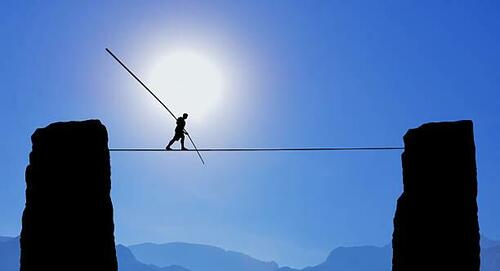 Don't believe it.
The facts are:
The market has priced in a total of 8 extra basis points for September since the the day of the last Fed meeting four weeks ago

December Eurodollar futures are trading exactly where they were after the June Fed meeting
It's not just rates -- everyone seems to think that dollar bullishness is stretched.
The evidence again suggests otherwise:
According to the latest CFTC positioning report, speculative euro shorts are one-third of their February 2020 level and less than 20% of their March 2015 level

Cable positioning is pretty close to the average of the past decade, and the theme of the past three months has been speculators closing up shorts:
In summary, the market is slightly positioned toward hawkishness and long dollar, but not dramatically so, especially given the energy crisis the European continent is facing.
For what it's worth (little?), I expect Powell to reiterate that they are data dependent and not try to unduly influence front-end pricing, while also emphasizing the dangers of inflation becoming entrenched and that the Fed can't get complacent.
There's a small probability priced that he goes uber-hawk. If that doesn't transpire, there may be some short-term relief. But it's a very small probability, and the front-end relief would soon be overtaken by the pricing out of next year's pivot.
None of this would be new. That won't stop a fresh narrative being created next week.
Loading...