---
Markets Rally On Optimism Trump May Be Discharged As Soon As Today
In addition to optimism over a covid vaccine, optimism about the economic recovery, and optimism about a fiscal stimulus, we can now add another category of "optimism" cited by traders to justify overnight futures ramps (at least for the next few days): optimism Trump will be discharged from Howard Reed hospital any day now, perhaps as soon as today, and then stage a full recovery. Sure enough, on Monday US index future bounced after doctors said Trump could be discharged from Howard Reed imminently, while sentiment was also lifted amid tentative signs of progress on a new fiscal stimulus.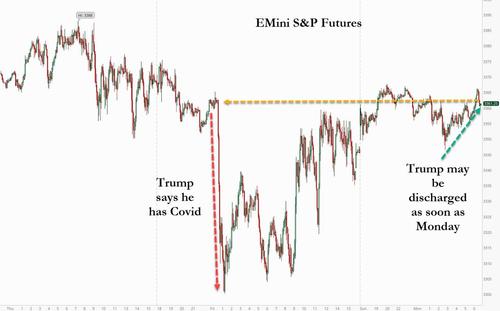 Late on Sunday Trump released a series of videos in an effort to reassure the public that he is recovering (following by a frenzied tweetstorm on Monday morning), although his condition remains unclear and outside experts warn that his case may be severe. Trump also surprised supporters outside Walter Reed with an impromptu drive through, even as it earned him a fresh round of anger by liberal commentators.
Feeding the improved market tone were comments from House Speaker Nancy Pelosi, who said on Sunday that progress was being made in talks with Treasury Secretary Steven Mnuchin on a new bipartisan package of coronavirus relief measures, although she has said exactly the same thing for weeks now, yet neither party is willing to budge and make the much needed final compromise. Doubts about the scale of further fiscal aid and a slowing economic recovery have weighed on the S&P 500 recently, with the benchmark index in September logging its worst month since the coronavirus-driven crash earlier this year.
At 730am, Dow e-minis were up 206 points, S&P 500 e-minis were up 23.75 points, or 0.72%, and Nasdaq 100 e-minis were up 100.75 points, or just under 1%. This follows a furious short covering spree in NQs last week, as discussed previously.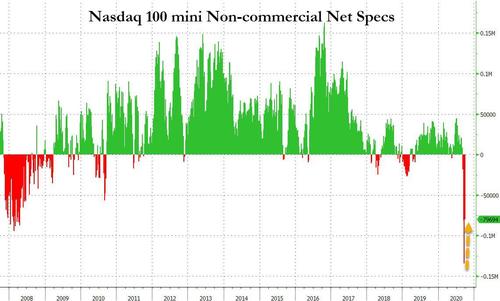 In premarket trading, Regeneron rallied after Trump was given an experimental antibody treatment made by the drugmaker.  Tech gigacaps Apple, Nvidia, Netflix, Amazon.com, Microsoft and Tesla all rose after weighing heavily on the Nasdaq on Friday.
Overhanging the relief rally, however, were concerns that Trump's case could be more severe than public disclosures suggest, and that more restrictive measures by governments to slow coronavirus infections could harm the economic recovery. Some traders were concerned by doctors' admission that Trump had been given supplementary oxygen and steroids.
"Many questions remain including the use of the steroid drug ... which is usually reserved for those with severe illness," said Raymond James strategist Chris Bailey in London. "Global cases now top 35 million and various new restrictions in Paris, New York, etc".
Trump's infection also comes less than one month before the presidential election on Nov. 3, potentially fuelling more market volatility and making the outcome of the vote even more difficult to predict. "In terms of the impact on the election, we haven't seen enough polling to assess whether this increases or decreases his chances of winning," said Deutsche Bank strategists. According to a Reuters/Ipsos poll released on Sunday, Democrat contender Joe Biden opened his widest lead in a month in the U.S. presidential race. However, the same poll inexplicably polled far more Democrats than Republicans, and we all know what happened in 2016 when "polls" did the same.
The MSCI world equity index was up 0.4%, supported by overnight gains across Asia and a positive start in Europe. The pan-European STOXX 600 rose 0.7%. In Europe, consumer companies and banks led a broad advance. A survey on Monday showed the euro zone's economic recovery faltered last month as new restrictions sent its dominant service sector into reverse. IHS Markit's final composite Purchasing Managers' Index fell to 50.4, just above the 50 mark separating growth from contraction, and down from 51.9 last month.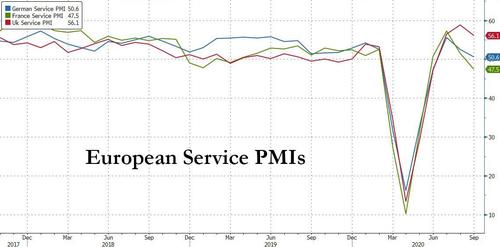 Equities in Asia notched gains, led by materials and finance, after falling in the last session. Japan's Topix - which actually managed to stay open without crashing for the entire day - gained 1.7%, with Shimachu and Danto rising the most.
In rates, yields on benchmark 10-year Treasuries rose to 0.7138%, with yields higher by 2bp-3bp at long end, steepening 5s30s toward YTD highs above 123bp; 10-year yields around 0.712%, higher by more than 1bp vs Friday's close. The long end of Treasury curve was cheaper as U.S. trading got under way. Aussie and Japanese bonds fell in Asia session, adding to long-end pressure. Treasury supply this week includes 10- and 30-year auctions Wednesday and Thursday. Euro zone bond yields edged lower on concerns about possible new restrictions to fight the coronavirus. The French government announced new restrictions, closing bars for two weeks. Other countries across Europe are also weighing up more measures.
In FX, the dollar slumped, reversing some of Friday's gains, as investors awaited positive news about U.S. Trump's health and developments in fiscal aid talks in Washington; one possible upward catalyst for the dollar is that near record dollar shorts have started to reversed.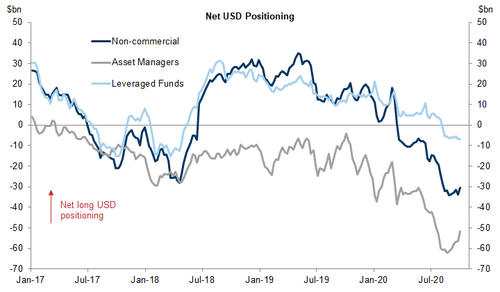 The yen retreated and Treasuries were steady. The euro advanced, while options capturing the immediate aftermath of the U.S. presidential election remain in demand amid uncertainty over Donald Trump's condition. The Swiss franc gained amid speculative buying on the back of NEC Corp.'s purchase of Swiss banking software outfit Avaloq Group AG for $2.23 billion. The pound was steady; leveraged funds cut net longs on the pound to the lowest since August, according to data from the Commodity Futures Trading Commission for the week through Sept. 29. The funds increased net longs in the euro to the highest since August.
In commodities, speculation Trump could leave hospital sent oil prices up more than 2%, rebounding from a 3 week low. An escalating workers' strike in Norway that has shut four of Equinor's oil and gas fields also helped drive the gains. Brent prices were up 2% at $40.1 a barrel and U.S. West Texas Intermediate added 2.2% to $37.9 a barrel. Gold rebounded back over $1,900, driven by the weakness in the dollar.
Looking at the day ahead, we will get the final U.S. services and composite PMIs read for September at 9:45 a.m. with ISM services for the month at 10:00 a.m. Chicago Fed President Charles Evans and Atlanta Fed President Raphael Bostic are today's Fed speakers, while EU chief negotiator, Michel Barnier will discuss the neverending Brexit drama with Angela Merkel ahead of resumption of negotiations in London later this week. Joe Biden will be on the campaign trail in Miami.
Market Snapshot
S&P 500 futures up 0.5% to 3,355.75
STOXX Europe 600 up 0.6% to 364.88
MXAP up 1.2% to 171.63
MXAPJ up 1.1% to 563.49
Nikkei up 1.2% to 23,312.14
Topix up 1.7% to 1,637.25
Hang Seng Index up 1.3% to 23,767.78
Shanghai Composite down 0.2% to 3,218.05
Sensex up 0.9% to 39,047.63
Australia S&P/ASX 200 up 2.6% to 5,941.58
Kospi up 1.3% to 2,358.00
Brent futures up 2.3% to $40.17/bbl
Gold spot little changed at $1,899.73
U.S. Dollar Index down 0.1% to 93.71
German 10Y yield rose 0.3 bps to -0.533%
Euro up 0.2% to $1.1738
Italian 10Y yield fell 3.7 bps to 0.581%
Spanish 10Y yield rose 1.5 bps to 0.236%
Top Overnight News from Bloomberg
President Donald Trump briefly left his hospital in a car to greet supporters gathered outside, after posting a video on Twitter saying he was about to make a surprise visit
Volatility eased in U.S. equity futures as optimism over President Donald Trump's medical prognosis and hopes for fresh economic stimulus put a brake on selling that whipped up Friday
Economists and investors see mixed messages from the ECB's top policy makers. Most important is a perceived disconnect between President Christine Lagarde's press conferences after policy decisions, and blog posts by Chief Economist Philip Lane the following day
The stage is set for a showdown on Brexit at a European Union summit next week. French President Emmanuel Macron's reluctance to make concessions on fish is stirring concern among officials he could sink efforts to reach a wider trade accord as negotiators begin on Monday a two-week period of intense talks
European Commission President Ursula von der Leyen said she is going into isolation after contact with a person who tested positive for coronavirus
A quick look at global markets courtesy of NewsSquawk
Asian equity markets and US equity futures began the week with a constructive tone as the regional bourses reopened from recent holiday closures and participants also digested the positive updates regarding President Trump's condition, which was said to have continued to improve and he could be discharged from hospital as early as today. In addition, some also attributed the positive tone to the latest polls which showed a widening lead for former VP Biden following last week's presidential debate. ASX 200 (+2.6%) outperformed with the broad gains led by a surge in energy and financials on the eve of the budget announcement, where Australia's national debt ceiling is expected to be raised to above AUD 1.1tln and income tax cuts valued at billions are set to be backdated in an effort to provide immediate economic stimulus. Nikkei 225 (+1.2%) traded positively as exporters reaped the benefits of a weaker currency that was spurred by the risk tone and alongside some murmuring of Gotobi demand. Hang Seng (+1.3%) was also upbeat as participants returned following the holidays although mainland China is to remain shut for most this week and won't reopen until Friday, while there were some weak spots including SMIC shares which have dropped over 6% after the US informed its suppliers they will be subject to additional export restrictions. Finally, 10yr JGBs were weaker amid the gains in riskier assets but with downside stemmed by support near the 152.00 level and with the BoJ present in the market for a total JPY 840bln of JGBs with 1-3yr and 5-10yr maturities.
Top Asian News
How Evergrande's Billionaire Founder Skirted Latest Crisis
Top India Court Asks Government to Outline Interest Waiver Plans
Credit Suisse Hires HSBC Veteran Oey for Asia Wealth Push
Singapore to Pay Would-Be Parents for Babies as Virus Drags On
European equities (Eurostoxx 50 +0.6%) kicked the week off on the front-foot, before staging a mild pullback, as markets continue to assess updates on US President Trump's health, the Presidential election and stimulus discussions. In terms of President Trump, it appears that he could be discharged from hospital as soon as today with reports suggesting an improvement in his condition, albeit some in the medical community have raised doubts over the upbeat narrative presented by the administration. Polling is yet to encapsulate the news of Trump's COVID-19 diagnosis, however, polls detailing the fallout of last week's debate have moved in favour of former VP Biden who now holds a 14-point lead in the NBC/WSJ poll (prev. 8 point lead); desks have subsequently continued to talk up the possibility of a Democratic "blue sweep". On the stimulus front, House Speaker Pelosi said that they are making progress on coronavirus relief legislation, whilst Senate Majority Leader McConnell said "we are getting closer" on stimulus negotiations. However, other reports noted that Republicans still give low odds on another pandemic stimulus bill. In terms of performance of European indices, the IBEX (+1.0%) is the main outlier to the upside with gains in the domestic banking sector spurred by reports that the Sabadell (+3.6%) CEO contacted his counterparts from BBVA (+3.2%) and Kutxabank in recent weeks with regards to a merger, according to sources. From a sector standpoint, aside from the banking sector, travel & leisure names lead the way higher this morning despite ongoing concerns about the pick-up in COVID-19 cases (particularly in the UK), whilst strength can also be seen in some of the other pro-cyclical sectors such as oil & gas and auto names. Support has also been seen for UK homebuilders this morning after UK PM Johnson promised to create a "Generation Buy" scheme to help young people enter the property market. The PM has reportedly asked minister to mull a scheme for long-term fixed-rate mortgages with 5% deposits. For individual movers, Cineworld (-31%) are the clear underperformer this morning after confirming it will close all of its cinemas in the UK, Ireland and US this week because of the impact of coronavirus (UK and US closures are to be temporary). K&S (+17.6%) are the best performer in the Stoxx 600 reports noted the Co. is in advanced discussions to sell their Morton Salt unit to Kissner Group for ~USD 3bln. Weir Group (+17.0%) shares have seen notable support after announcing a USD 405mln divestment of its oil & gas unit to Caterpillar for USD 405mln.
Top European News
Europe Tightens Curbs as Leaders Gird for Long Virus Fight
Two- Speed Europe Sees Germany Thriving as Rest of Region Suffers
EU Commission President Von der Leyen Says She's Self-Isolating
ECB Has a Messaging Problem as Lagarde-Lane Dynamic Muddies View
In FX, a softer start to the week for the broader Dollar and Index, with the latter currently contained within a tight 93.578-832 parameter following the fallout of US President Trump's COVID-19 diagnosis which could see the President back at the White House as soon as today. Meanwhile, State-side stimulus talks remain with Senate Republican sources giving low odds for another bill, inferring that discussions could extend to after the 2020 Election. DXY tested its 21 DMA (93.646) to the downside, with the 50 DMA seen around 93.270, whilst upside levels see Friday's high at 94.035 followed by last week's peak at 94.298. Looking ahead, the docket sees Markit Services/Composite finals, ISM services PMI and potential comments from Fed 2021-voter Evans.
CHF/JPY - The traditional safe-haven FX have seen an early divergence with participants attributing Swiss outperformance to some M&A flows amid reports Japan's NEC was planning to acquire Swiss software maker Avaloq for USD 2.2bln, whilst some strength may still be garnered from speculation the US currency manipulation report may be postponed until after the US elections, with Switzerland now ticking all three boxes to be labelled as a currency manipulator. That being said, the US Treasury will then offer a period of negotiations, with more drastic measures imposed should discussions fail. USD/CHF briefly dipped below its 21 DMA (0.9163) but matched intraday lows set on Wednesday and Thursday last week (0.9160), with the pair's 50 DMA residing around 0.9130. USD/JPY resides on the other side of the G10 spectrum with early losses coinciding with gains across APAC stock markets. USD/JPY tests Friday's 105.66 high with eyes on the 50 DMA (105.74), with the pair failing to close above the MA for the past three consecutive sessions. USD/JPY Opex today includes USD 1.25bln rolling off at strike 105.00.
EUR/GBP - Both on a firmer footing with the aid of a receding Buck, with the currencies on watch for Brexit developments in the aftermath of the videocall between PM Johnson and EC President, which noted that progress had been made but significant gaps remain, albeit the two sides have agreed to 11 days of "intensified" talks ahead of the UK de-facto deadline. Cable saw early sellers which prompted the pair to test 1.2900 to the downside, but thereafter nursed losses to print fresh session highs of 1.2964, with Sterling somewhat supported by surprise revisions higher to Services and Composite PMIs. EUR/USD meanwhile saw little action to revisions higher to final PMIs. EUR/USD retains a 1.1700+ status as it took out several potential resistance levels at 1.1750 (Fri high), 1.1755 (Wed high) ahead of 1.1763 (21 DMA), whilst the NY cut sees EUR 761mln at strike 1.1730 and around EUR 870mln at 1.1700.
CAD, AUD, NZD - All firmer to varying degrees, with the Loonie outperforming the non-US Dollars as it coat-tails on the firmer crude prices, whilst the Aussie eyes the RBA and Aussie budget and the Kiwi eking mild gains but with gains capped on AUD/NZD dynamics. USD/CAD trickles lower below 1.3300 having had tested the level overnight, with a current base at 1.3264, with its 21 DMA at 1.3258 and 50 DMA at 1.3241. AUD/USD meanwhile inches closer towards the 0.7200 mark (vs. current low 0.7157), with its 21 and 50 DMAs residing at 0.7201 and 0.7207 respectively. Finally, NZD/USD remains contained in a narrow 0.6631-54 band as AUD/NZD reclaims 1.0800.
In commodities, WTI and Brent futures open the week on a firmer footing, with early strength coinciding with gains across stock markets overnight after Friday's pessimism unwound amid weekend reports that US President Trump could be at the white house as early as today. Meanwhile, the conflict between Armenia and Azerbaijan over the disputed region of Nagorno-Karabakh reportedly escalated dramatically. It was also reported that the Nagorno-Karabakh region stated that 18 civilians were killed and over 90 were wounded in a week of fighting – with traders keeping eyes on any potential targeting of oil fields/refineries/ports of the OPEC+ member. Elsewhere, Libyan oil production ticked higher to 290k BPD from last week's 270k BPD, according to sources. In terms of where we currently stand WTI Nov (USD 37/bbl) trades on either side of USD 38/bbl whilst Brent Dec reclaimed the USD 40/bbl handle (vs. low USD 39.14/bbl). Elsewhere, spot gold and silver are choppy, with earlier weakness in the yellow metal offset by a softer Dollar, with prices now back around the USD 1900/oz mark (vs. low 1887/oz), whilst spot silver attempted a breach of USD 24/oz to the upside – with the latest CFTC data suggesting hedge funds and money managers reduced positions in COMEX gold and increased them in silver contracts in the week to Sept 29th. Finally, LME copper prices are relatively flat having had drifted off highs in tandem with price action seen in stocks.
US Event Calendar
9:45am: Markit US Services PMI, est. 54.6, prior 54.6
9:45am: Markit US Composite PMI, prior 54.4
10am: ISM Services Index, est. 56.2, prior 56.9
DB's Jim Reid concludes the overnight wrap
I can almost certainly guarantee that wherever you're reading this from you had better weather than me this weekend. Or at least no worse. It rained from start to finish. Any weekend with the golf course closed is a bad one for me and watching Frozen 2 the twentieth time in two months to fill the time didn't improve the mood. Then the coup de grace was seeing Liverpool concede 7 (seven - as they always used to type out and put in brackets for unusual scores) for the first time since 1963 last night! Quite astonishing.
The business world continues to be quite extraordinary at the moment too and Mr Trump again dominated the weekend headlines. I'm sure you've seen the conflicting and confusing reports concerning his health over the weekend so we won't go into that here. The latest from yesterday was that his doctors suggested he could be released back to the White House as soon as today. He also appeared on a video last night looking in good spirits. According to the wires this has helped S&P 500 futures to trade up +0.61% this morning but to be honest it could also be because a poll showed that Biden was 14pp up over the weekend (more below). We actually published the EMR almost an hour earlier than usual on Friday and four minutes after it hit inboxes the headlines came through that the President had tested positive. So we will try not to be that efficient again and end up as virtual fish and chip paper as we were on Friday.
In terms of the impact on the election, we haven't seen enough polling to assess whether this increases or decreases his chances of winning. There was an NBC-WSJ poll released over the weekend showing Biden ahead by 14 points - the biggest lead of the campaign. However this polling was carried out between the first debate last Tuesday and the positive Covid test early on Friday morning. For comparison the last poll from this combination saw at 8pp lead last month. An Ipsos and a YouGov poll have just been released before we go to print and they seem to show around a 10pp and 7pp lead for Biden respectively. These were conducted on Friday and Saturday.
This confirms what was suspected last week, namely that polls were edging further towards Biden even before Friday with the first evidence now coming through that this may have continued. Indeed the recent price action suggests that the market wants certainty more than anything else. Given the realistic options (assuming the polls are not completely out), perhaps the market would currently most like a Democratic clean sweep as this would increase the likelihood of near term certainty. This outcome was edging up in likelihood amongst respected political pundits ahead of Mr Trump's positive test so Friday's news brought back all sorts of uncertainties with tail risks increasing in all sorts of direction. The fact that Biden tested negative later in the day seemed to help markets which partly supports the theory above. So this week the market will await more news from the Trump camp and signs of movement in the polls. If Biden pulls away then markets will probably be pretty relaxed. So the batch of polls post Trump's illness are going to be important.
As we'll see below the VP debate takes place on Wednesday which is the next major planned event. We'll also see what the latest on the stimulus package is. It feels like both sides are trying to show that they are doing the best they can to bridge the gap but the reality is that both sides seem to be quite far apart still and it will be an enormous feat to bridge the gap pre-election. Nonetheless, the FT reported yesterday that the US President Donald Trump has issued a call for negotiators to "work together" and complete a deal.
Overnight, Asian markets have started the week on front foot with the Nikkei (+1.20%), Hang Seng (+1.46%), Kospi (+1.18%) and Asx (+2.47%) all seeing strong advances and recovering from Friday's morning's shock. China's markets are closed for holidays. In Fx, the US dollar is trading down -0.11%. In terms of overnight data, Japan September services PMI was confirmed at 46.9 (vs. 45.6 in flash).
Back to politics and onto Brexit. U.K. PM Johnson had the planned VC talk with EC President von der Leyen on Saturday and in a joint statement they instructed their chief negotiators to work intensively in order to try to bridge the obvious gaps that there are and emphasised "the importance of finding an agreement, if at all possible". On Sunday Johnson reaffirmed that he'd like a deal but said the U.K. could prosper without one. The FT also had an article last night suggesting Barnier is going to hold talks with the impacted EU countries on fisheries which shows some progress and the possibility of negotiation movement. For me it seems like the probabilities of a deal have edged up over the last couple of weeks. In terms of news flow and headlines it's seems to have been 7 steps forward and only 5 back. We will see. Sterling is broadly flat this morning at 1.2938 ahead of another week of talks.
Onto the virus and the UK reported an extremely high 35,850 new cases over the weekend but these were heavily impacted by around 16,000 previous unreported cases between September 25 to October 2 due to technical issues. Even after taking this into account the new weekend cases stood at 19,850, a higher run rate compared to previous weekends. Meanwhile, the delay in entering those 16,000 cases also means that their recent contacts were not immediately followed up. This will put more pressure on the government.
Bloomberg is also reporting that France may shut down bars in the Paris region and impose other new restrictions in the area. The country reported 29,537 new cases this weekend versus an average of c.25,000 cases over the previous two. In the US, New York City Mayor Bill de Blasio said he plans to close schools and non-essential businesses in nine neighbourhoods in Brooklyn and Queens where there's been a surge in coronavirus infections. Indoor and outdoor dining will also be closed in these areas. For more details on how the virus is spreading in major regions of the world see the table below. There are a lot of footnotes so please see those in conjunction with the raw data. On the vaccine front, the FT reported the UK government's head of the vaccine taskforce Kate Bingham as saying that less than half of the UK population could be vaccinated. She said, "There is going to be no vaccination of people under 18. It's an adult-only vaccine for people over 50, focusing on health workers, care home workers and the vulnerable."
In terms of this week, outside of the VP debate on Wednesday we'll get the latest minutes from recent Fed (Weds) and ECB (Thurs) meetings, and also hear from both Fed Chair Powell (tomorrow) and ECB President Lagarde (tomorrow and Weds). The only G20 decision next week is from the Reserve Bank of Australia tomorrow. Our Australia economists expects no change in policy, but we will be watching for clues about whether a rate cut might yet be delivered by the end of the year. The main data highlight will likely be the release of the services and composite PMIs from around the world. Most are today but the U.K. comes tomorrow and China's on Thursday after holidays. The flash readings showed clear signs of the services sector in Europe being affected by the second wave of Covid-19, with the flash Euro Area services PMI falling to 47.6, which is below the 50-mark that separates expansion from contraction, with both Germany (49.1) and France (48.5) also in contractionary territory. We will see if this trend is confirmed and whether there was any late month deterioration from the initial flash reading. The day by day week ahead calendar is at the end.
Recapping last week now, as we moved into Q4, US equities saw their first positive week since August even with a weaker end of Friday. In a particularly hectic week that started with one of the most raucous US Presidential debates in memory and ended with the sitting US President testing positive for Covid-19 equity volatility jumped. The VIX volatility index rose +1.25pts to 27.63 even as equity prices rose – it was the second largest weekly rise in vol since June. Even with this uncertainty, the S&P 500 rose +1.52% (-0.96% Friday) on the week, breaking a streak of four losing weeks – the longest since August 2019. The NASDAQ rose +1.48% (-2.22% Friday) for the second weekly gain. European equities rose as well with the Stoxx 600 ending the week +2.02% (+0.25% Friday), the third weekly gain out of the last four. The IBEX (+1.90%), FTSE 100 (+1.02%), and CAC (+2.01%) all posted strong weekly equity performances even as their home countries reinstated some restrictions in the face of increasing Covid-19 caseloads.
The dollar dropped (-0.84%) as risk assets generally gained, for just its second weekly loss since the end of August. The drop in the dollar saw gold gain +2.06%, as the precious metal finished the week just under the $1900/oz level. Even though equities gained on the week, oil did not follow suit as worries on global demand saw WTI (-7.95%) and Brent crude (-6.32%) fall sharply and is now down four out of the last five weeks and is at its lowest weekly close since June. Core sovereign bonds were mixed on the week as US 10yr Treasury yields rose +4.6bps (+2.3bps Friday) to finish at 0.701% and 10yr Gilt yields rose +5.7bps (+1.2bps Friday) to 0.25%, while 10yr Bund yields were down -0.7bps (unchanged Friday) to -0.54%. Italian 10yr yields fell -10.2bps to 0.784% – their lowest levels since an all-time low last September.
On the data front, US Nonfarm payrolls rose by 661k (vs. 859k expected) on Friday while August's numbers were revised up to 1.49 million from 1.37m. The unemployment rate fell 0.5 percentage points to 7.9% (vs. 8.2 expected), though the labour-force participation rate declined by 0.3 points to 61.4%. Meanwhile in Europe, the Euro-area CPI reading showed inflation slowed to -0.3% in August (vs. -0.2% expected) while the core rate set a six-year low at 0.2% (0.4% expected).