---
Stocks & Bond Yields Tumble On 'Hawkish Pause'; Gold Gains As Crude Collapses
'Good' headline macro news (strong ADP and ISM Services beat) was somewhat trumped by 'bad' macro news (inflationary pressures re-accelerating under the hood)... all of which do nothing at all to support The Fed's 'easing' anytime soon (strong jobs and resurgent inflation).
Of course, today was all about Powell and his pals who signaled a 'hawkish pause' (despite the market's very dovish beliefs). June rate-hike odds rose...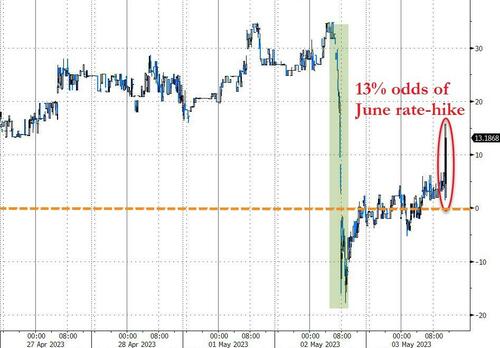 Source: Bloomberg
Now it gets interesting...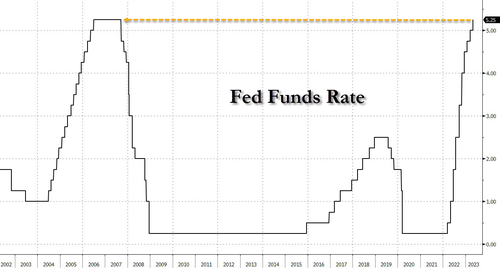 Source: Bloomberg
With Real Rates positive for the first time since 2019...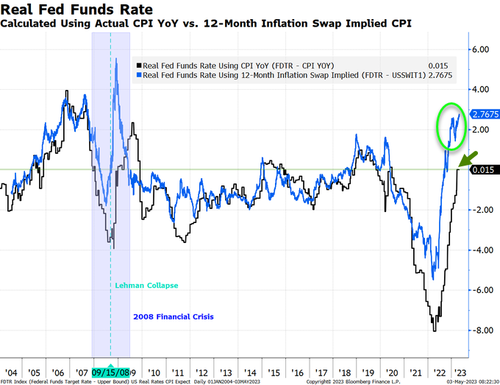 Source: Bloomberg
Powell's comments did nothing at all to help (unusually):
POWELL: SENIOR LOAN SURVEY CONSISTENT WITH OTHER DATA

POWELL: POSSIBLY AT SUFFICIENTLY RESTRICTIVE LEVEL, MAY NOT BE FAR OFF
A recession is coming but don't expect rate-cuts...
POWELL: POSSIBLE WE'LL HAVE WHAT WOULD BE A MILD RECESSION
Yield curve gives 94% odds of a recession within 12 months...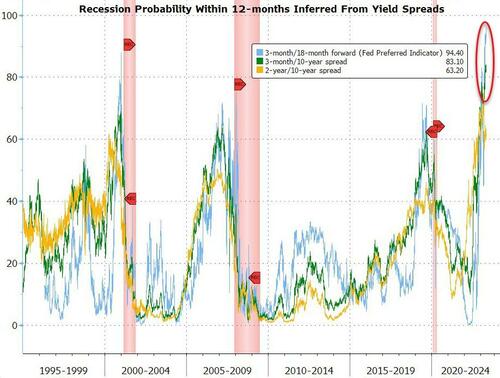 Don't believe the market's dovish hype!
POWELL: FOMC'S INFLATION OUTLOOK DOESN'T SUPPORT RATE CUTS (the 'inflation is transitory' outlook?)
And that spooked stocks lower (not helped by Powell's hints at how bad next week's SLOOS data will be). Small Caps managed to hold on to gains but the S&P, Dow, and Nasdaq tumbled...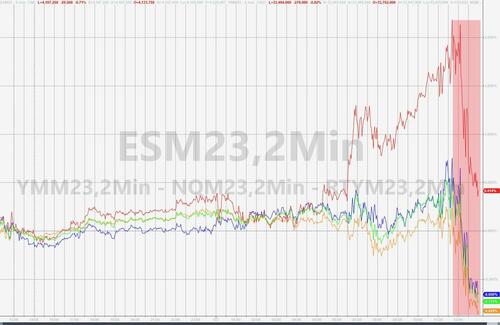 0DTE traders were betting on the downside in a big way today and took profits after the post-Powell puke...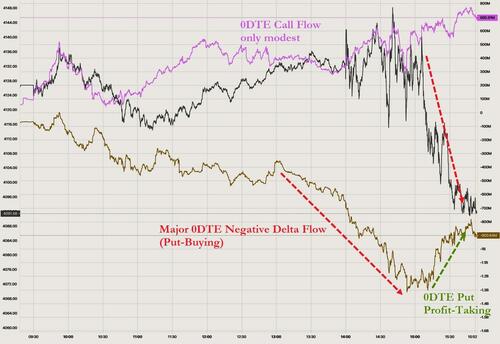 Big reversal in "most shorted" stocks today (which helps explain the early gains in Small Caps)...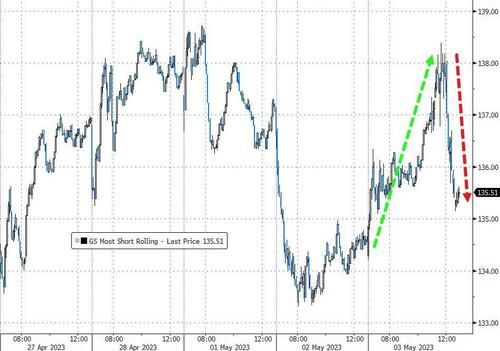 Source: Bloomberg
Regional banks puked after Powell said the banking system was sound and resilient...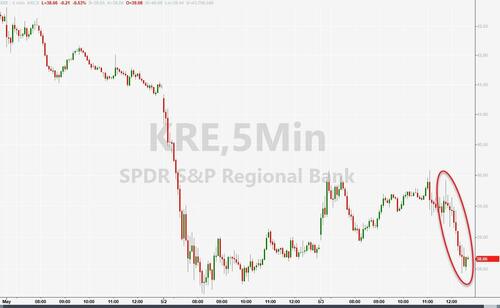 VIX1D remains notably higher than VIX...
Source: Bloomberg
Treasury yields tumbled once again today with the belly of the curve outperforming (5Y -11bps, 30Y -2bps). It's been quite a week in bonds already...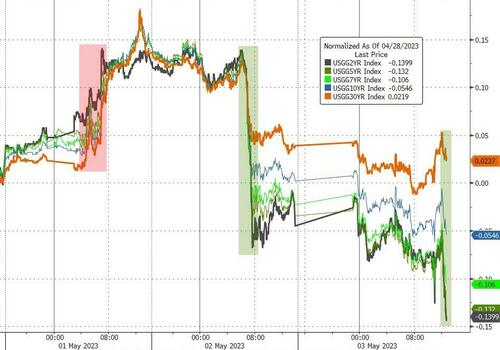 Source: Bloomberg
The 2Y extended below 4.00%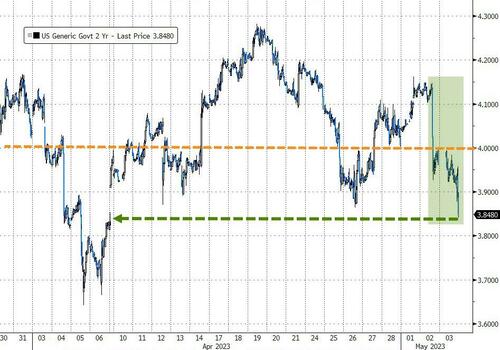 Source: Bloomberg
The STIRs curve adjusted (small) hawkishly in the shortest end but notably more dovish next year on...
Source: Bloomberg
The Dollar dived on the day to two-week lows...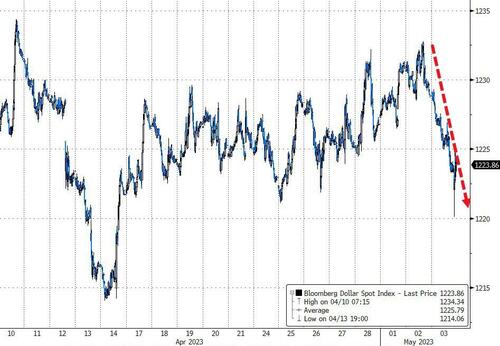 Source: Bloomberg
Bitcoin chopped around but ended marginally lower...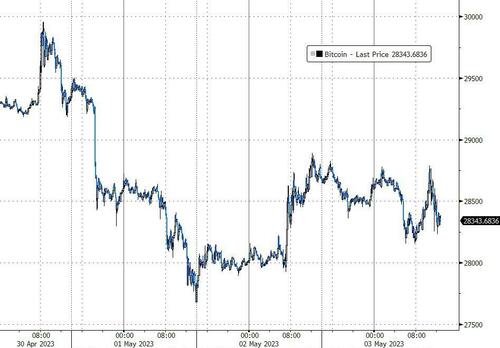 Source: Bloomberg
Gold rallied on the day (marginally)...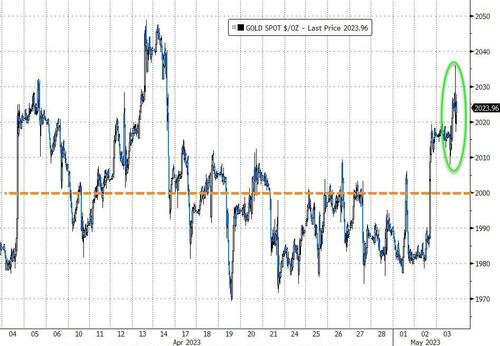 But crude was clubbed like a baby seal with WTI tumbling to a $67 handle intraday, dramatically below the pre-OPEC+ level...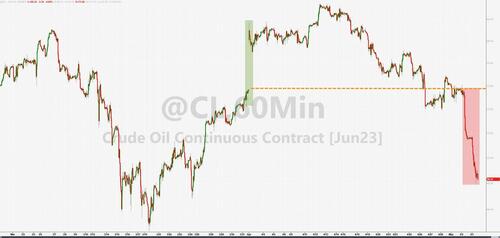 Finally, the market remains dramatically more dovish than The Fed and Powell throughly rejected that view today...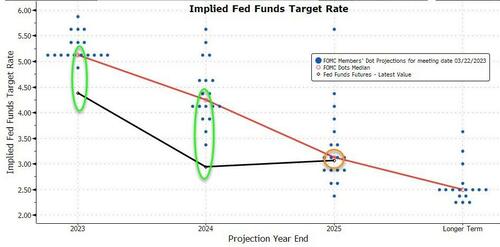 And WTF is Powell talking about claiming that the banking system is sound and resilient and is stabilizing...
POWELL: 3 LARGE BANKS WERE AT HEART OF EARLY-MARCH STRESS, NOW ALL RESOLVED pic.twitter.com/1BQikU8iCy

— Newsquawk (@Newsquawk) May 3, 2023
2023 bank failures are now larger than 2008 and 2009 combined...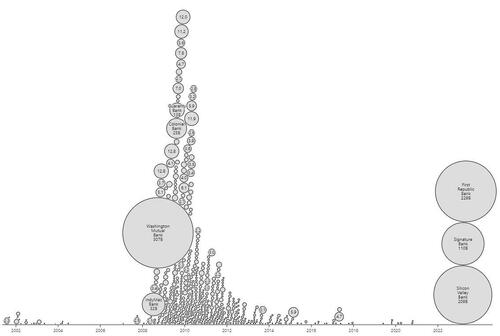 And deposit outflows continue from large and small banks...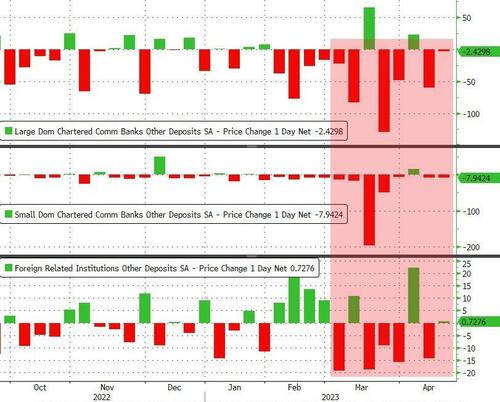 Sorry Joe ol' pal, jawboning's not gonna out enough lipstick on this pig to fix this shitshow...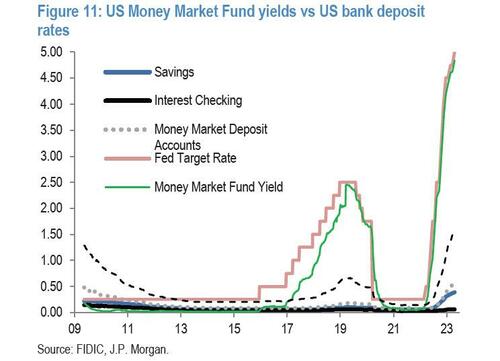 It's on you mate! The market is demanding cuts (and pricing them in) and you just made it worse.
Jeff Gundlach gets the last word: "...markets for risk assets are too complacent."
Loading...