---
Markets Turmoil Amid 'Russia Invades' Reports & Bullard's Bond Bloodbath
A sudden slap to the face seemed to shock investors from their multi-month stupor, waking to the reality that The Fed is serious this time about raising rates and withdrawing liquidity. That realization, considering US equity valuations have never been higher (combined with a collapse in US consumer confidence) have many wondering just where (or if) these two lines will ever converge...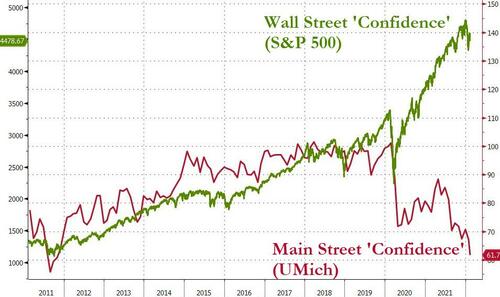 Source: Bloomberg
The awakening sent rate-hike odds soaring this week. Even with today's attempt to walk back Jim Bullard's hawkishness, the market is now pricing in a 60% chance of 7 rate-hikes this year, a 70% chance of a 50bps hike in March, and even a 25% chance that The Fed will surprise with an inter-meeting hike before March (note that there is an unscheduled Fed meeting on Monday)...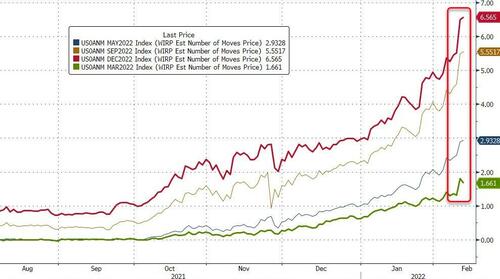 Source: Bloomberg
But around lunchtime today, a series of reports of an imminent Russian invasion sparked turmoil in all markets.
The Russia headlines sent rate-hike expectations lower for March...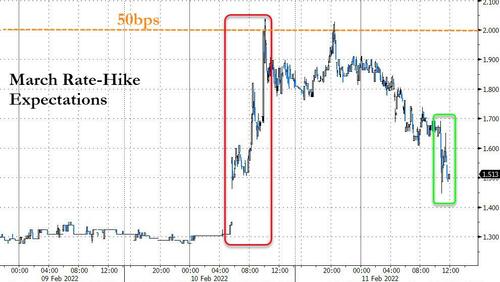 Source: Bloomberg
And between Russian headlines and an unrevised POMO schedule, the odds of an inter-meeting hike were erased...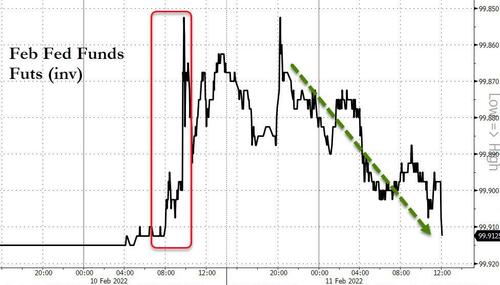 Source: Bloomberg
First there was this...
US officials anticipate a horrific, bloody campaign that begins with two days or aerial bombardment and electronic warfare, followed by an invasion, with the possible goal of regime change.

— Nick Schifrin (@nickschifrin) February 11, 2022
Then this...
"Russian will invade Ukraine by next week." "We have no proof or Putin didn't give any order to invade." "Our intelligence has told us Russian MAY or MAYNOT invade Ukraine." "Yes, it's very possible Putin won't invade Ukraine." Back tracking, back tracking, back tracking…

— VIXTrader (@AlbanyfxTrader) February 11, 2022
And then this...
Now they said the source regarding Russian invasion is not even US intelligence… is a source from our allies… so "it's a source close to a source that might to know a course close to a Tiger Woods" pic.twitter.com/sn0QVHm3wf

— VIXTrader (@AlbanyfxTrader) February 11, 2022
The upswsing of all this... US Treasury markets just suffered their worst start to a year ever...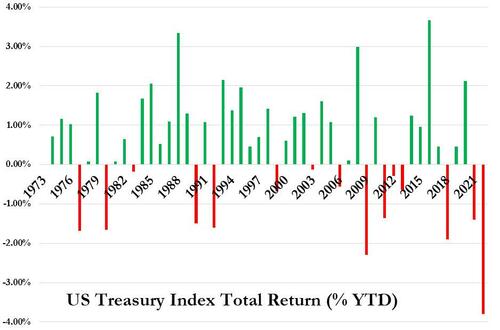 With a massive bear flattening in the curve, Treasury yields soared this week as the short-end exploded 27bps - most since Volcker (on a sigma basis) - and the long-end suffered too (30Y +12bps). But then 'Russia Invades' reports sent yields plunging (but still up on the week) with 30Y ending up only 4.5bps (while the short-end was still a shitshow)...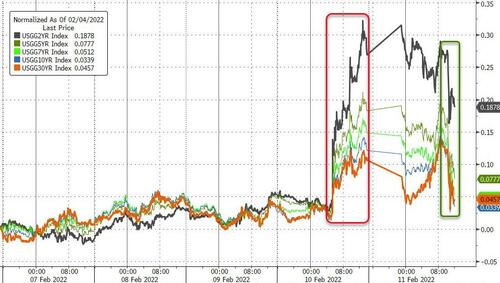 Source: Bloomberg
For context, the 10Y yield was clubbed like a baby seal yesterday, with yields up 15bps... and then some repeated rumors of Russia's imminent invasion sends yields back down 13bps...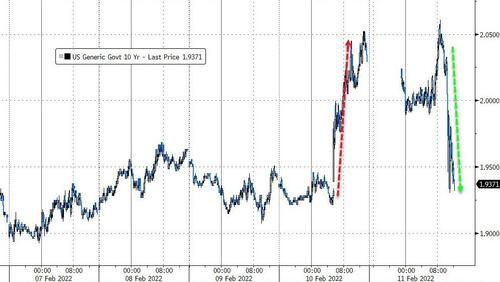 Source: Bloomberg
The forward curve is forecasting an imminent recession (1Y fwd 2s30s is now inverted)...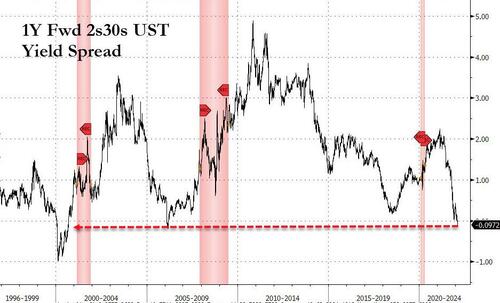 Source: Bloomberg
And the swaps market is now pricing for a rate-cut at some point next year - i.e. Fed policy error...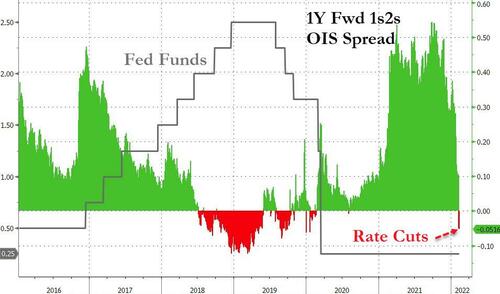 Source: Bloomberg
If Dr.Copper (relative to Gold) is right, then 10Y yields have around 100bps further to go at least...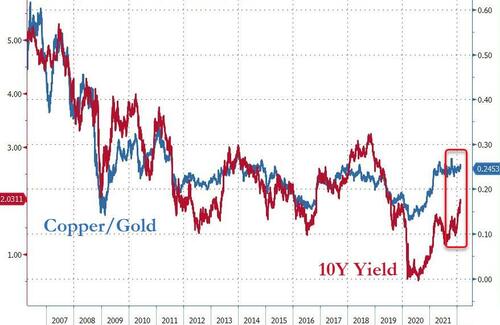 Source: Bloomberg
Credit markets are very much starting to crack with HY spreads at their widest in 14 months...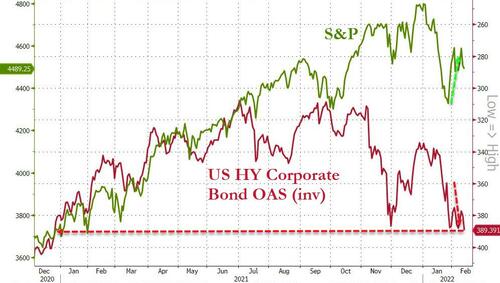 Source: Bloomberg
And equity risk expectations are starting to catch up to credit risk expectations...
Source: Bloomberg
Stocks were volatile today, with a big puke today as Russia Invasion warning headlines dropped and were taken seriously this time... Everything closed red today with Nasdaq the biggest loser, all closing near their lows...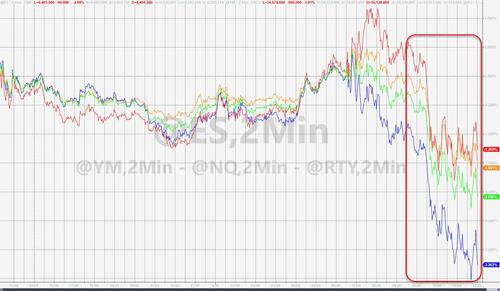 The week was a game of two halves with an incessant bid into Thursday's CPI print, then a pukfest after Bullard's hawkish comments, some dip-buying, then Russia headlines hammered markets to the lows. Small Caps managed to hold on to gains on the week as Nasdaq plunged 3% followed by decent drops for the S&P and Dow...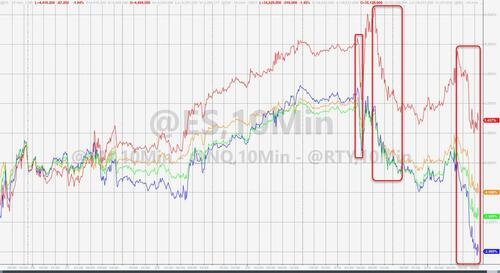 All the majors puked back below their 200DMAs...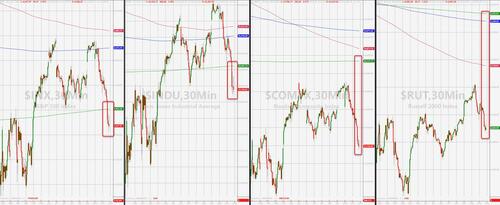 Energy and materials stocks ended the week higher while tech and rate-sensitive Utes were pummeled...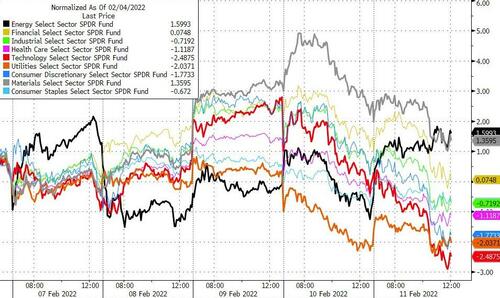 Source: Bloomberg
VIX spiked back above 30 intraday...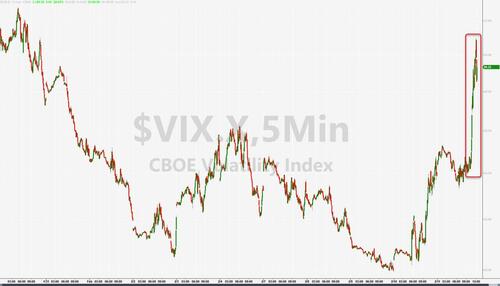 The dollar ended the week marginally higher after two days of chaos in the world's reserve currency...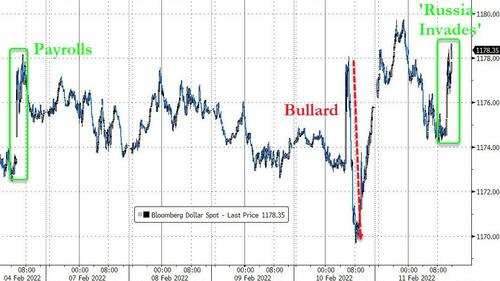 Source: Bloomberg
The Ruble was routed today - its biggest daily drop against the USD since 3/18/20...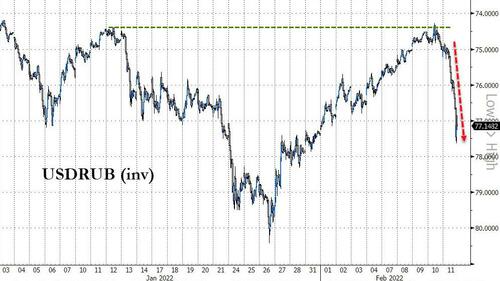 Source: Bloomberg
Cryptos were mixed this week with Ethereum tumbling back to unchanged on the week, Ripple outperforming and Bitcoin managing modest gains...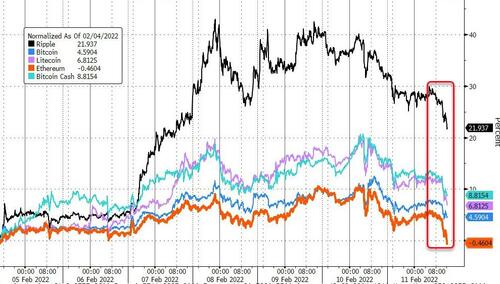 Source: Bloomberg
Bitcoin rallied up near $46k after Bullard's comments and tumbled back down near $42k today after the Russian headlines...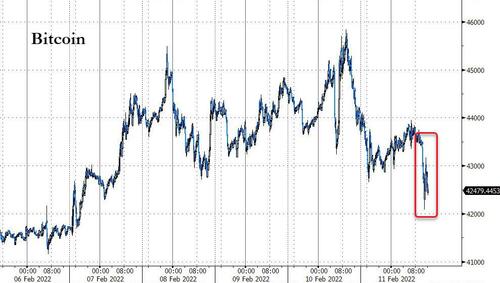 Source: Bloomberg
Gold surged above $1860 on the Russia headlines, the highest price for the precious metal since before Thanksgiving...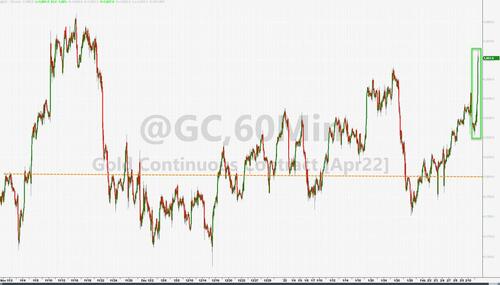 Oil prices exploded higher on the Russia headlines with WTI topping $94.50 for the first time since Sept 2014...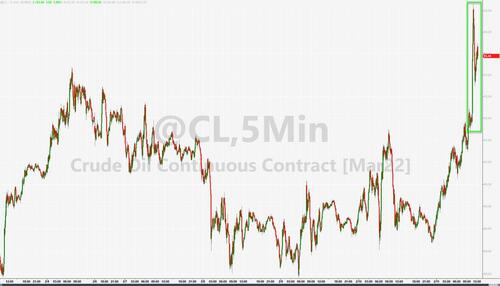 Finally, it is worth considering the fact that globally, central bankers are facing their nemesis - stagflation. As growth expectations slow, so inflation expectations continue to rise dramatically...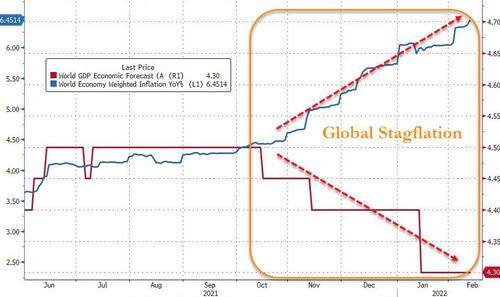 Source: Bloomberg
Central bankers are going to need something to blame when they blow up the world.
Oh and there's this...
...aaaaaand it's gone!