---
Masa Son's "Right Hand Man" Marcelo Claure Quits SoftBank After $2 Billion Pay Dispute
After a bitter dispute over compensation that poisoned his relationship with Softbank Chairman Masayoshi Son, SoftBank COO Marcelo Claure is reportedly preparing to resign from the Japanese telecoms giant.
Claure, whose previous duties have included running Sprint,  WeWork, the SoftBank Vision Fund and other key businesses, reportedly has designs on running his own investment firm, CNBC reported Thursday. In its report, CNBC described Claure as Masa Son's longtime "right hand man".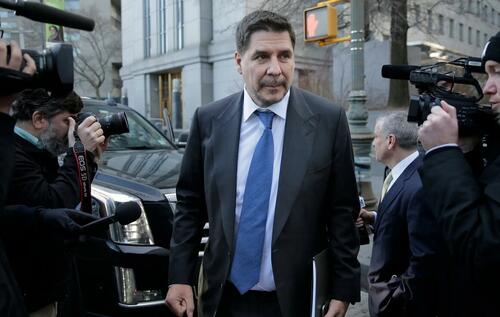 The executive joined SoftBank in 2013 after selling a majority stake of wireless provider Brightstar to the company for $1.26 billion. He later became CEO of Softbank-majority owned Sprint, which successfully merged with T-Mobile in April 2020.
Late last year, it was reported that Claure was enmeshed in a dispute over $2 billion in pay. According to reporting from the NYT, Claure believes he is owed the $2 billion for "cleaning up" Masa Son's many messes, from WeWork to the Vision Fund and beyond.
Marcelo Claure, the firm's chief operating officer and a close confidant of the SoftBank founder and chief executive Masayoshi Son, is seeking roughly $2 billion in compensation over the next several years, according to four people with knowledge of the discussions who were not authorized to speak publicly on pay issues. Mr. Son and other senior SoftBank executives in Japan are seeking to pay Mr. Claure a much smaller sum - tens of millions of dollars at most.

The unusually large amount at stake reflects Mr. Claure's singular role at SoftBank, where he has been part Mr. Fixit and part ambassador - untangling messy investments, scouting out lucrative opportunities and wooing start-up founders - since joining in 2017. He arrived after running the telecom company Sprint when asked to do so by Mr. Son.

Mr. Claure has insisted in private conversations with individuals inside and outside SoftBank that he was owed the $2 billion for various cleanup jobs, including straightening out SoftBank's investment in WeWork, the office-space leasing giant that went public in October. The amount also reflects Mr. Claure's estimate of the future value he could bring to SoftBank, one of the individuals said.
SoftBank is expected to make an announcement about Claure's departure, as well as his replacement, in the coming days. The size of Claure's exit package is unclear. Former Altice CEO Michel Combes, presently the president of SoftBank Group International, will assume Claure's duties running SoftBank's international operations, according to one insider who spoke with the NYT.
The timing of Claure's departure couldn't be worse for shareholders. SoftBank's share price is down more than 30% since the start of the year alone, cratering as valuations among its portfolio companies plummet. Several other SoftBank insiders have been miffed by the fact that, in several cases, SoftBank later invested in companies that Claure had privately backed with his own fortune.
The Japanese firm has so far refused to acknowledge the media reports. But one thing's for sure: this is a bad time to lose their ace clean-up guy.