---
Massive Evergreen Container Ship Runs Aground In Chesapeake Bay
A massive 1,100-foot-long container ship ran aground Sunday night in the Chesapeake Bay after departing from the Port of Baltimore, according to Chesapeake Bay Magazine.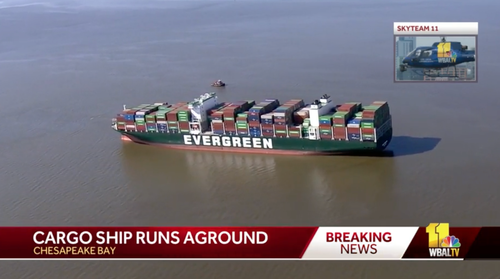 Coast Guard Petty Officer First Class Stephen Lehmann said the container ship "Ever Forward," sailing under the Hong Kong flag for the Evergreen Marine Corp., ran aground around 2300 ET Sunday.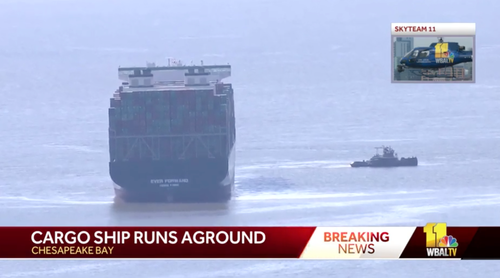 Ever Forward departed from Baltimore for Norfolk when it ran aground near the Craighill Channel, a major shipping lane in and out of Baltimore. The port in the metro area is the nation's largest for specialized cargo (roll-on/roll-off ships) and passenger facilities.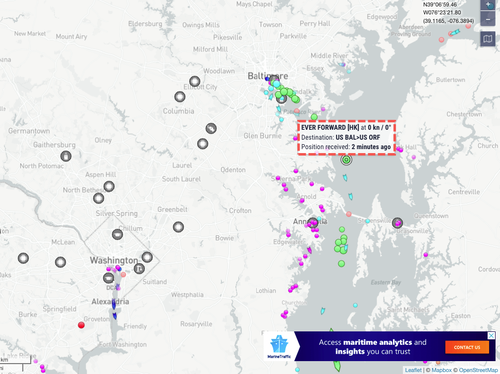 Lehmann said on Monday, "water access will be restricted when salvage operations begin." He had limited information on when refloating operations would begin. 
A video of the incident area published by local news Anne Arundel First Alert (AAFA) shows tug boats are working with the container ship on Monday afternoon. AAFA said the vessel "experienced problems shortly after leaving port on Sunday." 
Lehmann said the US Coast Guard is assisting the vessel's captain with the salvage effort and is unsure about pollution or environmental impacts. 
While the vessel is not impairing traffic yet, vessels have been told to "follow one-way traffic and reduce their speed" in the channel, according to Capital Gazette. 
Evergreen made international headlines one year ago when "Ever Given," a massive container ship, blocked the Suez Canal between March 23-29, disrupting the worldwide shipping trade. 
The next step is refloating operations though no timelines have been laid out.