---
Massive Short Squeeze Sends Small Caps Soaring; Bitcoin Bounces Back Bigly
No US macro data today but European retail sales were not pretty and Canadian building permits plummeted. Nevertheless, US equity futures were conspicuously quiet overnight - too quiet some said. The overnight destruction of a dam in Russia-controlled region of Ukraine didn't even bother futs.
And then the cash equity market opened and a buying-frenzy suddenly hit Small Caps/Most-Shorted/Regional Banks as The Dow, S&P, and Nasdaq went nowhere.
Spot The Odd One Out!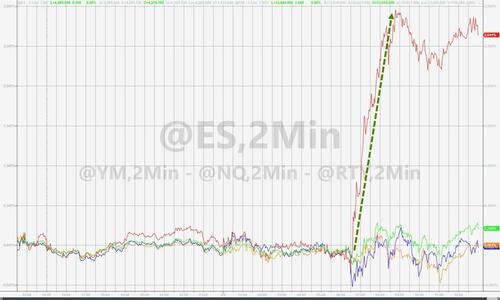 Bear in mind - perhaps - that the last 3 days have seen Small Caps rise 5% - the last time they did this marked the local top in early Feb...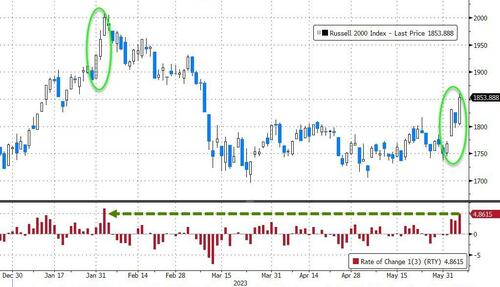 Source: Bloomberg
Regional banks extended their comeback...
Which is interesting given the massive deposit outflows they are still suffering - even if The Fed is trying to cover it up.
The Fed reports that domestic (large and small) commercial banks saw NSA flows of -$28.4 billion, while SA flows were +$102.5 billion!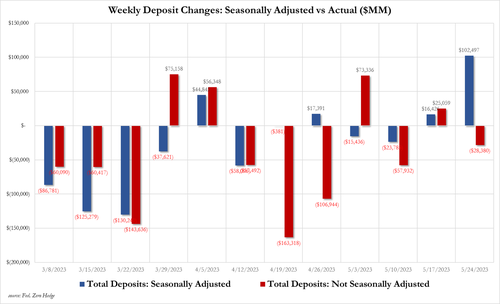 As if it needs to be said, non-seasonally-adjusted deposit flows are 'actual flows'? And why do we care about 'seasonally-adjusted' deposits - they aren't real assets?
For some more context, the deposit delta (between real outflows and SA outflows) since March 1 is now $150BN+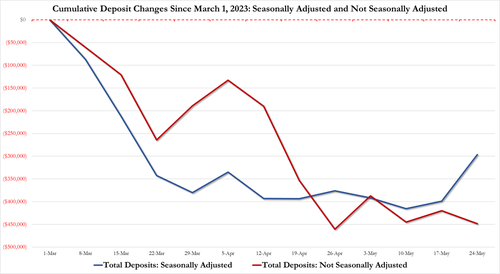 It seems The Fed is using the 'fog of banking crisis war' - knowing this data drops late on a Friday night - to pull the wool over depositors and investors eyes.
And all on the back of another huge short squeeze. The biggest 6-day surge in 'most shorted' stocks since the local peak in early Feb...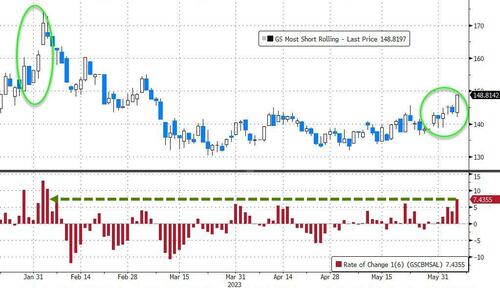 Source: Bloomberg
Notably, the outperformance of Small Caps relative to Nasdaq is a dramatic reversal of the recent trend which lifted the ratio to the all-time high from Feb 2000...
Source: Bloomberg
VIX plunged to fresh cycle lows, tumbling to a 13 handle (lowest since Feb 2020) and VIX1D fell back to single-digits...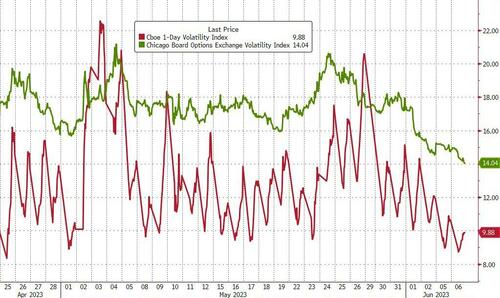 Source: Bloomberg
Perhaps the biggest headline of the day was the SEC suing Coinbase, which initially sent bitcoin lower (mimicking yesterday's Binance reaction), but that quickly ended and Bitcoin ripped higher, erasing all of yesterday's losses...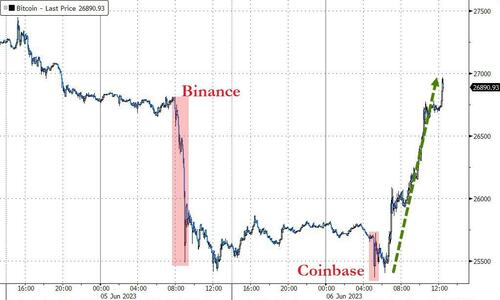 Source: Bloomberg
Treasuries were mixed with the long-end outperforming today (2Y +6bps, 30Y -1bp) but the day was very choppy compared to stocks.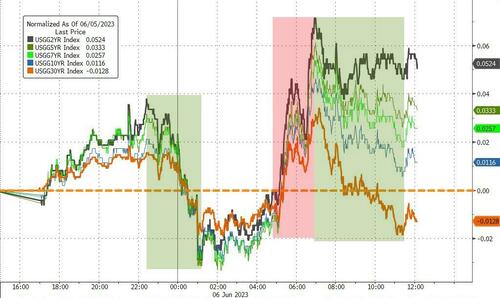 Source: Bloomberg
The dollar ended the day unchanged after testing lower then higher intraday. The overnight rally filled the gap down from Friday's payrolls print, then the selling hit during the US session...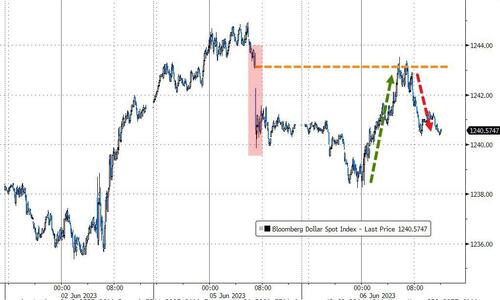 Source: Bloomberg
Gold managed very modest gains today, holding on to yesterday's bounce-back gains...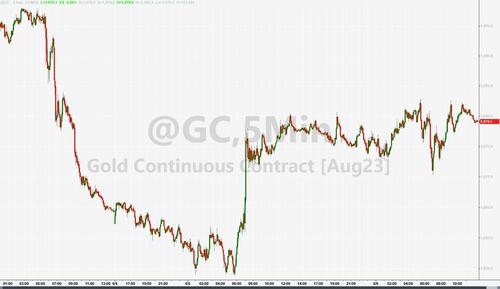 Oil prices dropped significantly intraday before bouncing back to end basically at pre-Saudi cut levels...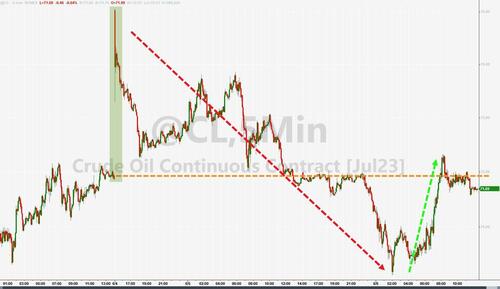 Finally, as a reminder, the world and their pet rabbit is short S&P futures right now...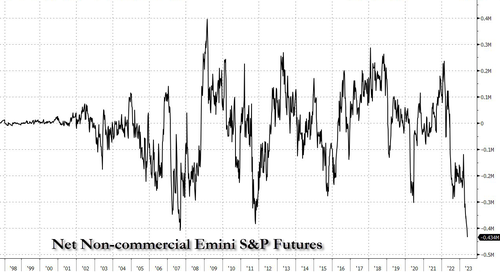 Source: Bloomberg
Loading...