---
'Face-Ripping' Squeeze Sends Stocks Soaring As Yield Curve & The Dollar Dump
Goldilocks or gouging shorts...
Strong Factory Orders, a tumble in Unit Labor Costs (and stronger productivity), Initial Claims in line (but Continuing Claims at six-month highs) - all indicate, as Goldman's Chris Hussey notes, that the labor market is healing well, and illustrating how a key driver of inflation (wages) is likely well on a path towards normalization... which, along with the Treasury Refunding 'good' news, crashed the yield curve (as the long-end dramatically outperformed)...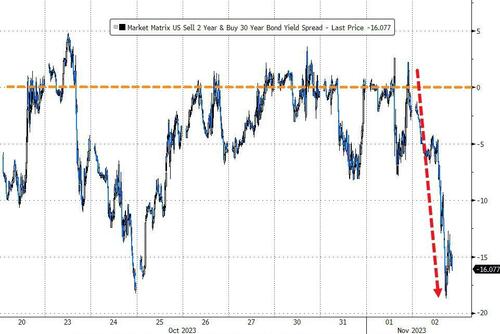 Source: Bloomberg
The 2Y yield was actually higher on the day (2Y +4bps, 30Y -10bps), but still notably lower since the Treasury Refunding 'good' news (2Y -10bps, 30Y -28bps)...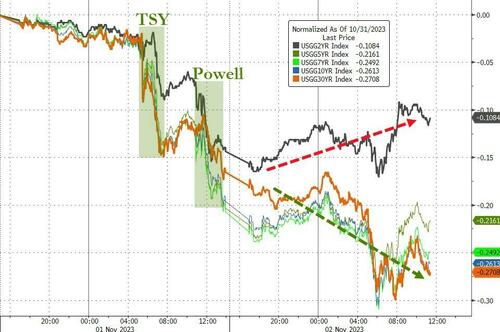 Source: Bloomberg
The 10Y and 30Y pushed on below 5% as the 2Y yield moved back up towards 5%...(NOTE - the 20Y yield is the only part of the curve that remains above- very marginally - 5.00%)...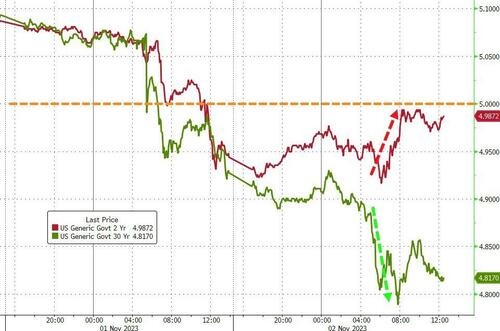 Source: Bloomberg
But, none of that mattered for stocks as the squeeze was in, sending everything soaring - especially the most-shorted and longest-duration as yields also plunged.
A 'face-ripper' of a rally in the most-shorted stocks - the biggest squeeze since February... (that is an 8% rally from the FOMC statement yesterday)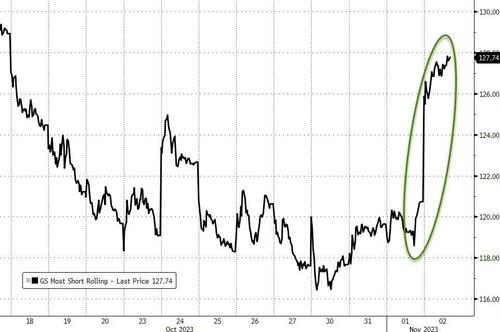 Source: Bloomberg
...smashed the Nasdaq up 4% from the Treasury Refunding. Small Caps and the S&P are up almost 3.5% and The Dow up over 2.5%...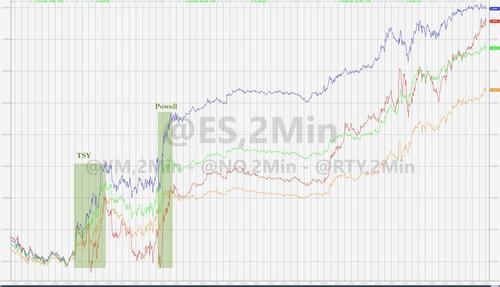 Nasdaq is up 5 days in a row on pace for its best week since Nov 2022.
The Nasdaq and S&P 500 extended their gains today back above the 200DMAs. The Dow's gains took it perfectly to its 200DMA and the Russell 2000 remains well below it...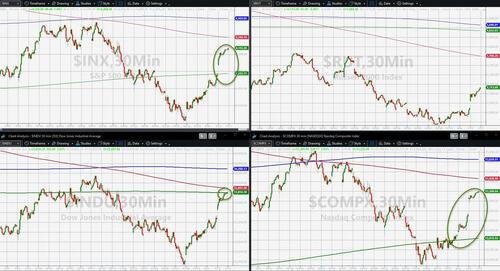 An odd mix of everything in sectors with lower yields snapping Utes and Real Estate higher along with Tech and Discretionary...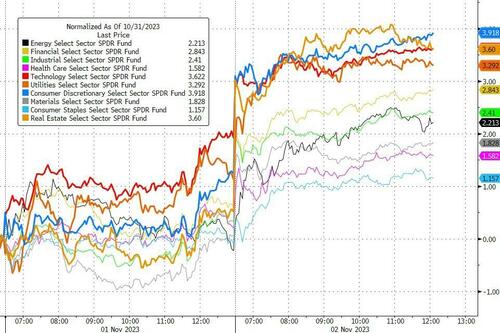 Source: Bloomberg
Banks (large and small) surged on the day...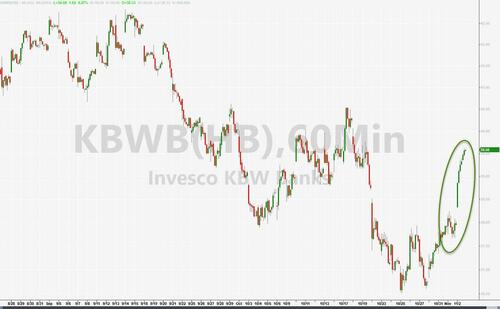 ...as Bill Gross called the bottom in regional banks and sent tehm upo almost 6% (but still back to SVB spike lows only)...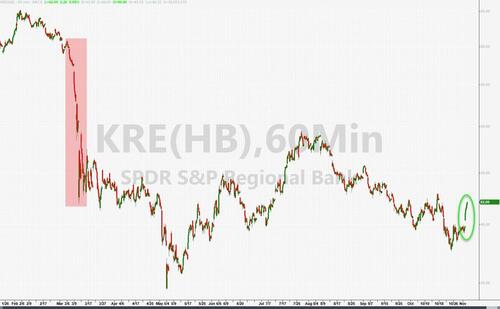 No individual stock better sums up today's equity market than PTON, which crashed over 15% in the pre-market only to explode higher to be up more than 15% on the day...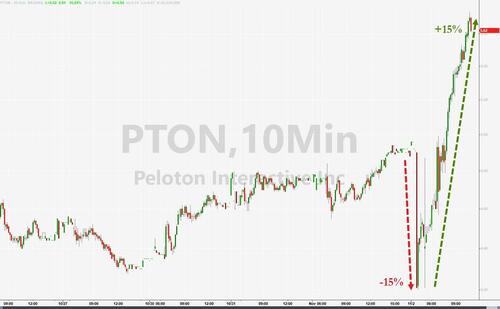 VIX was clubbed like a baby seal back down to a 15 handle...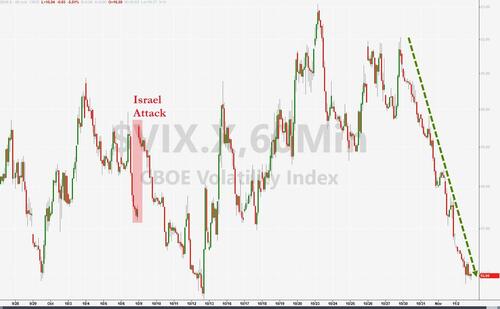 Before we leave equity-land, it is worth noting that 0-DTE traders aggressively fought the squeeze higher today...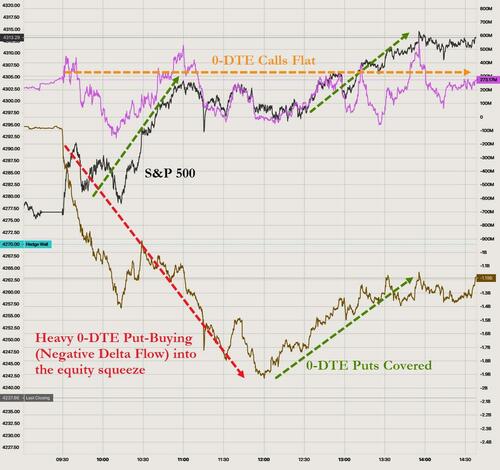 The dollar extended yesterday's plunge (biggest daily drop since Sept 11th), on pace for its biggest weekly drop since July...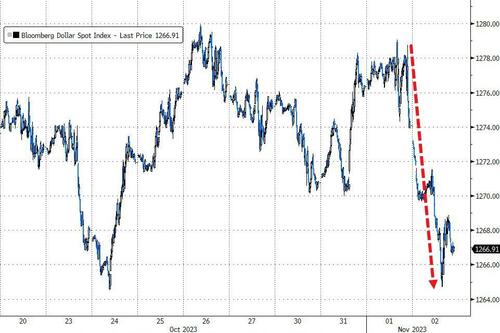 Source: Bloomberg
Bitcoin tested up towards $36,000 overnight but slid lower on the day, finding support at $34,500...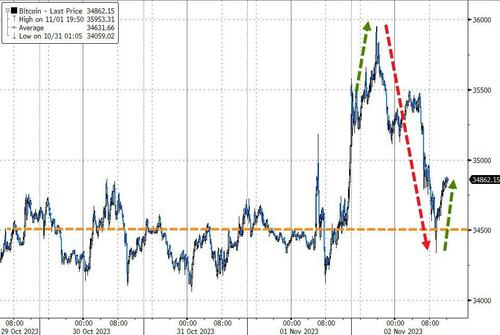 Source: Bloomberg
Despite the dollar's dive, gold only managed modest gains on the day...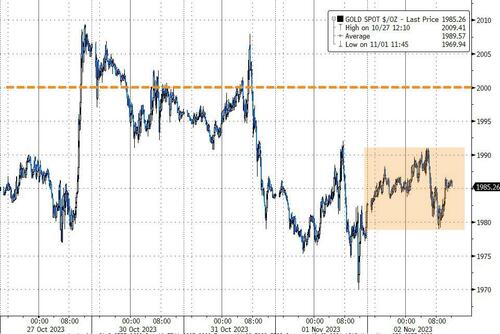 Source: Bloomberg
Crude prices rebounded today with WTI finding support around $80 and bouncing back up to pre-Israel levels...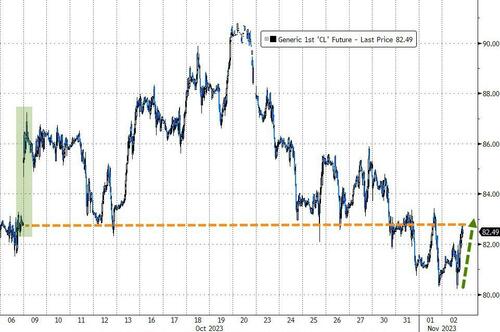 Source: Bloomberg
Finally, just as we warned yesterday, Powell's press conference was just a little too 'dovish' (or non-hawkish) and has triggered a buying-panic in bonds and stocks and credit (spreads compressed). What does that all mean - financial conditions have started to ease significantly...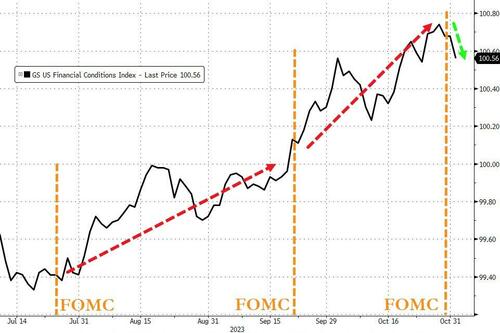 Source: Bloomberg
...so the market has reflexively reacted to Powell's appreciation of its "tightening financial conditions" by easing financial conditions... forcing Powell and his pals back into hawkish mode (and around we go).
Loading...