---
May The Fourth Be Not With The Doves
As many celebrate Star Wars Day, Janet Yellen stepped up to the plate to deliver, warning that "interest rates will have to rise to ensure the economy does not overheat."
"I felt a great disturbance in the farce, as if millions of dovish voices suddenly cried out in terror and were suddenly silenced."
Bear in mind that money-markets have been discounting a rate-hike far sooner than The Fed's dot-plot forecast would suggest for months...
Source: Bloomberg
"Every client call I'm on including the one I just finished ... is talking about overheating," CNBC cited BackRock's CIO Rick Rieder as saying.
So this move today is more of a wake-up call for stocks than anything else. The Dow scrambled back to unchanged (King Kong Yellen ain't got shit on me...). Nasdaq suffered its worst day since mid-March and is down 5 of the last 6 days...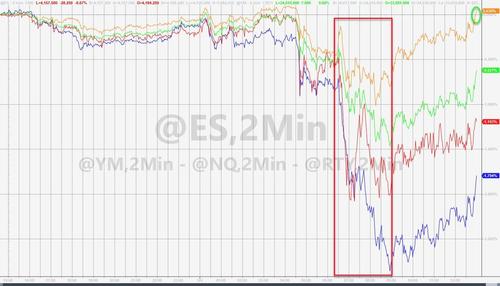 European stocks also puked...
Source: Bloomberg
"Dammit, Janet!"
We do note that we suspect a "just kidding" clarification is coming as The White House confirmed that Yellen will join the press briefing on Friday. Press Secretary Psaki says the Biden administration takes "inflationary risk incredibly seriously."
Fed's Kaplan continued his 'cover your ass' warnings:
*KAPLAN: SHOULD BE AWARE OF IMPACT OF LOW RATES ON ASSET PRICES
Year-to-date, Nasdaq 100 is the laggard now, up 4.7%... while Dow Transports are up a stunning 24.7%...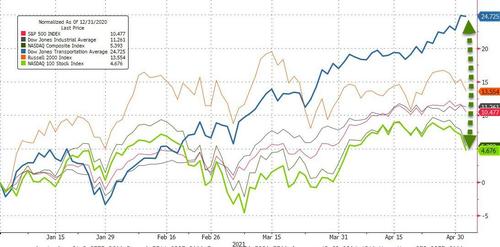 Source: Bloomberg
Seems like Biden's Tax malarkey took the shine off the Growth trade...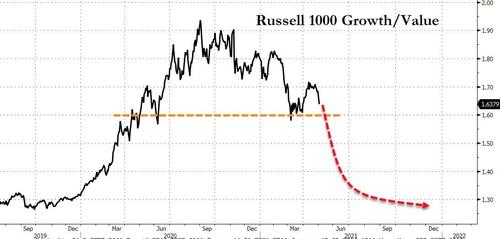 Source: Bloomberg
Trannies have regained all their relative underperformance versus Nasdaq 100 since March 2020...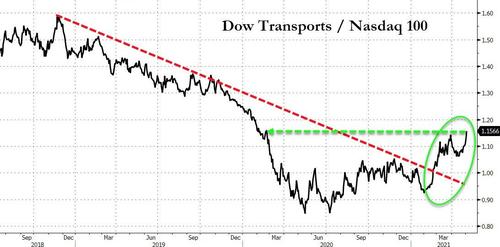 Source: Bloomberg
The Nasdaq found support at its 50DMA...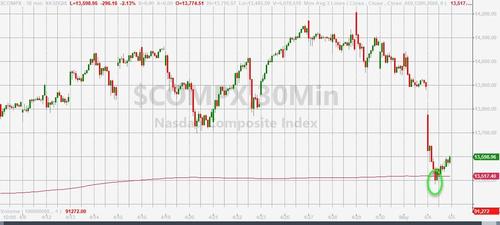 Russell 2000 broke below its 50DMA (and didn't recover)...
"Most Shorted" stocks are down 6 straight days and today was the biggest drop since March...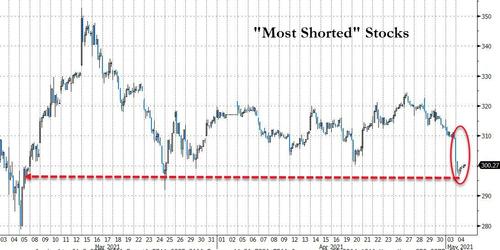 Source: Bloomberg
FAAMG stocks were hammered...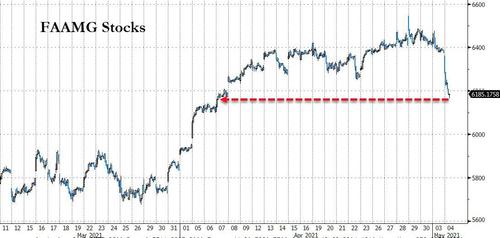 Source: Bloomberg
Semis are down 5 of the last 6 days and broke below key technical levels today...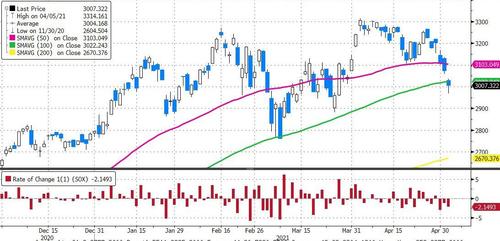 Source: Bloomberg
Ether continued its recent rampage to new record highs (above $3500) before falling after Yellen's comments...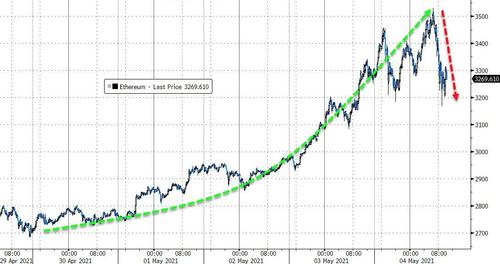 Source: Bloomberg
Bitcoin was clubbed like a baby seal...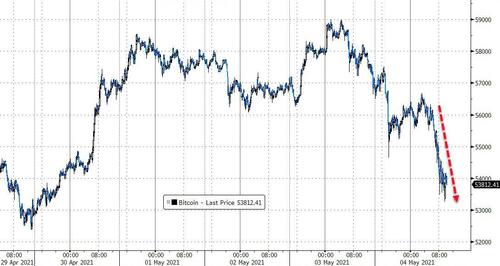 Source: Bloomberg
BTC's weakness relative to ETH sent the ratio soaring once again...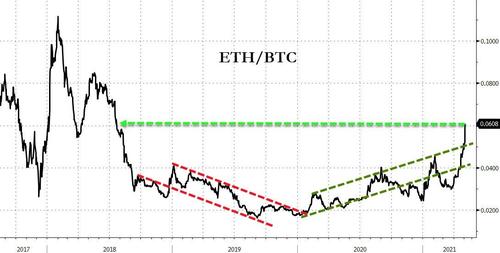 Source: Bloomberg
Meanwhile, Dogecoin ripped to become the 4th largest cryptocurrency...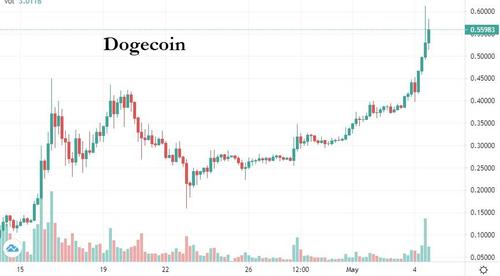 Source: Bloomberg
And bullion was battered on Janet's jawboning...
The dollar spiked on Yellen's comments but gave it all back after running stops from yesterday's highs...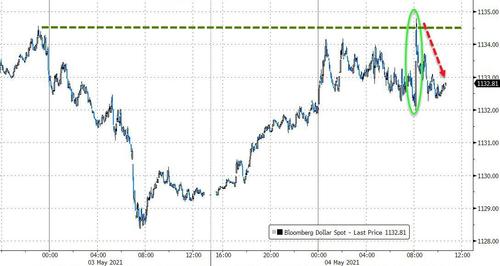 Source: Bloomberg
Treasury yields were all lower today, led by the long-end (30Y -3bps). NOTE, very similar pattern to yesterday in terms of buying and selling..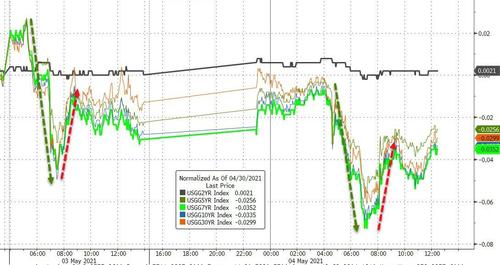 Source: Bloomberg
10Y Yield dropped back below 1.60%(though chopped around a little on Yellen's comments)...
Source: Bloomberg
Source: Bloomberg
WTI managed gains today, unfazed by Yellen, holding above $65 ahead of tonight's API inventory data...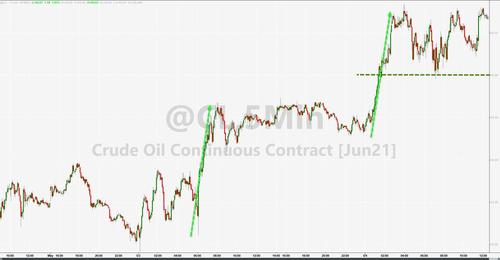 Silver lost $27 today...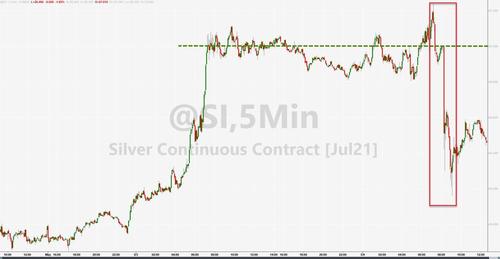 Bloomberg's Commodity Spot Index continued its surge to the highest since 2011...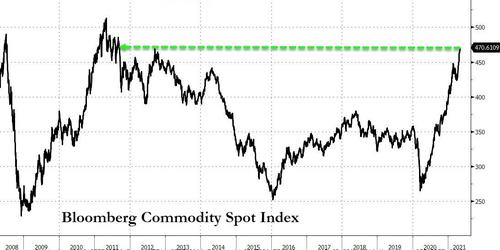 Source: Bloomberg
Finally, we wonder how investors would cope if the S&P 500 were to fall back to its global liquidity support level (only around 3900)?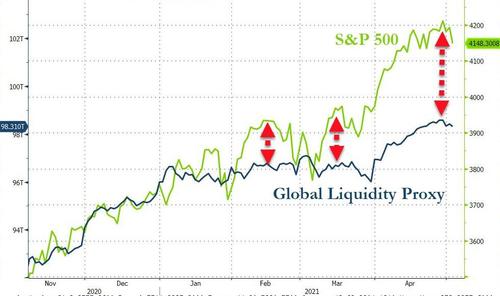 Source: Bloomberg