---
Payrolls Soar By 339K, Blowing Away Highest Estimate, Even As People Employed Tumble By 310K Sending Unemployment Rate Higher
With consensus expecting a modest payroll drop from 291K to 195K, the whisper number coming in  alittle higher at 225K and Goldman's trading desk nfp matrix as follows: "a print sub 100k likely hits the tape by ~100bps and a print north of 375k hits the tape by 25 – 50bps", literally nobody was expecting a print above 252K which was the highest forecast among economists, moments ago the BLS reported yet another blowout stunner: according to Biden's Dept of Labor, in May the US added a whopping 339K jobs, almost double the median estimate and well above the highest forecast.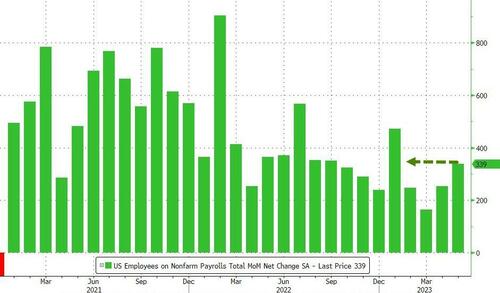 There were of course, revisions, with the March payrolls change revised up by 52,000, from +165,000 to +217,000, and the change for April was revised up by 41,000, from +253,000 to +294,000. With these revisions, employment in March and April combined is 93,000 higher than previously reported.
Going back to the May print, not only was this a 4 sigma beat to expectations...

... but it was the 12th beat of expectations in the past 13 months.
And yet, while the Establishment survey was a blowout beat and the strongest print since January, the Household survey unexpectedly tumbled by the most since April 22 as it plunged by 310K jobs...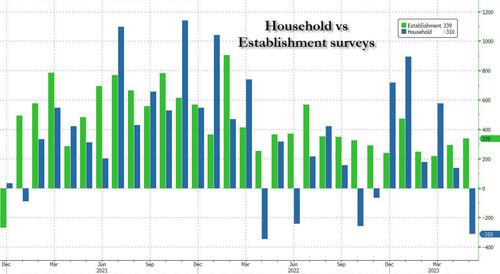 ... pushing the divergence between the two series back to near record wides...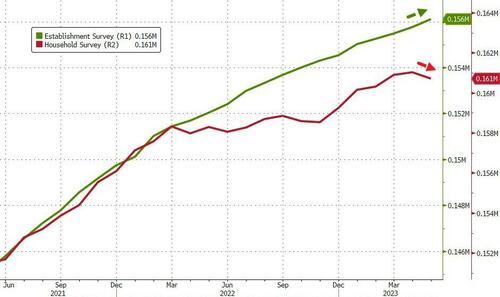 ... and resulting in a 0.3% jump in the Unemployment rate which rose from 3.4% to 3.7%.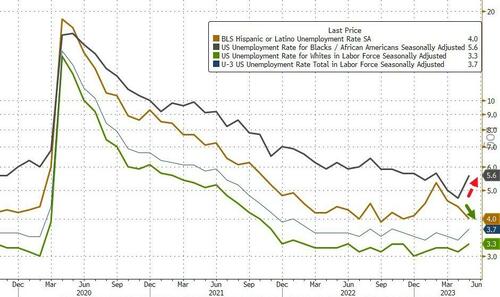 While black men had been leading job gains this year, and their unemployment rate recently hit a record low, the past two months have shown what could be the start of a reversal of that trend. The percentage of Black men who are employed, which reached a 16-year high in March, has since fallen.
Drilling down, we find the the unemp rate for both the youngest and oldest (the under-24s and the 55+ age groups) soared in May.

As for the underlying cause behind the unemployment surge, Indeed economist Nick Bunker points out that the "unemployment rate rose for all the wrong reasons. More employed people moving into unemployment and fewer unemployed workers finding jobs."
Unemployment rate rose for all the wrong reasons. More employed people moving into unemployment and fewer unemployed workers finding jobs. pic.twitter.com/ifc2b869Le

— Nick Bunker (@nick_bunker) June 2, 2023
One possible reason for the massive divergence: the birth death model "added" 231K jobs in March. These are not actual jobs, but merely an assumption by the BLS as to how many new businesses were created and hired workers based on statistical assumptions. Again, these are not actual jobs.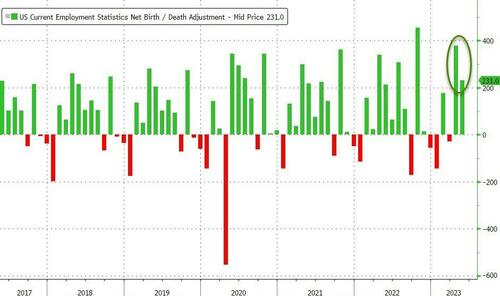 The less volatile (and manipulated) participation rate came in as expected at 62.6%, unchanged from last month.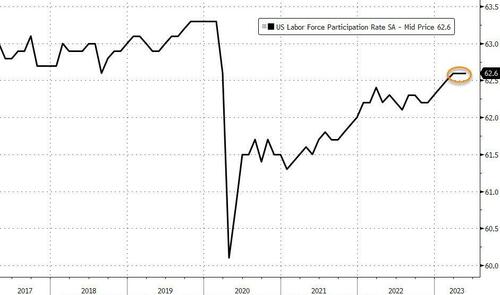 And another paradox: despite the blowout payrolls number, in May both full-time and part-time workers dropped, by 220K and 23K, respectively.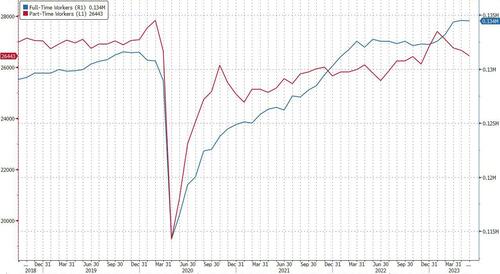 Turning to wages, the sequential print of 0.3% came in line with expectations (and a drop from last month's downward revised 0.4%), while the YoY print of 4.3% was just below the 4.4% expected increase and down from 4.4% last month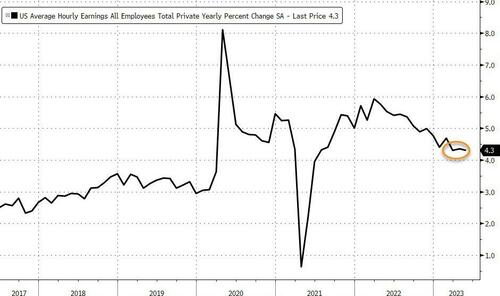 Here's the breakdown by industry. "Information" wages the big outlier up a whopping 1.64% MoM.

Here is a comment from Rubeela Farooqi, chief US economist at High Frequency Economics on the latest wage numbers: "There's an upside surprise on payrolls but the monthly change in average hourly earnings for April was revised down and the annual change decelerated, showing wage pressures are not building. And the unemployment rate rose on a rise in labor force and decline in employment. We are sticking with our base case that the Fed will hold policy steady at the upcoming meeting."
The average workweek for all employees on private nonfarm payrolls edged down by 0.1 hour to 34.3 hours in May. In manufacturing, the average workweek was unchanged at 40.1 hours, and overtime edged up by 0.1 hour to 3.0 hours. The average workweek for production and nonsupervisory employees on private nonfarm payrolls remained at 33.8 hours.
Some more details from the BLS:
The number of persons employed part time for economic reasons, at 3.7 million, changed little in May. These individuals, who would have preferred full-time employment, were working part time because their hours had been reduced or they were unable to find full-time jobs.
The number of persons not in the labor force who currently want a job was 5.5 million in May, little different from the prior month. These individuals were not counted as unemployed because they were not actively looking for work during the 4 weeks preceding the survey or were unavailable to take a job.
Among those not in the labor force who wanted a job, the number of persons marginally attached to the labor force was little changed at 1.5 million in May. These individuals wanted and were available for work and had looked for a job sometime in the prior 12 months but had not looked for work in the 4 weeks preceding the survey. The number of discouraged workers, a subset of the marginally attached who believed that no jobs were available for them, was little changed over the month at 422,000.
Looking at a breakdown in the actual payrolls added by the increasingly unrealiable Establishment survey, we find the following:
In May, professional and business services added 64,000 jobs, following an increase of similar size in April. Employment growth continued in professional, scientific, and technical services, which added 43,000 jobs in May.
Government employment increased by 56,000 in May, compared with the average monthly gain of 42,000 over the prior 12 months. Employment in government is below its pre-pandemic February 2020 level by 209,000, or 0.9 percent.
Health care added 52,000 jobs in May, similar to the average monthly gain of 50,000 over the prior 12 months. In May, job growth occurred in ambulatory health care services (+24,000), hospitals (+20,000), and nursing and residential care facilities (+9,000).
Employment in leisure and hospitality continued to trend up in May (+48,000), largely in food services and drinking places (+33,000). Leisure and hospitality had added an average of 77,000 jobs per month over the prior 12 months. Employment in this industry remains below its February 2020 level by 349,000, or 2.1 percent.
In May, construction added 25,000 jobs, including 11,000 jobs in heavy and civil engineering construction. Over the prior 12 months, construction had added an average of 17,000 jobs per month.
Employment in transportation and warehousing increased by 24,000 in May. Transit and ground passenger transportation added 12,000 jobs, offsetting a decrease in the prior month. In May, employment also increased in couriers and messengers (+8,000) and air transportation (+3,000). Employment in transportation and warehousing has shown no clear trend in recent months.
Employment in social assistance rose by 22,000, in line with the average monthly gain of 23,000 over the prior 12 months. Over the month, individual and family services added 17,000 jobs.
And visually: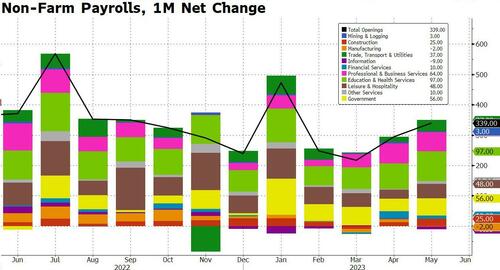 Of the above, one was especially laughable: the 25K new construction jobs was the biggest increase since Jan...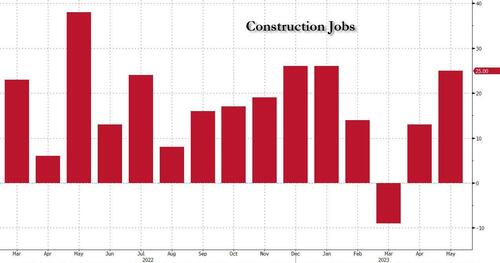 ... and is perfectly logical, because clearly one goes on a construction worker hiring spree when mortgage rates are 7%.
Commenting on the numbers, TD Securities strategist Priya Misra focused on the Establishment survey, and said that "Very strong payroll report and upward revisions the last few weeks and that is bear flattening the curve. The Fed is likely to hike in June and that is our base case. We think there should be some chance of a July hike as well."
And while the market appears to lean in that direction, it's not convinced yet, as swaps traders slightly boosted the probability of the Fed hiking rates at its policy meeting this month, to around a 40% chance. They also bumped up -- to around 88% -- the chance of a quarter-point increase for the July meeting.
Gregory Faranello, head of rates trading and strategy for AmeriVet Securities, also chimed in: "There is something in this report for everyone. The increased layoffs are beginning to flow through. We don't believe this number changes the dynamic for a skip at this month's Fed meeting when looking at the fine details."
BBG chief rates strategist was more hawkish: "The employment situation is basically shaping up as we feared, and we think for the Federal Reserve that doesn't mean many more hikes are necessary, but more tightening probably is.... The challenge for the Fed at this point remains to convince the market that interest-rate cuts aren't coming any time soon, and pricing for a hike and then two cuts by January 2024 isn't helpful for keeping financial conditions tight. Pricing out the two cuts would be a good as hikes."
And while yet others were so drawn into the minutae of the report to think it matters (it does not with futures virtually unchanged since before the print), like Academy's Peter Tchir who writes that "I do think we should see yield curve 2s vs 10s continue to invert more, and approach -85 or more," says Peter Tchir, Academy Securities head of macro strategy", the more pragmatic analysts are starting to echo Zero Hedge in realizing that it's all one big joke courtesy of the Biden jobs department.
Jobs thoughts: is it +339K or -310K? Why do we even pay attention to this report? https://t.co/rufzDfiXw6

— Vital Knowledge Media (@knowledge_vital) June 2, 2023
Finally, instead of looking at the ridiculous payrolls report, one should now pay attention to the unemployment print. Ian Lyngen at BMO explains why: "Any time the unemployment rate is 0.3% off of the low hit over the prior 12 months (which just happened), it tends to go on to spike 1.5 to 3 percentage points higher."
Adding to that point, recall that according to Sahm's Rule, named after Claudia Sahm a former Fed board economist, if the unemployment rate increases by 0.5 percentage point within a 12-month period, that's an infallible recession signal. We just got most of the way there with today's report.
Loading...