---
Meat-Giant Tyson Foods Reveals New Insect Plant In 2025
Tyson Foods Inc. is buying a stake in insect-protein company Protix BV. The two companies will collaborate to establish a manufacturing facility in the US to produce bug-based meal and oil, typically used in fish feed and dog food. 
The American meatpacker said Tuesday that it agreed to buy a stake in Dongen, Netherlands-based Protix BV to help fund its expansion. The companies will also form a joint venture to build and operate a US facility that will produce bug-based meal and oil, which are typically used in fish feed and dog food. Financial terms of the deal weren't disclosed. --Bloomberg 
"It's a multibillion-dollar industry opportunity that has tremendous growth potential, and we see Protix as being a leader there," Tyson CFO John Tyson said in an interview. 
Tyson said, "In the long run, insect-protein inclusion in animal-feed diets can be a real thing that exists and can be one that is good for people, planet and animals."
Protix already supplies insect-based protein to pet food makers Nestle SA and Mars Inc. The company was established in 2009, and the partnership with Tyson will expand operations internationally. 
"It is definitely a huge way to establish ourselves into an international context," Protix CEO Kees Aarts said. He added the deal with Tyson is a "tipping point we have been working for." 
Aarts said the US plant will not be ready until 2025. He said the new facility will be four times larger than its existing facility in the Netherlands. 
Slowly but surely, the World Economic Forum and major corporations appear to be resetting the global food supply chain. WEF has been very vocal about how the masses must give up beef because cow farts are polluting the air and, instead, eat insects.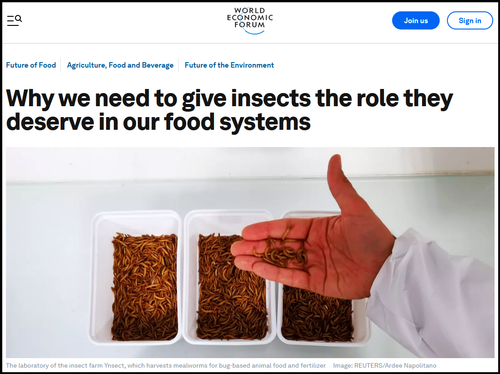 Also...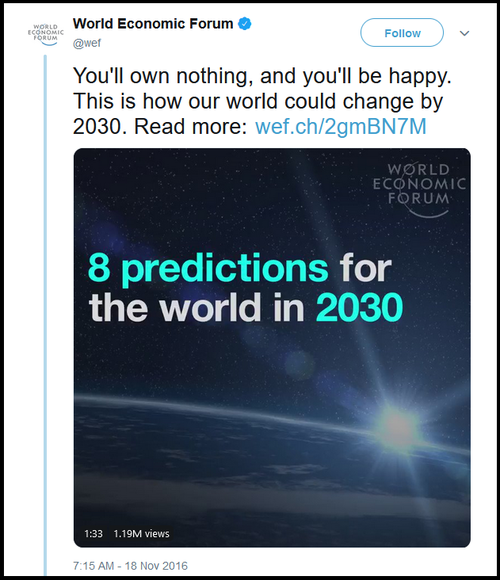 Corporate media has been trying to convince the masses...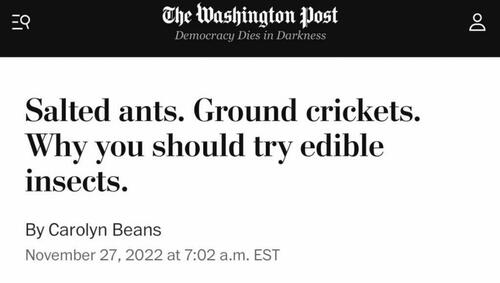 In Europe, an additive made out of powdered crickets has already made its way into pizza, pasta, and cereals.  
Tyson's foray into bug production for animal food is an ominous sign that the meat giant could also be planning edible insects for human consumption. 
Loading...