---
Mediocre 7Year Auction Tails For The 5th Time In The Past 6 Months
After a dismal 2Y auction and a solid 5Y, moments ago the Treasury concluded the week's coupon issuance when it sold $35BN in 7 paper in a passable auction.
The high yield of 3.626% was down sharply from the 4.062% in February if above January's 3.517%; it also tailed the When Issued 3.615% by 1.1 basis points; this was the 5th tailing 7Y auction in the past 6.
The bid to cover of 2.394 was the lowest since November and was on the lower end of the range from the past year; it was certainly below the six-auction average of 2.49.
The internals were likewise mediocre at best, with Indirects awarded 63.2%, down from 65.5% last month and below the 66.4% recent average; and with Directs awarded 21.4%, the highest since October, Dealers were left holding on to 15.4% of the auction, modestly above the recent average of 14.0%.
Overall, this was a passable, if mediocre auction, which however considering the bone-crushing rates volatility in the past two weeks, the fact that it wasn't even worse is probably a victory.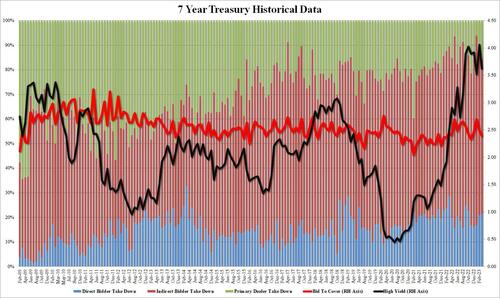 Loading...