---
Mega Merger Monday: Chevron Buys PDC; Mubadala Buys Fortress; Mizuho Buys Greenhill
In an early summer Merger Monday for champions, no less than three major acquisitions were announced in early Monday trading.
In the first deal, US supermajor Chevron said it will buy driller PDC Energy in a $6.3 billion all-stock deal, allowing Chevron to expand its holdings in shale basins in Colorado and West Texas. Chevron will pay $72 a share, a roughly 14% premium on a 10-day average based on May 19 closing prices. Based on Chevron's May 19 closing price, PDC shareholders will receive 0.4638 shares of Chevron for each PDC share. The deal is expected to close by year-end, pending regulatory approval and PDC shareholder approval.
The total enterprise value of the deal including debt is $7.6 billion. Chevron said it expects the tie-up to add about $1 billion in annual free cash flow at $70 per barrel Brent oil and Henry Hub natural gas at $3.50 per thousand cubic feet. Morgan Stanley and Evercore advised Chevron, while JPMorgan advised PDC.
"PDC's attractive and complementary assets strengthen Chevron's position in key U.S. production basins," Chevron CEO Mike Wirth said in the statement. "This transaction is accretive to all important financial measures and enhances Chevron's objective to safely deliver higher returns and lower carbon.
Oil and gas producers are flush with cash after raking in record profits over the past two years, leaving the US energy patch ripe for a takeover boom. Companies are looking to bulk up and consolidate, particularly in the Permian Basin of West Texas and New Mexico, the most prolific US shale play.
The second major deal will see Abu Dhabi's sovereign wealth fund Mubadala Investment and Fortress Investment Group buying 90% of the equity held by Japanese conglomerate SoftBank Group in the US asset manager. Mubadala will own 70% of the equity in Fortress, while Fortress management will hold a 30% equity interest and a class of equity entitling it to appoint a majority of seats on the board, the firms said on Monday.
The companies didn't disclose terms. Bloomberg News has reported that a deal that could potentially value the US asset manager at more than $2 billion. SoftBank acquired Fortress in 2017, intending to use the New York-based firm's expertise to help manage its behemoth Vision Fund which has been a catastrophic failure.
In the third, and perhaps highest profile deal of the day, Japan's Mizuho Financial Group expanded its reach into US investment banking through a deal to buy boutique investment bank Greenhill & Co. as it seeks to accelerate growth. The Japanese banking giant agreed to buy Greenhill for $15 a share - a whopping 121% premium to Friday's closing price of $6.78 - in an all-cash transaction, which values the firm at $550 million including debt, the firms said Monday in a statement. The lender will retain Greenhill's leaders, including Chief Executive Officer Scott Bok, who will be chairman of mergers, acquisitions and restructuring.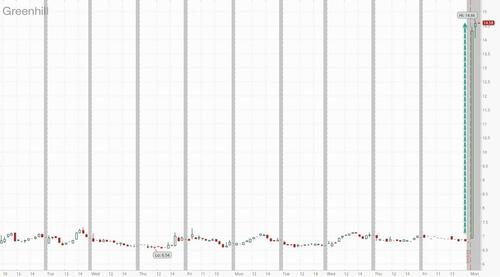 "The stock as recently as February was trading right around this price," Jerry Rizzieri, the president and CEO of Mizuho Securities USA, said in an interview. "Regional banks are down 40%, this stock has taken a pretty big drop," he said. "We think we're paying a fair price for a premium brand."
Mizuho joins its Japanese rivals to expand investment banking tie ups in the US, however it has one-upped them by going a step further in making an acquisition. Sumitomo Mitsui Financial Group last month said it will expand a tieup with Jefferies Financial Group to boost US capital markets and M&A advisory businesses. Japan's largest bank Mitsubishi UFJ Financial Group has a more than decade-old alliance with Morgan Stanley, a deal struck in the heat of the 2008 financial crisis.
According to Bloomberg, the deal gives Mizuho another 370 employees, and Greenhill will continue to operate in 15 locations around the world. Most locations overlap with Mizuho's existing locations except Melbourne and Stockholm, according to Rizzieri. Mizuho plans to complete the transaction by the end of the year, and the Greenhill business will be within Mizuho's larger dealmaking division run by Michal Katz, head of banking in the Americas.
Mizuho is betting the takeover will complement its investment banking teams. "We only recently began hiring M&A bankers in the last few years," Rizzieri said. "Mizuho offers a full complement of products ranging from debt, equity, capital markets, derivatives, fixed income and equity sales and trading, securitization. The piece that's been missing has been M&A," he said.
Mizuho's takeover ends a nearly two-decade run in public markets for Greenhill, an early boutique investment bank to go public in 2004 under its iconic founder, M&A veteran Bob Greenhill. Bok was tapped to co-lead the firm three years later, and became sole CEO in 2010. The stock traded at more than $81 per share at the end of that year.
In the past decade, Greenhill faced competition from a proliferation of boutiques, with Moelis & Co., Houlihan Lokey Inc. and PJT Inc. also among those going public.
Loading...