---
Megasqueeze On Deck As Hedge Funds Unleash Biggest Short Selling Spree In History
One week ago we showed that for the group of hedge funds focusing on growth names, 2022 (er, technically January) was already the worst year on record as the handful of "favorite" long names (mostly FAANGs and some smaller hangers on) had suffered massive losses to start the year, while many of the popular shorts - especially those in the energy sector - had ripped higher. Not just them though - the rest of the hedge fund space wasn't faring much better, with the broader Goldman Sachs Global Equity Long/Short Index suffering declines on par with the broader market. In other words, it was a catastrophic month for virtually all hedge funds.

But what is hilarious is that the latest hedge funds implosion, which now consistently underperform the market when it is up and underperform the market when it is down which prompted us to ask just what exactly do they "hedge"...
98% of hedge funds can't outperform the market when it is rising, and 98% of hedge funds underperform the market when it is dropping. So what exactly are they "hedging"? pic.twitter.com/PfSXwLiKIF

— zerohedge (@zerohedge) February 2, 2022
... has led to the infamous "hedging trades moment"...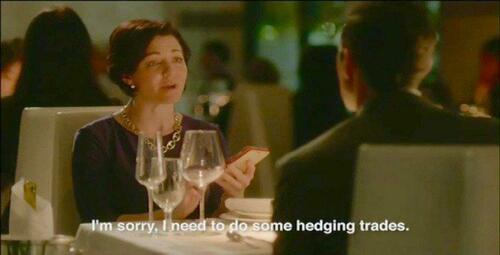 ... because as Goldman's Prime Brokerage writes in its latest weekly report (available to pro subscribers in the usual place), while there's been no sign of capitulation by hedge funds - in the form of large long sales - amid the recent market downdraft, managers have further reduced Net leverage through shorting activity.
And, boy, has there been a lot of shorting... after the fact. According to GS Prime, on a YTD basis, the bank has seen increased gross trading activity with short sales outpacing long buys 2.7 to 1 in $ terms. In addition, the Prime book has seen increased short sales for 6 straight weeks (in 12 of the past 13 since early November).
Finally, and most remarkably, on a trailing 5-week basis, Goldman finds that the cumulative $ short flow since 12/31 is the largest in more than 10 years (10-Year Z-score of -4.0), in fact as shown below, the shorting since the start of the year has been the biggest on record.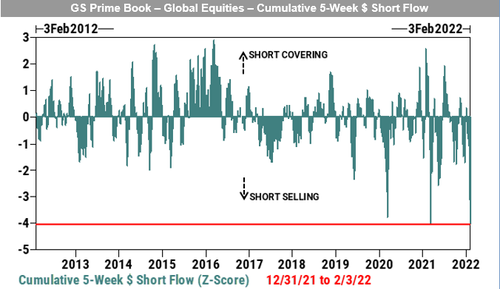 However, we we can infer that most of this shorting took place after the market tumbled (since hedge funds are underperforming the broader market) which means that as hedge funds were imploding, instead of adding to longs (in which they supposedly have conviction) as any veteran asset manager should do, they instead pulled a much delayed "hedging trade" and shorted, also not those names which have continued to slide judging by the sector's continued underperformance!
Some more observations from GS Prime:
Single Names/Macro Products (Index and ETF  combined) both saw increased shorting in the past 5 weeks and made up 71%/29% of the $ short flow. North America is by far the most shorted region accounting for 81% of the $ short flow.
Excl. MTM, Single Name shorts increased in all 11 sectors globally, led in $ terms by Consumer Disc, Info Tech, Financials, Health Care, and Industrials
According to some, such as Schwab's CIO Liz Ann Sonders, the accelerated shorting is a favorable development as it means far less downside for stocks: "That's a better backdrop than if everybody was still in that FOMO... complacency and over-optimism -- nothing to see here, new paradigm, stocks never go down -- that's a dangerous environment."
And while she is right, the bigger risk now is not that markets drop, but that they rip higher: remarkably, the unprecedented shorting frenzy is happening almost exactly 12 months after the WallStreetBets crew launched a massive widespread short squeeze campaign that led to unprecedented pain for most hedge funds. It would be such a great shame if someone - like for example the Chicago-based fund that frontruns most retail trading orders in the US and has a "very good idea" of where both retail and institutional stops are to be found - decided to spark another massive short squeeze.
Actually, come to think of it, that's probably precisely what will happen, and all that is missing is a trigger for the ramp higher... a trigger which tomorrow's CPI miss will conveniently provide, and when coupled with the market's abysmal liquidity which will accentuate the impact of every momentum ignition move...

... could quickly send stocks to fresh all time highs.
Which begs the question: at a time when everyone is terrified of a new market swoon - and which won't happen because everyone is now hedged for precisely that outcome - is the mother of all short squeezes on deck?