---
Meta Explodes 18% Higher On Solid Beat, Massive $40 Billion Buyback Boost
What was a terrible day for bears just got even worse when social networking giant Facebook Meta crushed naysayers with a solid beat in Q4 revenue and DAUs, and while EPS was a modest miss, the nail on the coffin was the company's announcement of a $40 billion stock buyback.
Here are the details from the Q4 press release.
EPS $1.76, missing the estimate 2.22
Revenue $32.17 billion, -4.5% y/y, beating the estimate $31.65 billion

Advertising rev. $31.25 billion, -4.2% y/y, beating the estimate $30.86 billion
Family of Apps revenue $31.44 billion, -4.1% y/y, beating the estimate $30.81 billion
Reality Labs revenue $727 million, -17% y/y, beating the estimate $652.4 million
Other revenue $184 million, +19% y/y, missing the estimate $188.1 million
The company's user metrics were also quite solid:
Daily active users 2.00 billion, beating the estimate 1.98 billion; and up more than 70 million from a year prior. As BBG notes, that's "a notable number for a platform that's been around for more than two decades." It's also symbolic: this is the first time it topped the 2 billion DAU threshold.
Monthly active users 2.96 billion, missing the estimate 2.98 billion, and up 5% Y/Y.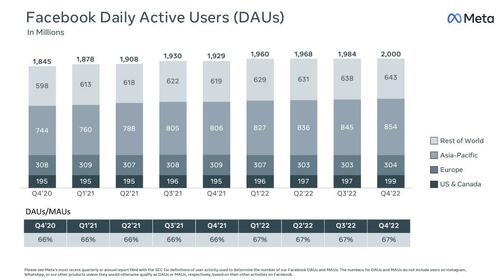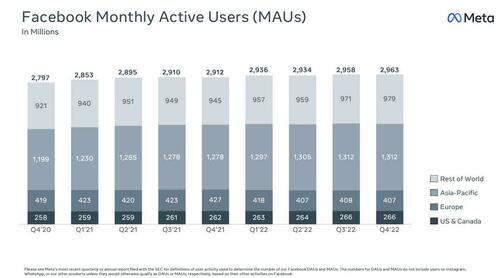 The ad metrics also came in stronger than expected. So much for all that panic after the Snapchat earnings:
Ad impressions +23%, beating the estimate +13.5%

Average price per ad -22%, missing the estimate -17.2%

Family of Apps operating income $10.68 billion, -33% y/y
Reality Labs operating loss $4.28 billion, +30% y/y
Average Family service users per day 2.96 billion, beating the estimate 2.92 billion
Average Family service users per month 3.74 billion, beating the estimate 3.71 billion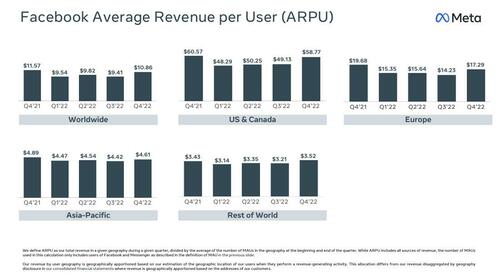 One data point that was not quite as hot: the Q4 loss in Reality Labs - the department where the metaverse tech is being built -  saw a massive operating loss of $4.28 billion, even worse than the $3.99 billion estimate. And there is little hope this number turns positive in the foreseeable future.
Commenting on the quarter, CEO Mark Zuckerberg said "our management theme for 2023 is the 'Year of Efficiency' and we're focused on becoming a stronger and more nimble organization." That's a continuation of the "prioritization" and "efficiency" drumbeat we heard in the back half of 2022. First there was the 13% workforce reduction; and he is taking that mindset to the operations (see below on expenses and capex cut).
Zuck is also smart enough to realize he has to start throwing around the term "AI", which as everyone knows by now, is the new blockchain, to wit: "The progress we're making on our AI discovery engine and Reels are major drivers of this."
Looking ahead, the company forecast Q1 revenue of $26 billion to $28.5 billion, with the consensus estimate of $27.25 billion smack in the middle.
For the full year, Meta slashed both its expense and Capex forecast, a move which the market is clearly cheering. Here are the details:
Sees total expenses $89 billion to $95 billion, down from the previous guidance of $94 billion to $100 billion, and mostly below the estimate $95.16 billion
Sees capital expenditure $30 billion to $33 billion, down from $34 billion to $37 billion, and below the estimate of $34.35 billion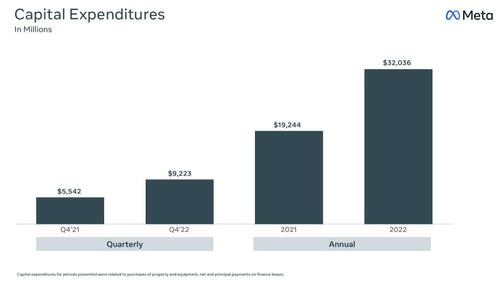 This is important because as Mizuho said earlier, "long only investors still hate the [metaverse] thesis and plan to incinerate money over the next 3 years. [Therefore] buyside feedback all pointing to META to reduce capex range by $1-2B. Feels like $2B is needed for stock to continue to work." In the end that's precisely what happened.
The company also announced that its headcount as of Dec 31, 2022 was 86,482, an increase of 20% Y/Y, but that number is about to drop big as it includes a substantial majority of the approximately 11,000 employees impacted by the layoffs META announced in November 2022, who will no longer be reflected in the company's headcount by the end of the first quarter of 2023.
Some comments from the company on its operating margin:
"Total restructuring charges recorded under our FoA segment were $3.76 billion and RL segment were $440 million during the fourth quarter of 2022. Excluding these charges, our operating margin would have been 13 percentage points higher, our effective tax rate would have been one percentage point lower, and our diluted EPS would have been $1.24 higher for the fourth quarter of 2022."

"In addition, as previously noted, we continue to monitor developments regarding the viability of transatlantic data transfers and their potential impact on our European operations"

"Our guidance assumes foreign currency will be an approximately 2% headwind to year-over-year total revenue growth in the first quarter, based on current exchange rates."
But while the earnings were solid, if not stellar, the crushing blow was the company's announcement that it authorized a whopping $40 billion stock buyback.
We repurchased $6.91 billion and $27.93 billion of our Class A common stock in the fourth quarter and full year 2022, respectively. As of December 31, 2022, we had $10.87 billion available and authorized for repurchases. We also announced today a $40 billion increase in our share repurchase authorization.
Between the solid earnings, the lack of SNAP-like collapse in ad metrics, the forecast slide in expenses and capex and the massive boost to the capex, the heavily shorted META stock is up a whopping 18% and is up more than 100% from its November lows! If gain holds it will be biggest META rise since July 25, 2013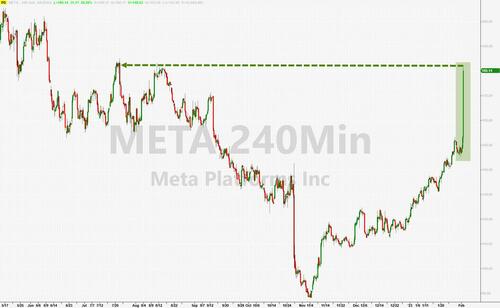 Here is the full META earnings presentation (pdf link).
Loading...