---
Meta Starts Cleaning House, Axes 1,500 Recruiting, HR Jobs
Meta, the owner of Facebook and Instagram, has officially embarked on another round of job cuts with the firing of 1,500 employees in recruiting and human resources, Bloomberg reported, citing people familiar with the matter. 
In a memo sent to employees on Tuesday, Meta CEO Mark Zuckerberg outlined plans to reduce its workforce by laying off 10,000 employees and eliminating 5,000 vacant positions.
"The first wave of cuts were explained to Meta employees on a call with executives Thursday morning," the people said. 
Another person said Zuckerberg would address staff on Thursday afternoon about the company's layoffs. 
Zuckerberg has called for a "year of efficiency" to reduce costs after overhiring during the pandemic years. The first round of job cuts was announced in November of around 11,000 people or 13% of its staff.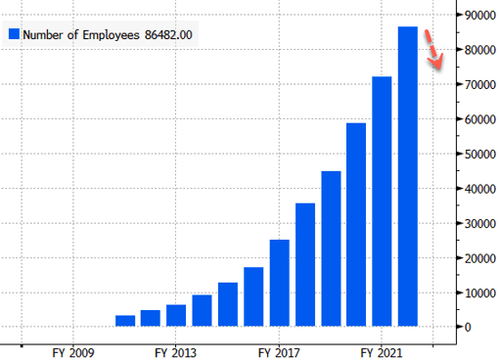 Meta's downsizing comes as its social media platforms, including Facebook, Instagram WhatsApp, have been hit with a slowdown in advertising revenue, leading to the first-ever annual sales decline in 2022. Zuckerberg's cost-cutting measures are too weather the economic storm. 
Meta's not the only tech company laying off. According to the layoff tracking website Layoffs.fyi, 483 tech companies have fired 128,000 workers so far this year.
Loading...