---
Michael Burry Didn't Sell: Here Are All The "Big Short's" Holdings And New Stock Buys: 13F
On Jan 31, just one day before the latest Powell presser sent stocks surging higher in the biggest short squeeze in a decade boosted by a historic 0DTE buying frenzy, the "Big Short" Michael Burry tweeted one word: "sell."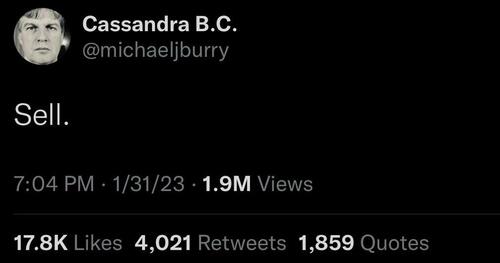 Then, when stocks spiked higher, Burry promptly deleted not just the tweet but his entire account, only to reactivate it one week later for yet another sarcastic tweet, suggesting that this time was no different than the dot com crisis (the tweet has also since been deleted).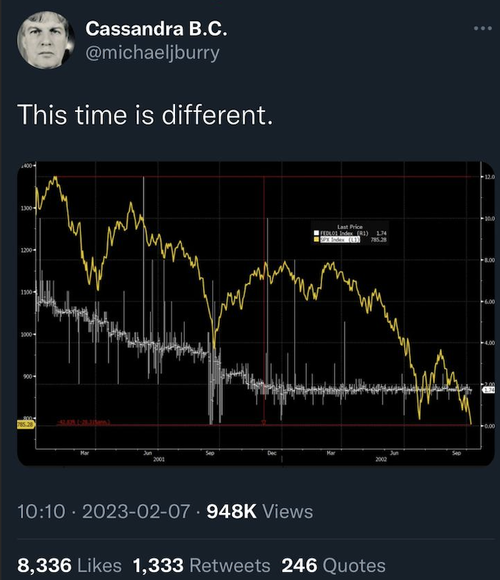 What is notable is that while Burry was urging his followers to sell, just one month earlier he himself was busy buying, and according to the just released 13F by Scion Asset Management - Burry's modest family office - in the fourth quarter, Burry was busy buying some shares while selling others.
According to Scion's just filed 13F for the quarter ending Dec 31, Burry kept his top position,  private prison operator Geo Group, if shrinking his position by almost half owning just over 1.06 million shares, down 47% from the 2.02 million he owned as of Sept 30. Similarly, Burry slashed his holding in Qurate Retail by 70%, and held just 1.5 million shares as of Dec 31, down from 5 million three months earlier.
Burry liquidated the rest of his holdings, dumping his entire stake in companies like Corecivic, Aerojet, Charter Communications and Liberty Latin America, and shifted the proceeds into such names as Chine-heavey Alibaba and JD.Com, as well as real estate consultancy Black Knight, engineering specialist Coherent, as well as Wolverwine World Wide, MGM Resorts and regional airline Skywest.
Here is the latest summary of his holdings as of Dec 31...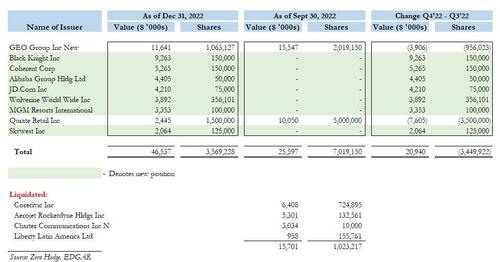 ... and unless Burry dumped not just his legacy positions but his brand new holdings in the one month interval between the Dec 31 snapshot and his Jan 31 tweet, we wonder if Burry's message to his followers may have been a bit disingenuous.
And speaking of dumping, Burry's top position as of Dec 31, GEO, has seen better days: it had lost nearly a quarter of its market cap this morning after provided a 2023 revenue forecast range that fell far short of expectations; GEO management explained that since the start of 2023, the company had experienced a decline in the number of participants under the US Department of Homeland Security's Intensive Supervision and Appearance Program due to immigration policy changes and budgetary pressures.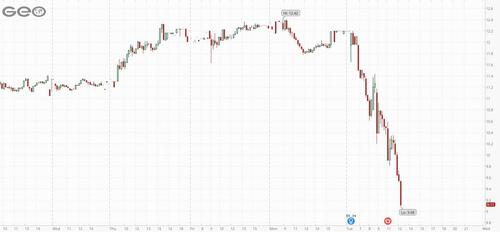 Who knew that the upside catalyst to Burry's biggest long position was the "successful" continuation of Biden's catastrophic immigration policy. That said, with GEO's short as a % of float rising to 21%, it may be just a matter of time before we see another squeeze.
Source: SEC
Loading...