---
Microsoft Tumbles Despite Beating Across The Board
Looking at Microsoft's earnings reported moments after the close, which beat from the top to the bottom line, and one would think that the stock is soaring after hours. But instead what one would find is an inexplicable plunge of 6% which can only be attributed to someone bearishly positioned and slamming the stock after hours in hopes of setting a narrative that MSFT's beat wasn't strong enough.
Here is what the company reported for Q4:
Revenue $51.73 billion, +20% y/y, beating estimates of $50.87 billion
EPS $2.48 vs. $2.03 y/y, beating estimates of $2.31
Operating income $22.25 billion, +9.9% q/q, beating the estimate $21.06 billion
Capital expenditure $5.87 billion, +41% y/y, beating estimates $5.83 billion
Drilling into the revenue numbers shows even more beats:
Productivity and Business Processes revenue $15.94 billion, +19% y/y, beating the estimate $15.91 billion
Intelligent Cloud revenue $18.33 billion, +26% y/y, beating the estimate $18.32 billion
More Personal Computing revenue $17.47 billion, +15% y/y, beating the estimate $16.67 billion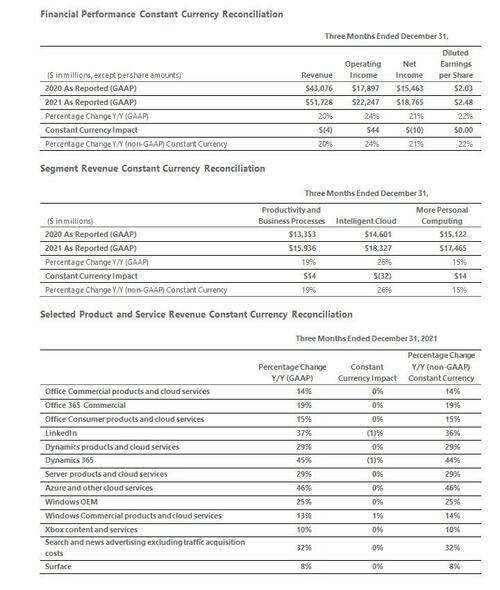 "Solid commercial execution, represented by strong bookings growth driven by long-term Azure commitments, increased Microsoft Cloud revenue to $22.1 billion, up 32% year over year" said Amy Hood, executive vice president and chief financial officer of Microsoft.
If that wasn't enough, Microsoft was also quite generous and returned $10.9 billion to shareholders in the form of share repurchases and dividends in the second quarter of fiscal year 2022, an increase of 9% compared to the second quarter of fiscal year 2021.
Still, some nitpicked so deep in the earnings they found that Azure (cloud) sales growth of 46% fell short of the rosiest estimates of analysts and investors, who have come to expect gains of as much as 50% or more per quarter (even if the actual number did beat expectations).
"We've kind of hit the highest peak of growth we're going to see in a while," said Brent Thill, an analyst at Jefferies LLC. "You have a theme of decelerating growth and harder comps are coming up."
Of course, that's just goalseeking a narrative to a market reaction. The reality is that despite what any other day would have sent the shares soaring 5% to 10% higher, has instead led to a tumble as this merciless market seems ready to punish anything tech related, even if for all the wrong reasons. Indeed, Microsoft shares dropped about 3.5% in extended trading following the report, after declining 2.7% to $288.49 at the close in New York. While the stock jumped 51% in 2021, it has declined 14% so far this year amid a rout in large technology stocks.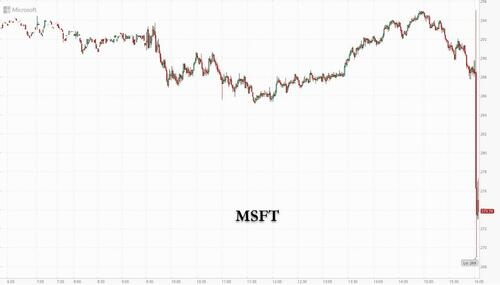 That said, don't be surprise if like with IBM yesterday, the reaction reverses, because while IBM remains a melting ice cube, Microsoft - for better or worse - is one of the best companies in the world. And incidentally, since the company's guidance is yet to be released...
Microsoft will provide forward-looking guidance in connection with this quarterly earnings announcement on its earnings conference call and webcast
... we are confident that once Wall Street hears the company's bullish guidance, the entire drop will be reversed, countless "experts" who built long, droning narratives based on the market's after hours reaction will be humiliated (again), and futures, which have been hammered, will reverse and turn higher.