---
Minnesota Non-Profit Set Up To Feed Children Accused Of Massive Fraud And Misappropriating "Tens Of Millions Of Dollars"
A non-profit organization called "Feeding our Future (FOF)" was stopped in its tracks this week by the FBI after using millions of federal dollars meant for child nutrition to instead buy "numerous vehicles" and 14 properties, according to the Bureau. 
FBI Special Agent Travis Wilmer wrote in an affidavit this week: "The companies and their owners received tens of millions of dollars in federal funds for use in providing nutritious meals to underprivileged children and adults. Almost none of this money was used to feed children. Instead, the participants in the scheme misappropriated the money and used it to purchase real estate, cars and other luxury items."
FOF received $307,000 in federal funds in 2018, according to a report by Just The News.
The organization's website says: "We are driven by a single goal; making participation in the USDA Child and Adult Care Food Program safe and easy for our community partners. We ensure programs are easily able to receive funding to purchase nutritious meals and snacks."
It reported $42.7 million and $197 million in "meals disbursed" in 2020 and 2021, respectively. 
The FOF was caught after the Minnesota Department of Education noticed reporting deficiencies and a "drastic increase of meals" that the organization couldn't explain. The MDE then reported them to the USDA Office of the Inspector General in October 2020.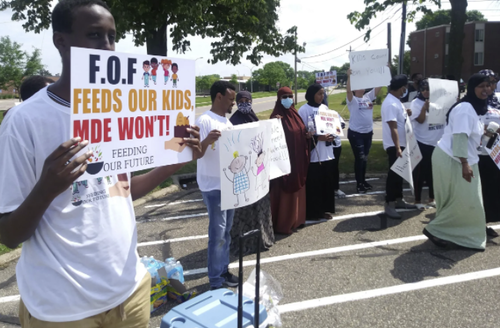 But then FOF sued the MDE for not processing more than 50 applications for payments - and won. 
In mid 2021, authorities were already investigating the FOF. Despite searches of "a dozen" properties linked to the investigation in 2022, no arrests were made. 
The investigation reportedly ensnared Abdi Nur Salah, former senior policy aid at the office of Minneapolis Mayor Jacob Frey, who co-purchased a south Minneapolis apartment building with money "traceable to the fraud and money laundering scheme", according to the report. 
There were 14 properties tied to the alleged fraud, according to the U.S. Attorney's Office. 
The FBI said in January 2022: "To date, the conspirators have stolen millions of dollars in federal funds. The scheme is ongoing."
The Sahan Journal also reported that people tied to FOF donated to Congresswoman Ilhan Omar's office:
Congresswoman Ilhan Omar's office says her campaign has donated to local food shelves the thousands of dollars in contributions it received from men alleged in FBI search warrants to have committed fraud against a federal program to feed children. 

In early 2021, two men named in recently unsealed search warrant affidavits donated a total of $5,400 to Omar's campaign. The FBI affidavits list Ahmed Ghedi and Abdihakim Ahmed as associates of Safari Restaurant and Event Center. Both allegedly controlled shell companies that received $1.1 million in federal child nutrition money from a co-owner of Safari Restaurant. The two men separately helped two others buy a $2.8 million mansion in Minneapolis with child nutrition money to use as an office building, the FBI alleges. 

Ahmed donated $2,700 to Omar's campaign on February 23 and Abdihakim gave the same amount to her on March 31. Federal prosecutors have not charged Ahmed or Abdihakim, nor anybody else named in the search warrants, with any crimes. 
Sen. Roger Chamberlain, concluded: "It's simply outrageous that nearly $200 million of money provided to feed children in need was abused in this way. With resources precious, it's imperative government agencies ensure every dollar is going to programs with robust track records so we can know not a single dime is wasted."
FOF Director Aimee Bock has denied any wrongdoing.
Loading...