---
Minnesota Town Evacuated After Train Carrying Ethanol Derails, Bursts Into Flames
A freight train carrying ethanol derailed earlier this morning, prompting the evacuation of residents from a small town near Minneapolis, reported Fox News.
Burlington Northern Santa Fe (BNSF) Railway said 22 cars derailed around 0100 local time near Raymond in Kandiyohi County. Of the derailed cars, some were hauling ethanol and corn syrup liquid that caught on fire.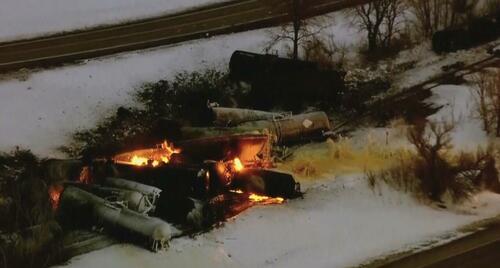 As a result of the incident, the Kandiyohi County Sheriff's Office evacuated the nearby town. Here's what they said:
"Fire departments from Raymond and numerous area departments responded as several of the derailed tankers started on fire and were determined to be carrying a form of ethanol and others with a corn syrup liquid.

"An evacuation area of ½ mile was established around the crash site and law enforcement officers and other EMS assisted with that evacuation.

"Residents were instructed to leave their homes and an emergency collection site for those with nowhere to go was established at the Central Minnesota Christian School building in nearby Prinsburg, Minnesota." 
Footage of the incident published on social media shows flames shooting from the tankers carrying ethanol -- an eerie sight considering the East Palestine train disaster is still fresh in everyone's mind. 
🚨 @rawsalerts || #BREAKING: Train carrying Ethanol has Derailed causing it to explode Prompting Immediate Evacuation Orders for Residents within Half-Mile Radius

📌#Raymond | #Minnesota

Emergency officials have issued an urgent evacuation notice for pic.twitter.com/oFBYbZTemw…

— PiQ (@PriapusIQ) March 30, 2023
Chopper 5 video of train derailment aftermath in Raymond. The community is about 100 miles west of the Twin Cities. No one was hurt, but residents are being asked to evacuate. pic.twitter.com/zvIA4e5sR2

— Chris Egert (@ChrisEgertTV) March 30, 2023
🚨#UPDATE: Better Photos shows the exact Damage of this Ethanol Train Derailment Prompted Immediate Evacuation Order for Residents within Half-Mile Radius in Raymond City, Minnesota pic.twitter.com/4oj1uW5G3R

— R A W S A L E R T S (@rawsalerts) March 30, 2023
This incident occurred just hours after a Canadian National Railway Company train derailed near Pittsburgh on Wednesday and only days following a 70-car train carrying hazardous materials derailed in North Dakota on Sunday.
What has caught our attention is the increasing number of news stories on train derailments throughout the nation. Bloomberg data reveals that reports on derailments have reached an all-time high. 
The cause of that Minnesota train derailment remains under investigation. 
Loading...