---
NYSE Flip-Flops Again: Reconsiders Delisting China Telcos After "Disapproving" Call From Mnuchin
Update (1655ET): Well that didn't take long.
Just a few short hours after Treasury Secretary Mnuchin "disapprovingly" called NYSE President Stacey Cunningham, the exchange had flip-flopped back again and is now reconsidering its decision to halt the delisting of three major Chinese telecommunications firms.
What a total embarrassment.
China Mobile is down over 3% after hours but remains higher from NYSE's decision NOT to delist...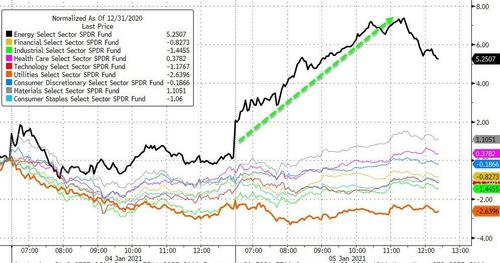 This whole debacle crushes any credibility the so-called 'esteemed' exchange had... and begs the question - why did they decide to back the Chinese military against their own government?
Was this TDS? Or, as we mentioned previously, a nudge from Biden to do Xi's bidding?
*  *  *
One day after a most bizarre flipflop by the NYSE which last Thursday - just hours before the new year - said it would suspend trading in Chinese telecom giants only to reverse itself late on Monday as if in concession to Beijing, Treasury Secretary Steven Mnuchin called NYSE President Stacey Cunningham on Tuesday to "express his disapproval" with the exchange's surprise decision Bloomberg reported, citing two people familiar with the matter.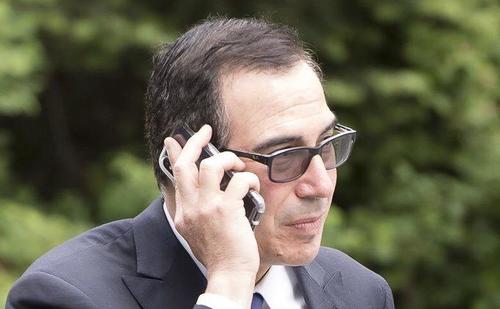 The exchange's completely unexpected reversal caught most officials at the White House, Treasury and State departments off guard, and also sowed confusion among the regulators who had helped craft the order signed by President Donald Trump in November that requires American investors to unload Chinese businesses deemed as posing a threat to U.S. national security, according to the report.
One reason for the confusion is that the Treasury's Office of Foreign Assets Control issued opaque statements on the order that confounded investors and the Big Board on how soon action was required and which securities would be affected. Still, the unprecedented flipflop "far from insulates the companies from eventually being delisted before November", when U.S. investors are required to divest their stakes, according to more Bloomberg sources.
Another potential catalyst: the Treasury published a document Monday that offered "clarifications" on the order hours before the exchange announced its decision to not delist the companies. It is possible that the language was diluted enough to where the NYSE lawyers decided they would rather piss off Trump than China, and ignore the presidential E.O.
Despite the temporary reprieve, the ongoing risk of being delisted means financial markets are likely to face further uncertainty about which companies might be affected by Trump's crackdown on China and when. China Mobile, China Telecom and China Unicom all soared on Tuesday in Hong Kong trading, as investors concluded that the U.S. might be backing away from its aggressive approach. In reality, they may have just won some time to test the waters of the Biden administration.
The NYSE gave no reason for its decision in a statement released during Asian trading hours, saying only that it had consulted "relevant regulatory authorities" about the U.S. restrictions on investing in Chinese companies. It was not immediately clear if said authorities have compromising photos of Hunter Biden.
The order signed by Trump is still scheduled to take effect on Jan. 11 -- nine days before he leaves office. An official working on Joe Biden's transition declined to comment on whether the president-elect would reverse it. If Biden leaves the order in place, US investment firms and pension funds would be required to sell their holdings in companies linked to the Chinese military by Nov. 11. And if the U.S. determines additional companies have military ties in the future, American investors will be given 60 days from that determination to divest.