---
Morgan Stanley: "The Breakdown Of Small Caps Is A Warning Sign That The Reopening Will Be More Difficult"
by Michael Wilson, Morgan Stanley chief US equity strategist
The Grand Reopening (for Real)
At long last, we appear to be on the cusp of reopening the economy and getting our lives back to normal. While living digitally has been an interesting experience, and miraculous in many ways, it's not a sustainable existence. Human beings need real interaction with each other to thrive. As a result, people are excited to re-engage, with many already pursuing normalcy where they can.
Financial markets are excited too, with many stocks and other asset prices reflecting the inevitable reopening that is now at our doorstep. But, stock markets are discounting machines. In fact, they represent one of the best leading indicators for economic activity and company performance we track. It's also the reason why technical analysis is so important to our investment strategy process. To ignore it would be like fighting with one hand tied behind your back.
Over the past few weeks, the S&P 500 has continued to make new all-time highs. However, underneath the surface, there has been a noticeable shift in leadership which could be telling us something about the reopening that may not be obvious. More specifically, the Russell 2000 small cap index has underperformed the S&P 500 by 8% since peaking on March 12. While this follows a period of historically strong outperformance, when relative strength like this breaks down, we take notice. Furthermore, some of the cyclical parts of the equity market we have been recommending for over a year are starting to underperform, while defensives are doing a bit better. If that weren't enough, indices of IPOs and SPACs have underperformed by 20% and are both down for the year.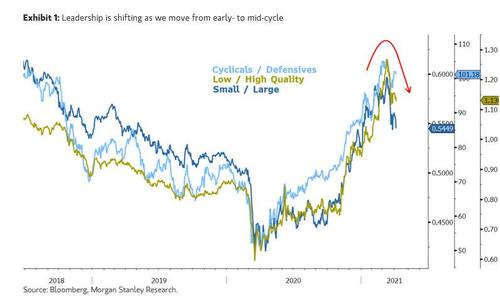 So what are all these technical signals telling us?
In my view, the breakdown of small caps and cyclicals is a potential early warning sign that the actual reopening of the economy will be more difficult than dreaming about it. Small caps and cyclicals have been stellar outperformers over the past year. In essence, they were discounting the recovery and reopening that we are about to experience. However, now we must actually do it and with that comes execution risk and potential surprises that aren't priced.
While policymakers have provided tremendous support for the economy with both monetary accommodation and fiscal stimulus, the lockdowns have reduced supply, destroying it in some cases. As a result, we are now seeing evidence of supply shortages in everything from materials and logistical support to labor. The punchline is that 1Q earnings season may bring bad news on costs and margins, particularly with respect to 2Q outlooks. We've been writing about this risk for weeks and believe it will be idiosyncratic in how it plays out, with some companies executing well while others don't.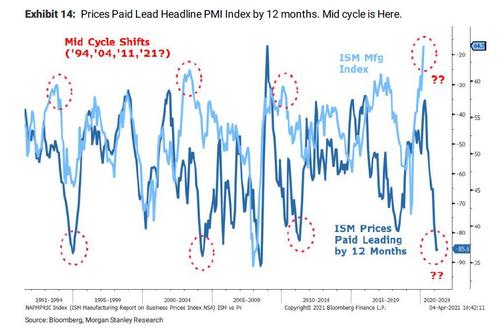 Meanwhile, the underperformance in IPOs and SPACs is a signal that the excessive liquidity provided by the Fed is finally being overwhelmed by supply. My experience is that when new issues underperform this much, it's generally a leading indicator that equity markets will struggle more broadly. When combined with the fact that leverage in the system is very high, it could spell more trouble for riskier, more speculative investments.
From an investment standpoint, we have made some changes to our recommendations to avoid these risks while taking advantage of some underloved areas.
First, we downgraded small caps four weeks ago. Not only are small caps rich (Russell 2000 at 32.5x NTM EPS) and vulnerable to the move higher in interest rates, but they are also likely to suffer disproportionately from the supply shortages and subsequent higher costs we foresee.

Second, two weeks ago we recommended investors upgrade their portfolios by adding higher-quality stocks that have a better chance of managing through this reopening transition.  If there's one thing we've been surprised about over the past year, it's the speed with which our recovery thesis has played out. That means we are likely to move to mid-cycle from early-cycle sooner than usual, and quality should benefit.
In line with that view, we also downgraded Consumer Discretionary to Underweight, a classic early-cycle winner, and upgraded Staples to Neutral as a means of increasing quality while reducing portfolio beta.