---
Morgan Stanley Covers Dollar Short; Goldman Gets More Bearish 
The US dollar surged Friday after President Trump issued executive orders banning the Chinese messaging app WeChat and video-sharing app TikTok. The ban will take effect in 45 days has sparked further deterioration in Sino-US relations. 
The dollar rebound against the Swiss franc, the pound, and the euro, as the safe-haven trade was ignited by what could seemingly be a technology war between the US and China. 
Morgan Stanley published a note Friday (seen by Reuters) indicating the greenback is at the most oversold level in 40 years, with rising probabilities of a near term reversal. 
The investment bank recently exited its dollar-bearish trade as it turned "tactically neutral" on the safe-haven currency while closing longs in euro and Australian dollar. 
Morgan Stanley said its Combined Market Timing Indicator for equity markets triggered a "sell" signal, the first time since January 2018. 
"With global markets appearing tactically stretched a sell signal on our MTI (market timing indicator) would certainly add to the notion that upside on markets may be capped near term," the bank warned clients. 
As Morgan Stanley recognizes a short squeeze in the greenback could be ahead, we noted last week the short dollar trade has likely become an overcrowded trade shown via CFTC data.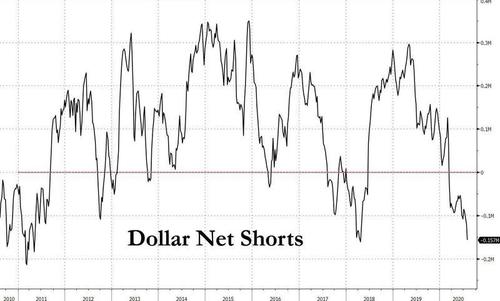 Shorting the dollar accelerated this summer. Goldman's FX strategist continues to push out bearish notes: 
We remain bearish on the USD driven by a pro-cyclical global growth outlook (we note that our Global Economics team expect at least one vaccine to be completed by this year), continued overvaluation of the USD (currently by 15% vs. our GS DEER model), a lower likelihood of US asset market outperformance compared to previous years, and still-lopsided long USD positioning. Moreover, our Global Rates team expects US real rates to drop further into negative territory. In this report, we interpret what the above conditions mean for NJA FX and rates markets. - Goldman Sachs Economist Danny Suwanapruti
With conflicting views of the dollar's trajectory between Morgan Stanley and Goldman Sachs, there could certainly be a squeeze forming...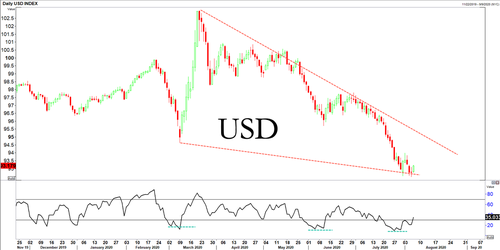 Maybe it's only a matter of time before the greenback is deemed a safe-haven as mounting geopolitical risks, waning global recovery, and rising virus cases in Western countries have already materialized.