---
Morgan Stanley Spots An Extremely Rare Market Signal Which Precedes Selloffs
In the past two weeks, we have discussed extensively (here, here and here) the "fundamental" risk that higher rates pose to tech names in particular (most notably the venerable five FAAMG ultra-high duration "generals" which account for a quarter of the S&P's market cap), and the broader market in general.
But in addition to risk from higher nominal and real interest rates, extended technicals - the result of the extreme "off the charts" euphoria we pointed out over the weekend...
... may signal lower than average returns in the short term, according to Morgan Stanley's Mike Wilson who points out that 92% of the stocks in the S&P 500 (extremely strong breadth) are currently sitting above their 200-day moving averages.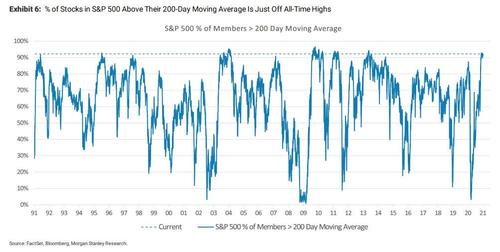 As Wilson ominously points out, "historically, this metric tends to have difficulty moving above these levels (98th percentile over the last 30 years)" and If history holds, Morgan Stanley expects this metric to turn lower, "which can happen via price corrections or moving averages rising as prices stall." 
Here, Bank of America also chimes in, and observes that "this rare event" - when 90%+ of stocks trade above the 200DMA - "has happened only five times using weekly data going back to 1974":
The big S&P 500 (SPX) rally from March has many investors worried about overbought extremes. However, the prior four overbought peaks above 90% for this breadth indicator from 9/18/2009, 1/23/2004, 1/7/1983 and 6/6/1975 each happened coming out of a US economic recession.
Why does this matter?
Because according to Michael Wilson's backtest of forward returns after the % of S&P 500 stocks above 200-day moving averages reaching current levels or higher, forward returns on a 5-day, 1-month, and 3-month basis all tend to be lower than in other periods and in each case with high statistical significance (p = 0.00). Sensing he will get lots of pushback from his bullish clients (not to mention flaming dog feces on his front porch), Wilson caveats by stating that "absolute returns do not have to be negative, and in about half of cases across the different return periods they are not, but returns do tend to be lower than normal when this indicator gets as extended as it currently is."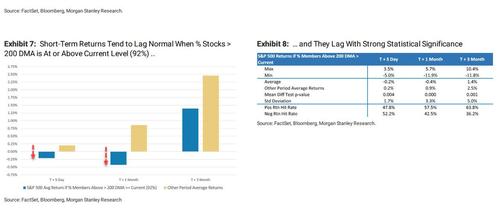 Not everyone agrees: without looking at the data, Bank of America  notes that the 2009 and 1975 signals occurred after "generational lows" for the SPX, and explains - somewhat hopefully - that while "market corrections are a part of the life of an investor, if history is any guide, this move above 90% for the % of stocks above 200-day MAs is less likely a sign of a major top and more likely longer-term bullish confirmation after a period of economic and market stress."
One of the two banks is wrong, and since nobody likes unnecessary suspense, we will know who is right and who is wrong in just a few days.