---
Morgan Stanley Warns "Recent Outperformance And Extended Valuations" Will Limit Upside In Semiconductor Stocks 
Given that valuations of the US stock market have risen to record highs. Investors are making a mad dash into value stocks as the ultimate "reopening trade" based on the premise that vaccines will save the economy. Morgan Stanley's equity analyst Joseph Moore points out that one part of the market has hit "extended valuations" that will "limit the potential upside." 
Moore's latest global semiconductor report titled "Great expectations - strong fundamentals are matched by peak multiples," states the "recent outperformance and extended valuations" of US semiconductor stocks "will limit the potential upside even as supply and demand continue to recover." 
Despite a year categorized by unusual levels of uncertainty due to Covid-19 and trade tensions, stocks outperformed as we believe the 2021 recovery narrative outweighed concerns of near- term gyrations in fundamentals. As a result, we struggle to support the notion that semi stocks will continue to outperform to the same levels we saw in 2020; however, we don't want to fight the recovery narrative and remain In-Line as continued improvement in industry fundamentals is likely to limit downside. -Moore 
The PHLX Semiconductor Sector index has risen nearly 130% since March's low. Perhaps Moore is suggesting that semiconductors stocks cannot go up in a linear fashion forever. 
Moore believes investors should maintain semiconductor exposure considering economic growth will return next year but warned risks should be managed with stretched valuations. 
The macro team explains how their exposure within semiconductor stocks has shifted over the year:
Earlier this year at the onset of Covid-19 valuations across many of our stocks looked attractive. We initially preferred exposure to cloud/compute and memory/semi cap before recommending a barbell approach that emphasized both cloud/compute and cyclical/value. We currently prefer exposure to cyclical semis which are able to benefit most from a broader economic and consumer rebound, though this is currently being reflected in stocks with demand trends improving and accommodative monetary and fiscal policy. -Moore 
Moore said, "maintain narrow exposure to computing/cloud names given the unique work and learn from home environment, we now prefer stocks with idiosyncratic growth opportunities and/or multiples at a discount to the group."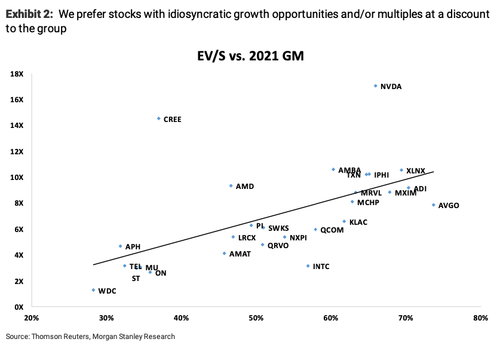 The macro team warned that "risk rewards have shifted, leaving less room for upside" for the stock market, adding that earnings growth needs to return after stocks zoomed higher for two consecutive years of multiple expansion.  
So what happens to the stock market if earnings growth doesn't return as a reemergence of the virus pandemic derails the recovery? 
Well, Bank of America's first "sell signal" since February 2020 suggests record optimism may be coming to an end.