---
Moscow Unveils 'Plunge Protection Team'-Plan To Rescue Routed Stocks (If Market Ever Re-Opens)
While it is the Ukrainians who appear to be suffering most from kinetic warfare; Russians - at least those with wealth and power - are also suffering from global financial warfare as an unprecedented set of sanctions and restrictions has crushed the country's currency, collapsed its bonds, and sent equity prices - from banks to the biggest energy firms - careening lower, forcing authorities to close the Moscow Exchange in an effort to slow the vicious cycle.
However, as is all too clear, various Russia-focused assets trade around the world and are exposing the real pain with VanEck's Russia ETF (RSX) perhaps the best know, which is down a stunning 60% in the last 7 days and most notably down 38% since Russia halted trading on the Moscow Exchange.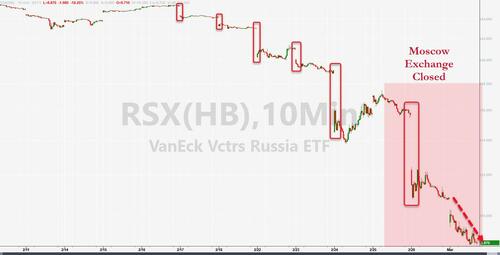 So what does Moscow do?
Simple, it takes a page from Washington (and Beijing's) playbook, and unleashes its own version of the 'plunge protection team' to attempt to support stocks and reinstate some confidence.
Bloomberg reports that Russia will deploy up to $10 billion from its sovereign wealth fund to buy up battered local stocks after sweeping international sanctions shuttered the nation's markets.
Under the plan, the Finance Ministry may hire VEB.RF and other financial organizations to carry out the purchases on behalf of the $174.9 billion National Wellbeing Fund.
The announcement at a Tuesday government meeting by Prime Minister Mikhail Mishustin harks back to the tactics devised during the 2008 global financial crisis, when Vladimir Putin held the post of premier between presidential stints. Back then, Finance Minister Alexei Kudrin allocated around $7 billion to invest in high-rated Russian stocks.
Of course, as we have seen numerous times in the past, these centrally-planned efforts to control the madness of crowds (or in this case perhaps rational un-exuberance) have backfired as investors use any rebound in prices from the anticipation of government bid, to sell into and reduce exposure (raise liquidity).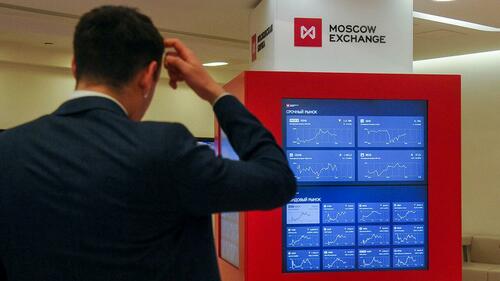 Finally, we note that the bourse's two-day equity-trading closure is so far the longest pause since 1998 - the year Russia defaulted on around $40 billion of local debt - and no decision will be made on opening tomorrow (Wednesday) until 9am local time (given thecrash in overseas Russian ETFs today - not buyinb the PPT plan at all - we suspect the exchange will remain closed for now).