---
Alameda County Folds, Allows "Minimum Operation" After Elon Musk Defies Coronavirus Order And Dares Authorities To Arrest Him
Update 1920 EST: It appears that Alameda County has folded to Elon Musk's temper tantrum, now stating that Tesla can "maintain minimum operation" at its Fremont facility, according to a press release issued moments ago. 
"We have notified Tesla that they can only maintain Minimum Basic Operations until we have an approved plan that can be implemented in accordance with the local public health Order," the release says. 
The county ended its press release sounding neutered: "We do not have any further comment and will not be taking any requests for interviews."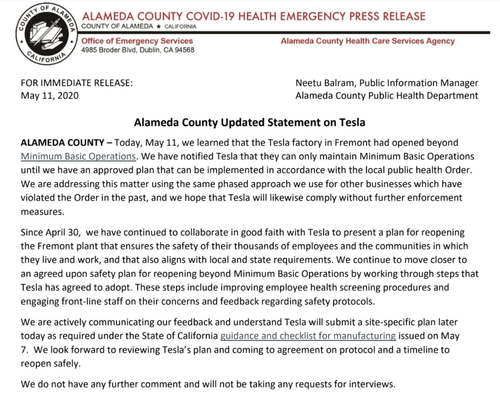 The county said it "hoped" Tesla would comply without enforcement, to which one social media user wryly stated:
Overheard in 1940:

"France hopes Germany respects the Maginot line" https://t.co/LU7pOQlk6j

— Donut Shorts (@DonutShorts) May 11, 2020
Some other theories emerged about the re-opening, including one theory that Alameda's move will spark a larger legal dispute:
My take:$TSLA knows there is no way in hell they can comply with any semblance of new safety regulations. So they're jumpstarting the legal battle early.

I mean, fuck, they couldn't even comply with the pre-COVID safety regulations...$TSLAQ https://t.co/vBlx1FgINN

— Value Dissenter (@ValueDissenter) May 11, 2020
Alameda County said earlier that it had reached a tentative agreement with Tesla to re-open on May 18, but that Tesla wanted its plant to open a week early to "prep parts" for production. According to KTVU, the county disagreed. 
This is apparently what led to the confrontation between Elon Musk and California reaching a climax of sorts, when following earlier reports that Tesla had reopened the Fremont plant despite not having permission from Alameda County in California, and despite California Governor Newsom saying he "expects the Tesla factory can resume work next week", Elon Spartacus pardon Musk tweeted that
Tesla is restarting production today against Alameda County rules. I will be on the line with everyone else. If anyone is arrested, I ask that it only be me.
Tesla is restarting production today against Alameda County rules. I will be on the line with everyone else. If anyone is arrested, I ask that it only be me.

— Elon Musk (@elonmusk) May 11, 2020
In other words, Elon Musk, whose Tesla Fremont plant is now burning tens of millions of dollars every day that it is shut down, has unilaterally decided to violate California regulations and directives, and has forced his employees to work so the company resumes production just so that Tesla's cash burn is not catastrophic and leads to a crash in the stock price.
It was also reported this afternoon by Business Insider that Tesla was telling employees that if they did not return to work, they would not receive benefits and would be unable to apply for unemployment. 
"I love my job personally, just tired of feeling like a chess piece," one employee told The Verge. 
Meanwhile, Gov. Newsom - who earlier said he expects the Tesla plant to reopen later this week - said he didn't know Tesla reopened its factory, in defiance of Alameda County's Covid-19 health orders.
So what happens next, and will Elon Musk indeed be arrested? According to CNBC's Lora Kolodny, a spokesperson for Fremont district supervisor Scott Haggerty told CNBC, "If Tesla violates the order, it would be Fremont Police Department's decision to enforce or not enforce."
Kolodny also notes that "it's not clear to me why it would take an entire day for law enforcement to decide whether or not the Tesla factory is allowed to be open." Furthermore, "now that Tesla is open can't all other "non-essential businesses" open seeking equal treatment under the law? Gun shops & all?"
Musk's "noble" stance promptly generated amusement on social networks:
What's really pathetic here is that he thinks he's being noble. https://t.co/b5GbxpOZ3l

— Linette Lopez (@lopezlinette) May 11, 2020
With some comparing the billionaire who on occasions tends to abuse mind-altering substances before unleashing on twitter, to Nelson Mandela:
Every era gets the Mandela it deserves https://t.co/plNo0qOCuZ

— Isaac Chotiner (@IChotiner) May 11, 2020
Yet others cut to the chase, asking Musk to "imagine if you valued your workers' right to organize a union as much as you value your workers' right to die to raise your stock prices"
Man, imagine if you valued your workers' right to organize a union as much as you value your workers' right to die to raise your stock prices

— Mike Drucker (@MikeDrucker) May 11, 2020
Of course, that was in jest: after all Tesla has already warned any employees that do not follow it in its head on collision with California regulations that they risk losing their benefits, forcing them to be on Musk's side.
Some asked if Musk is purposefully abandoning his newborn son with the unproounceable name to pursue a insurrection against California:
Why is it okay for @elonmusk to abandon his infant to do this? https://t.co/utd0Guu1z8

— melissa CANCEL ALL STUDENT DEBT NOW byrne (@mcbyrne) May 11, 2020
Some thought Elon was just trying to escape dad duty:
Classic response to a newborn at home. https://t.co/IRwsTxKl1l

— Peter Forbes (@PeterSForbes) May 11, 2020
One person called Tesla the "most amazing freak show in the history of modern American business":
I know one thing for sure:$TSLA is the most amazing freak show in the history of modern American business!

Hell, Musk could give the "There Will Be Blood" guy a run for his money and that was a fictional character!

— Mark B. Spiegel (@markbspiegel) May 11, 2020
Another person said that a fine from Alameda County would just be a "cost of doing business": 
Just so we're all clear on what is happening, Musk has declared the laws of Alameda County don't apply to him, and has restarted Fremont

If the County has the stones to sue him, he'll run out the clock w/ appeals in court until the 18th. Any fines are a cost of doing business

— Donut Shorts (@DonutShorts) May 11, 2020
Someone else reminded the Tesla board that Elon is their D&O insurer now:
A brief intermission in our coverage to remind you that the Tesla Board's D&O insurance is self-funded using margin loans on $TSLA stock by a guy the SEC moved to permanently ban from public markets.

— The Final Straw (@evdefender) May 11, 2020
Even as most were in it purely for the humor...
Can't believe I'm actually agreeing with Elon Musk, but he is absolutely correct: please arrest Elon Musk. pic.twitter.com/NH1vyDoJHN

— Ken Jennings (@KenJennings) May 11, 2020
I also ask that you arrest Elon Musk https://t.co/qB0q9gr19l

— Alex Yablon (@AlexYablon) May 11, 2020
"I regret that I only have my freedom to sacrifice for the noble cause of producing $60,000 luxury cars!" #FacePalm https://t.co/2lUj12JpgX

— Diogenes (@WallStCynic) May 11, 2020
It's long past time I learned how citizens' arrests work.

— Josh Olson (@joshuarolson) May 11, 2020
... as #ArrestElonMusk is starting to trend.
And the most amusing aspect of this whole comedy - because apparently Musk just can't wait another week or so to reopen as Newsom said - is that as law professor Ben Edwards notes "there is a good chance Musk will also have to personally indemnify Tesla for any damage to stockholders for this.  Delaware doesn't allow directors and officers to engage in knowing violations of law."
There is a good chance Musk will also have to personally indemnify Tesla for any damage to stockholders for this. Delaware doesn't allow directors and officers to engage in knowing violations of law. https://t.co/WKwA8Qx6si pic.twitter.com/S9Ye2Dd9qk

— Ben Edwards (@BenPEdwards) May 11, 2020
And now we to see if the Fremont Police Department will confirm that when it comes to law, billionaires generally tend to be above it.
"rules" Some folks refer to these as "laws". https://t.co/yC7F34f6Hx

— Keubiko (@Keubiko) May 11, 2020
* * *
Update 1530 EST: In in a violation of California orders, Tesla began making cars again at its Fremont, California plant over the weekend despite an ongoing battle with local officials about whether it should remain closed during the pandemic, The Verge reports, adding that the company called back some of its workers and has completed around 200 Model Y and Model 3 vehicles. 
This happened as CEO Elon Musk threatened on Twitter to move Tesla's operations out of state and sued Alameda County over its stay-home order.
Adding to the confusion, moments after the Verge report, Bloomberg reported that Cali Gov Newsom expects that the factory can resume work "next week":
NEWSOM SAID LOCAL `CONSTRUCTIVE TALKS' ON REOPENING CA FACTORY
NEWSOM" `BELIEF AND HOPE AND EXPECTATION' CAN OPEN NEXT WEEK
CA GOV SAYS HE EXPECTS TESLA FACTORY CAN RESUME WORK NEXT WEEK
So did Musk violate another prohibition, or did he simply rush ahead of the permitted date, well aware that every day of delays leads to tens of millions in cash burn?
But wait it gets even more interesting, because it appears that Newsom - having been put in a corner by both Musk and Trump - is now seeking to avoid the public glare, and is throwing Alameda county under the bus:
NEWSOM SAID HE SPOKE WITH ELON MUSK `A NUMBER OF DAYS AGO'
NEWSOM SAYS ANY ENFORCEMENT IS GOVERNED BY ALAMEDA COUNTY
NEWSOM: `I HAVE GREAT REVERENCE FOR THEIR TECHNOLOGY'
CA GOV SAYS HE'S BIG FAN OF TESLA COMPANY, TECHNOLOGY
As a reminder, the Tesla's Fremont factory has been closed since March 23rd, one week after Alameda County issued the initial stay-home order, and a few days after the governor of California issued a statewide version. The company had spent that intervening time trying to convince local officials that it should be allowed to keep making its electric cars because of Department of Homeland Security guidance that auto manufacturing is "national critical infrastructure."
While Alameda County officials said in a statement on Saturday that they were "communicating directly and working closely with the Tesla team on the ground in Fremont," and that the company was engaged in "a collaborative, good faith effort to develop and implement a safety plan that allows for reopening while protecting the health and well-being of the thousands of employees who travel to and from work at Tesla's factory", the county officials said they had still not reached an agreement with the company on whether it could reopen its factory. At the same time that the officials released their statement, Tesla sued the county over the stay-home order. Musk also threatened to move Tesla out of California because the plant would not reopen, and urged Tesla supporters on Twitter to "please voice your disagreement as strongly as possible with Alameda County.
As such it appears that Musk has rushed ahead of the Newsom statement, and decided to unilaterally resume production before being granted permission.
Workers who spoke to The Verge described difficult decisions they made about whether or not they should report in this week as their employer and CEO wages a public battle with local officials. Since they are both hourly workers, they won't be paid if they stay home. If they do go in, they will make less than they used to thanks to recent company-wide pay cuts. And while Tesla previously told its employees that they can use paid time off (PTO) days to stay home if they feel uncomfortable coming in, the company recently cashed out many of those workers' remaining PTO days because of the extended furlough.
"It's either we feed our families or go hungry at this point," said one, who decided to go into the factory.
The other is staying home. "I love my job personally, just tired of feeling like a chess piece," this person said. They also said they wouldn't feel safe assembling cars right now because it requires such close-quarters work. "We get lured in by the 'Tesla Dream' of saving the planet only to get treated so poorly that even though I love my job, I'm not willing to risk my health for him."
* *  *
Updated 1410 EST: Elon Musk continued his war of words with, well... the entire world, which reacted with shock to Musk's decision to sue Alameda County over not allowing him to re-open his Fremont factory.  Former Secretary of Labor and Berkeley professor Robert Reich, who Musk had previously called a "boring idiot" in both English and Russian in a Twitter flame-war on Sunday took another jab at the embattled CEO, saying "Billionaires are not the answer".
Responding to one of Musk's insults, Reich said, "if only you had put as much effort into delivering the ventilators you promised as you put into this tweet."
Elon, if only you had put as much effort into delivering the ventilators you promised as you put into this tweet. https://t.co/hJoFHwr1Qc

— Robert Reich (@RBReich) May 10, 2020
Separately, perpetual Tesla cheerleader Adam Jonas at Morgan Stanley also offered up his take on Musk's claims to want to move from California over the weekend. First and foremost, he predicted a gigantic $2 billion to $4 billion cash burn for Q2 and said GAAP loss estimates of $500  million could be too high:
We believe that the sentiment consistently displayed by Musk is likely out of genuine concern for the severity of the decline of profits and cash flow for the company in Q2. While we believe the liquidity / balance sheet of the company is intact, we are prepared for Q2cash burn to be on the order of magnitude of $2BN to $4BN,given large payable outflows and revenues down as much as 30% Y/Y.

In our view, while the situation is clearly out of Tesla's control, Elon Musk's urgency and willingness to take decisive action shows the impact the shutdown is having on the company globally. Taking a look at consensus numbers for 2Q20,expectations call for nearly $900MM in cash burn and GAAP net loss of ~$500MM; we believe these may still be too high.
He also predicted that Tesla's next U.S. Gigafactory would be announced in 1-3 months and could happen in Texas. The note does little to address the financial implications of such a move and estimates it could take "up to 3 years for a complete relocation from California".
Jonas still predicts a majority of the company's global production volume will come from Fremont over the next 2 years and also believes there is "morale risk" to employees from Musk's erratic behavior: 
We believe that there is risk to the morale of employees and staff currently in Fremont, as the questions of not only returning to work by June 1st in California continue to loom, but now the new question of continuing to work in California at all.

All OEMs and other contingencies in the supply chain are struggling with similar issues in the road to their targeted May 18th restart. As investors model a number of scenarios for cash consumption in Q2, we believe some attention should be paid to the potential problems for other counter-parties that could add to the volatility of near term financial outcomes.
Yet despite the massive predicted cash burn and the slate of numerous new risks, Jonas kept his $680 price target on the name. Because when Morgan Stanley underwriting fees are at risk, one does what one must...
California seems fed up with Musk. The Sacramento Bee published an article over the weekend mocking Musk, claiming that even though "COVID-19 has killed nearly 2,700 Californians so far, [Musk] is the one who's truly suffering during the coronavirus pandemic."
It continued, calling Musk a "bratty billionaire":
California's public health officials must ignore Musk's ranting and stay the course. Twitter threats from bratty billionaires, anti-vaccine activists and middle-aged "militia members" should play no role in guiding public health policy in the middle of a deadly pandemic.
"And what should California's leaders say if Tesla decides to pick up its toys and move elsewhere?" the op-ed asks rhetorically.
"Adiós," it answers.
In the interim, Tesla owners and once-fanboys have been spotted on social media all weekend echoing the thoughts of these owners:
@elonmusk I'm a Californian was considering buying a Tesla later in the year. You threaten to take California jobs away and are careless in endangering the lives of people during this pandemic. I am reconsidering my future purchase. I thought you were for the environment 😡

— Jules (@pintobeanyoga) May 10, 2020
As an owner of a #Tesla I am embarrassed to of been supporting @elonmusk right now. pic.twitter.com/BGTVqJJVuH

— Kyle (@AirbusDaddy) May 10, 2020
Sending liberals and Tesla owners further into a rage alike will be the fact that Sen. Ted Cruz openly petitioned for Musk to move his operation to Texas over the weekend, as well: 
Come to Texas! We would welcome Tesla HQ in Texas. We love jobs & Texans very much want to open up & get back to work (while still staying safe & following sound science). We make lots of cars & trucks in Texas, and we'd love more!! 🇺🇸🇺🇸🇺🇸 https://t.co/F9O0N3yase

— Ted Cruz (@tedcruz) May 9, 2020
If that isn't enough to trigger the left, perhaps this is: on Monday morning, Treasury Secretary Steve Mnuchin commented that California should "act to ensure Tesla can operate" and that he "agreed with Musk" on California's re-opening. 
Finally, mid-day on Monday, Hidalgo County Texas Judge Richard F. Cortez penned an official letter to Musk telling him that the county was "pro-business" and "ready to accommodate" him.
"What we no longer have is a shelter at home mandate," the letter says:
Hey @elonmusk: Hidalgo County @JudgeCortez and @GovAbbott are ready to accommodate @Tesla. @john_jwitt #HidalgoCounty #WelcomeTesla pic.twitter.com/YSINvFM8Ca

— Hidalgo County (@HidalgoCounty) May 11, 2020
Recall, yesterday, we pointed out how the world was turning on Elon Musk after he decided he was going to pick up and leave California, after the state would not bow to his demands for re-opening. 
For now, it still looks as though  it is Tesla's intention to re-open Fremont when Elon Musk, not the government, says so.