---
Mysterious White Dust Blankets Parts Of West Virginia
A Facebook page that tracks emergencies across the Panhandle of West Virginia posted multiple reports late Thursday of mysterious white dust falling from the sky and accumulating on cars and other surfaces outside. 
Eastern Panhandle Working Fires said the West Virginia Department of Environmental Protection "requested anybody experiencing these issues call 911 immediately and have their local fire department respond. They also advise to shut doors and windows and avoid outdoors at this time as a common sense approach until it can be identified."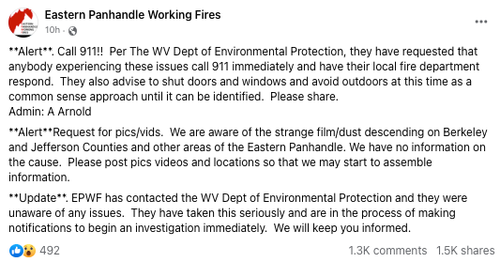 Another post by the group that has more than 100,000 followers showed Hampshire County 911 Center in Romney, West Virginia, said:
"We are aware of recent reports of an unknown dust-like substance accumulating on cars and surfaces outside. This is reportedly occurring across the tri-state region. We are aware of another social media site that has advised you to contact 911 if you witness this situation."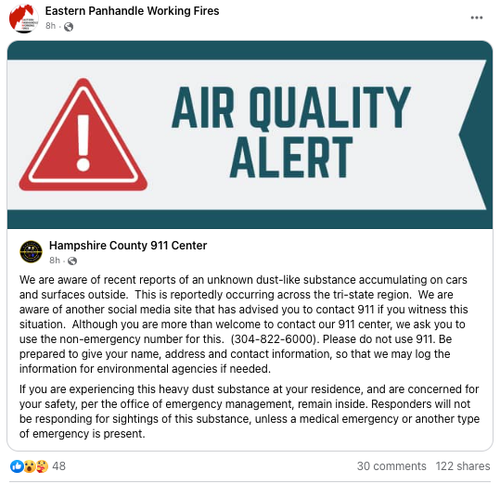 Many folks from the region tweeted images and videos of the mysterious white dust, blanketing everything in sight. 
🚨#BREAKING Multiple reports of unknown White dust / Particles falling out of the sky ⁰⁰📌#WestVirginia | #Maryland ⁰⁰Currently Multiple people across West Virginia into Maryland area are reporting a (unknown white dust/film descending from the sky. Some local fire… https://t.co/k8MRFgtHXf pic.twitter.com/BBwIX5W80t

— R A W S A L E R T S (@rawsalerts) February 24, 2023
Lots of reports in west Virginia but that this photo was taken in Germantown Maryland pic.twitter.com/0aZPNdMxCf

— R A W S A L E R T S (@rawsalerts) February 24, 2023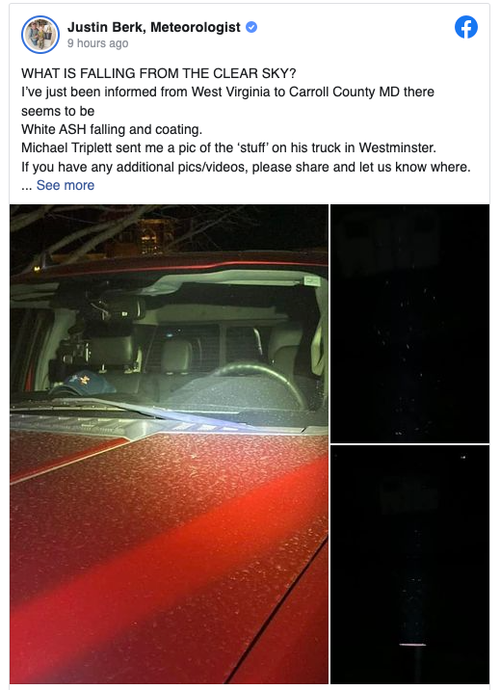 #BREAKING
"white dust" falling out of the sky event in Maryland and West Virginia.
Residents described it as a "fine ash feel
Reports from Allegany County, Maryland, WV and Pennsylvania. pic.twitter.com/YMwxpfU3C2

— Mekal Shan (@mekalshan) February 24, 2023
From someone in Middleway WV pic.twitter.com/iygboUrCxi

— Cassandra MacDonald (@CassandraRules) February 24, 2023
Last night, temperatures in Morgantown, West Virginia, hovered around 50 degrees Fahrenheit, putting to rest any claims of snow. 

There's no word from the county, state, or federal authorities on the origin of the white dust. However, local media outlet WHSV's Chief Meteorologist Aubrey Urbanowicz pointed out it could be from a dust storm in the Midwest. 
... and another meteorologist agrees with Urbanowicz. 
Here's the tweet / data from earlier showing dust from the Plains Dust storm reaching as they say - West Virginia. Reports of dust in this region could very well be this. https://t.co/PGVR8OTxak

— Spencer Adkins (@SpencerWeather) February 24, 2023
The reports of white dust are located about 100 miles south of the East Palestine, Ohio, train derailment. 
Loading...