---
Nasdaq Soars To Best Start Since 1975 After Jay & Jobs Outperform
This week saw the biggest spike in macro surprise data since June 2020 (thanks to a ridiculous outlier payrolls print and a shocking surprise surge in ISM Services)...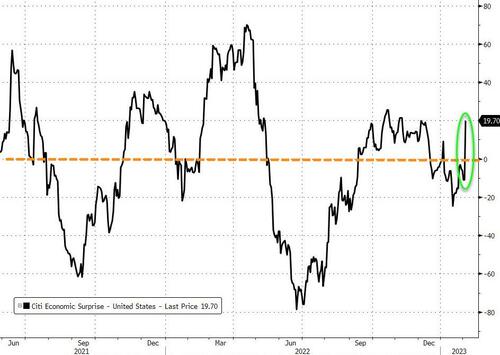 Source: Bloomberg
And today's "good" news sparked an aggressively hawkish response in STIRs with the terminal rate spiking up to 5.00% and rate-cut expectations sliding (after Powell's dovish inaneness). This move has erased almost all of the easing priced in from the early Jan CPI print..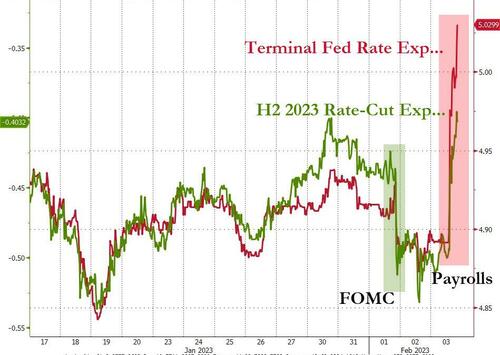 Source: Bloomberg
And Powell's pusillanimous press conference sent financial conditions reeling looser...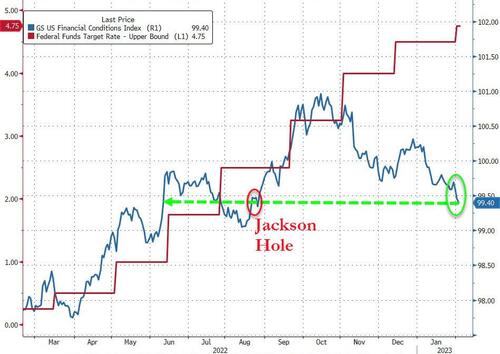 Source: Bloomberg
No matter what, Powell defied the odds better than this kid!!
7th-grader in North Dakota makes half-court shot to win $10Khttps://t.co/XzUH3faDRd pic.twitter.com/H4mAzKCXAZ

— KTIV News Four (@ktivnews) February 2, 2023
Today was chaotic for the US Majors with Nasdaq lagging (-2%) after GOOGL, AMZN, and AAPL disappointed but BTFDers didn't care and Payrolls confused the machines...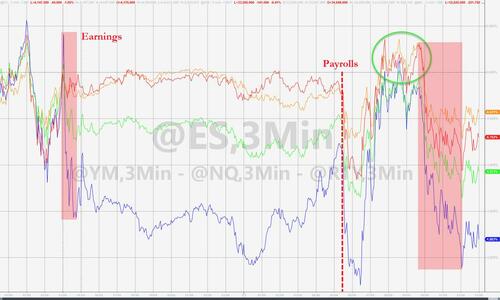 Stocks soared on the week led by big-tech (Nasdaq +3%), but The Dow ended the week in the red (-0.5)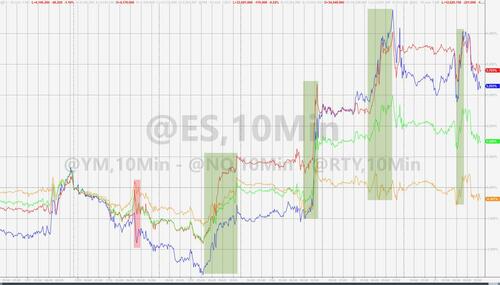 ...which lifted valuations to their highest since April 2022...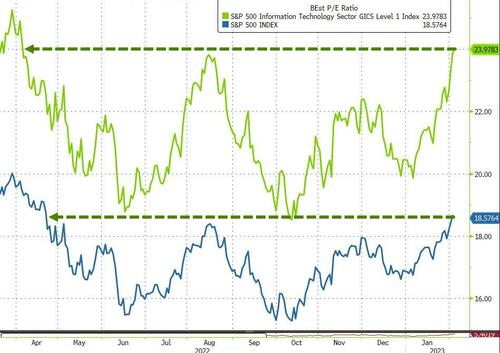 Source: Bloomberg
With cyclicals relative to defensives completely decoupling from underlying macro fundamentals...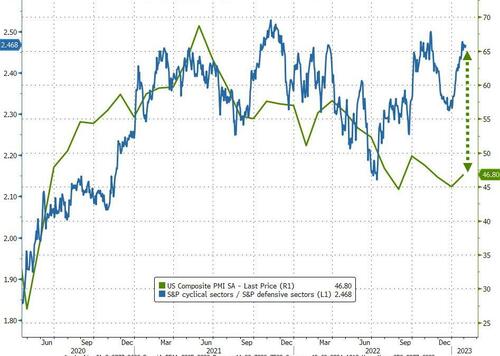 Source: Bloomberg
And this is Nasdaq Composite's best start to a year since 1975...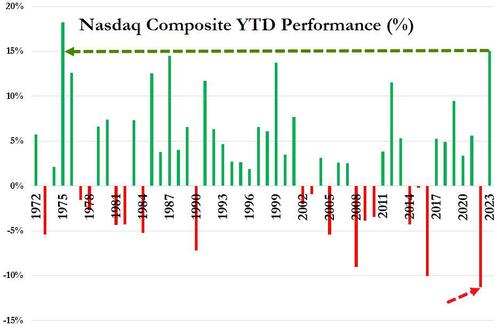 AAPL was a standout after tumbling in the after hours last night, it exploded higher during the day to perfectly run the stops from October before rolling back over...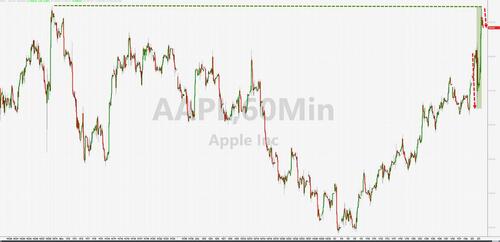 The massive post-Powell short-squeeze appears to have run out of ammo after 4 straight weeks of gains in the 'most shorted' stocks...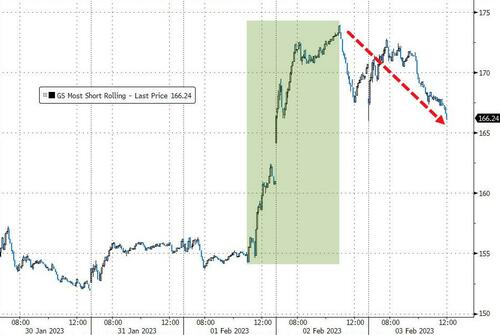 Source: Bloomberg
US Treasury yields ended the week higher after exploding higher today after payrolls. The short-end notably underperformed...
Source: Bloomberg
The 2Y Yield exploded 20bps higher today - its biggest daily rise since June 2022, back above 4.30% and back to CPI levels...
Source: Bloomberg
Despite the volatility in bonds this week, the bond market's "VIX" index (MOVE) tumbled to its lowest since March 2022...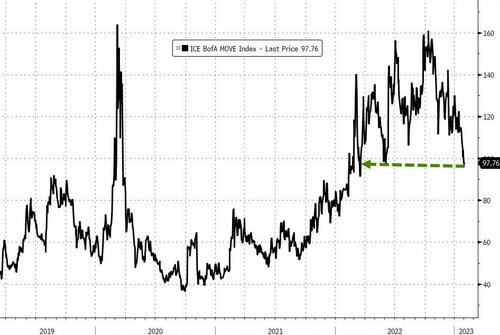 Source: Bloomberg
The dollar roared higher off post-Powell lows...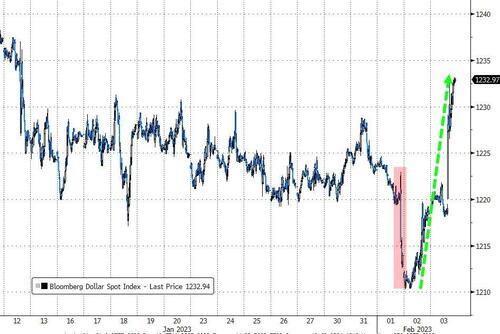 Source: Bloomberg
Bitcoin ended the week practically unchanged from last Friday, finding support at $22,500 and resistance at $24,000 during the week...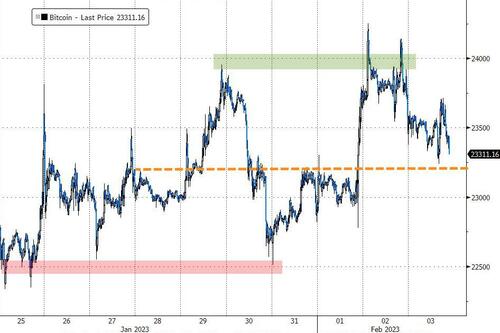 Source: Bloomberg
Crude was clubbed like a baby seal on the week, with Brent back at $80 and WTI tumbling to a $73 handle...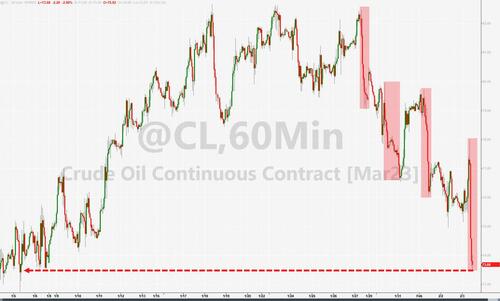 Gold also collapsed this week (post-Powell), tumbling $100 from high to low...
Source: Bloomberg
Finally, on the back of today's strong labor report, Goldman's economists reiterated our view that the Fed will raise the Fed funds rate by 25bp in the March and May meetings with no cuts to the rate in 2023. If growth holds up as inflation subsides, there likely will be no reason for the Fed to ease financial conditions. But in a scenario where inflation pulls back but the Fed stays the course, real rates are at risk of rising again, and historically real rates and the S&P 500 12 month forward P/E multiple have been closely negatively correlated...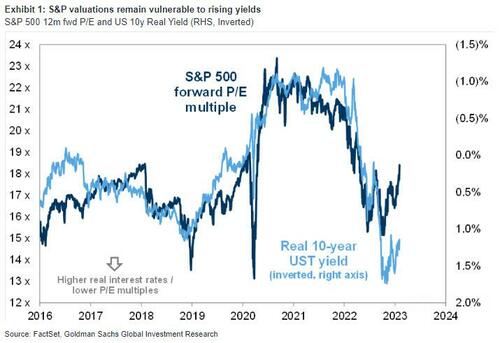 ...a potential headwind for the recent rally, already at extremely over-hyped valuations relative to real-rates.
And if you need a catalyst for the downturn, US equity market cap has significantly decoupled from Fed reserves...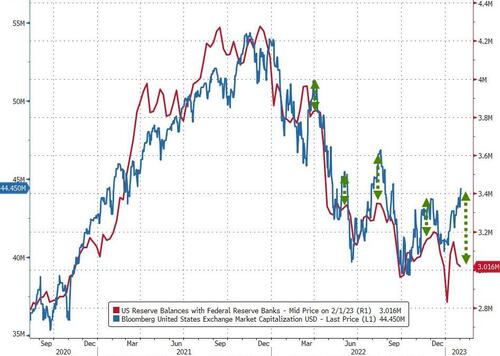 Source: Bloomberg
...this has not ended well in the past.
Loading...