---
"Nasdaq Whale" Doubles Down: SoftBank Ups Tech Stock Holdings To $20 Billion
One month ago, when we first reported that SoftBank was the "Nasdaq Whale" responsible for the gamma meltup across some of the largest tech names which quickly led to marketwide levitation across the entire stock market - as the Japanese conglomerate was furiously buying call spreads in a generally illiquid market and forcing dealers who were short gamma to delta hedge at ever higher prices creating a upward price feedback loop - we observed that according to Bloomberg's previous reporting, SoftBank had been targeting investments of approximately $10 billion in public stocks as part of a new asset management arm, far exceeding the initial holdings that founder Masayoshi Son outlined to shareholders in the company's latest earnings call, and a break from the company's strategy of investing in private names.
Then, two weeks ago, the Nasdaq Whale made a repeat appearance, when we reported that SoftBank was back for round two: as SpotGamma wrote, highlighting the strong rally in many tech names "there are notes out detailing large options positions building in tech. Looking at FB as an example you can see how call activity has picked up over the last two weeks" and "this chasm between call & put gamma is starting to look similar to that of early August."
This was confirmed that same day by CNBC's David Faber who said that on Oct 1, SoftBank had bought $200M worth of calls in NFLX, AMZN, FB and GOOGL.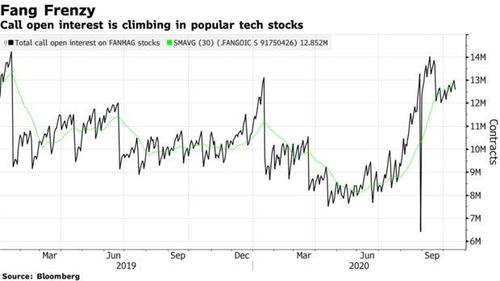 But if SoftBank had built up a $10 billion stake in public tech stocks by mid-August, how big was its position now that it appeared to be doubling down? Well, there's your hint right there: according to a new Bloomberg report, SoftBank has doubled its equity positions to more than $20 billion despite what was initially a skeptical response from shareholders, one which prompted the bank to announce it would not act as a Robinhood-esque hedge fund chasing momentum stocks, and would consider tempering its trading plans in early September after reports that SoftBank's spending spree was stirring froth in tech stocks.
Yet despite the news costing SoftBank about $9 billion in market value at the time, with the stock rebounding Masa Son has re-reconsidered and is now literally doubling down. Ironically, all this is happened just days after SoftBank's Rajeev Misra disputed reports SoftBank had pumped up tech stocks through its options trading, saying no single investor has that kind of influence on the markets.
"Nobody buying $10 billion of Nasdaq over a few weeks is going to move the Nasdaq," Misra said in an interview with Bloomberg at the Milken Institute's virtual conference. "We're not even a dolphin, forget being a whale."
That's some dolphin. In its public filings, SoftBank disclosed holdings of "only" $3.9 billion in stocks such high beta tech names as Amazon, Alphabet NVidia and Netflix...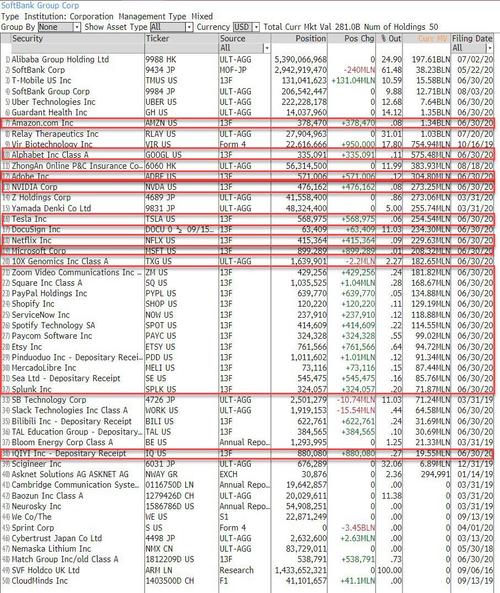 ... however, it has since bought a lot more stocks. Curiously, according to Bloomberg, while focusing on major tech stocks, SoftBank has also been expanding to smaller companies. Last week, it invested $215 million in Norway-based Kahoot, which makes education software.
So what is SoftBank's thinking this time behind its "renewed commitment" to the public equities trading arm? According to Bloomberg sources, the strategy - which consists of buying out-of-the-money call options funded by selling calls at even higher prices - is "built around expectations of a volatile third-quarter earnings season." That, however, makes no sense because SoftBank's strategy is fundamentally a bullish bet, and anything but a vol hedge. In fact, as August demonstrated, if done in size and if it triggers another gamma melt-up, such call spread buying itself can become the catalyst the pushes stocks higher. And that's precisely the strategy adopted by Masa Son and implemented by former Deutsche Bank trader Akshay Naheta, first identified here and whom we called the "gamma whale."
And now that this information is public amid renewed chatter of yet another gamma squeeze, will SoftBank fade away as it did in early September when it was first identified? Hardly: if anything Masa Son will triple down. After all, for the Japanese billionaire, the only thing that matters is SoftBank's stock price, and that just happened to hit a 20 year high on monday, the highest since the March 2000 dot com boom.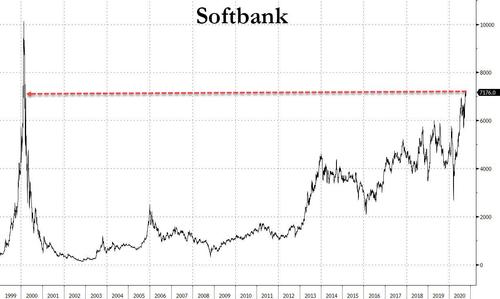 In fact, looking at the chart above, it is very likely that Masa Son will aggressively continue to expand this strategy until softbank's stock price regains it all time bubble highs.